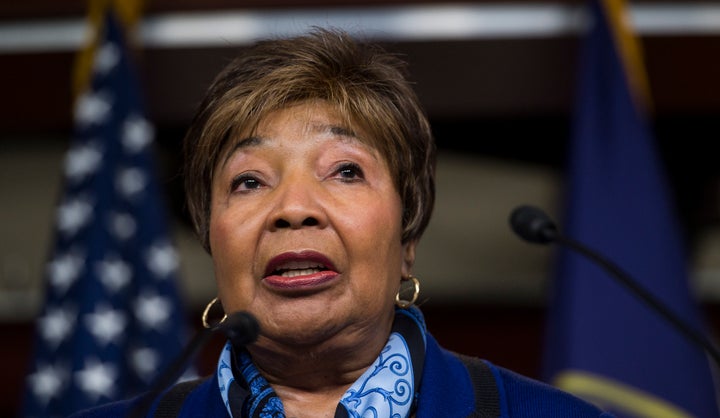 Texas Congresswoman Eddie Bernice Johnson thinks women bear some of the responsibility in preventing sexual harassment and abuse.
"I grew up in a time when it was as much the woman's responsibility as it was a man's ― how you were dressed, what your behavior was," Johnson said. "I'm from the old school that you can have behaviors that appear to be inviting. It can be interpreted as such. That's the responsibility, I think, of the female. I think that males have a responsibility to be professional themselves."
Rep. Johnson said that she believes sexual harassment and assault happen because women allow it.
"I think we also need to start talking about the power that women have to control the situation. There's law enforcement, you can refuse to cooperate with that kind of behavior," she said. "I think that many times, men get away with this because they are allowed to get away with it by the women."
Rep. Johnson's comments exemplify the victim-blaming attitudes that often permeate discussions of sexual harassment and abuse, perpetuating the myth that a survivor's assault could have been prevented if they had worn a different outfit or changed their behavior.
Blaming the victim when an assault occurs contributes to the fact that rape is one of the least reported and convicted violent crimes in the U.S. When reporting to their schools or to law enforcement, many survivors are confronted with the same problematic questions: What were you wearing? Were you flirting with your attacker? Why did you go home with him?
Because sexual violence ― from harassment to abuse and rape ― is about power not sex, a woman's "inviting" behavior has nothing to do with the reason she was assaulted.
In a statement sent to HuffPost, Rep. Johnson wrote that her earlier comments to NBC 5 came "from an old school perspective" and she believes that there are no excuses when it comes to sexual assault and harassment.
Read her statement in full below:
Sexual assault and harassment has no place in our society. This is something I believe deeply. And at each turn of my professional life, I have made it my mission to fight for women's rights. I do not blame the victims of sexual assault for the actions of their assailants. I do acknowledge that my comments regarding behavior and attire come from an old school perspective that has shaped how some of us understand the issue, but that does not detract from the fact that criminals need to be held accountable for their actions. I will never condone those who feel they can abuse the power of their positions to sexually assault and harass women, and I will always encourage victims to come forward so that we can hold these criminals accountable. Thanks to the testimony of brave women like Anita Hill, students on college campuses, and most recently the victims of Harvey Weinstein's attacks, we are able to have a public dialogue about the systemic issues that we face as a society. Ultimately, we need to unequivocally support the victims of sexual assault and harassment as best we can while working to hold the perpetrators accountable for their actions. And supporting all women in this fight will continue to be my life's work.
This article has been updated to include Rep. Johnson's most recent comments on her conversation with NBC 5.
Popular in the Community