Tyler Lea is currently playing the lead role of Christopher, a teenager on the autism spectrum, in the Tony-Award Winning Play The Curious Incident of the Dog in the Night-Time. I caught up with Tyler on a Saturday morning to discuss taking on such a powerful role.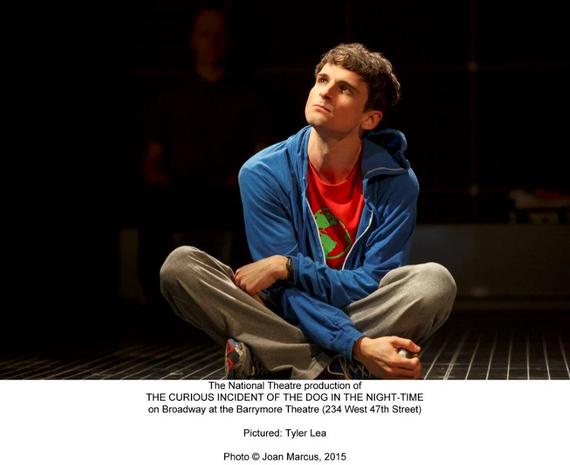 What a way to have a Broadway debut!
Definitely! I've always wanted to be on Broadway and they gave it to me all at once!
How did you find out that you were picked for this role?
I was home in North Carolina and was out with my dad. I got this phone call and there was no phone signal and they tell me "we have some news" and I'm like "wait I can't hear you!" I found a place with a signal and they proceeded to go thru the details. It was kind of hard to believe at first but it was true!
Had you seen the show before you went for the audition?
Yes, I had seen it once.
You took over the role from Alex Sharp. Was it more intimidating having seen it performed by someone else first and then going for that audition?
I think so. I looked at it and said "wow how am I going to be able to do this?". But seeing what a great show it is pushed me to take the reins and really do it.
I saw you in the show this past week and you were fantastic. Did Alex give you any good advice before you started?
We met but didn't really talk about the role. He didn't really give me advice so much as encouragement. He gave me The Alchemist which he enjoyed reading during the show and he sort of passed the baton in a way.
So is The Alchemist in your dressing room now?
Yes it is.
Anything else of sentimental value in there?
I have a figurine of a dog that I bought when the role was in the works. I saw it in a store and I just bought it, and not long after I got the phone call.
I love that! You are still fairly new in this role. What was that first night like for you?
I felt prepared and confident but I could probably have jumped out of my skin. But once it starts there is no going back. You just jump off the cliff and keep going. It was probably the shortest show I've had. I probably sped through the whole thing but it was a good experience. I don't want to say surreal but it's finally getting to a point that I always dreamed to be at and it's a good feeling.
Did you read the book beforehand?
I definitely read the book, for sure. It's so hard to get into Christopher's mind in a way, and the book provides so much of what Christopher is thinking. He's a difficult person to understand so to have that right there is like a bible.
How would you describe the role of Christopher?
He's a typical 15-year old boy who loses his best friend and sets out to find out who did it. Because of who he is, it becomes an obsession to discover who killed his best friend. He sees the world in, actually, a more simple way because everything is factual and simple. There is more truth in what he says because he sticks to the facts. He's trying to comprehend this confusing and complicated world, and he needs precision in everything he does. Without that, he falls apart. He needs that truth to survive. He's a very confident person, more confident than myself, which is something that I've learned from Christopher. He's given me confidence in myself because he doesn't let the fact that he's different from the typical person stop him. And I admire that in Christopher.
Where do you think you doubt yourself the most?
It's hard to accept that I'm good enough to be on Broadway.
That perfectionism is probably what allows you to be as great as you are.
Thank you.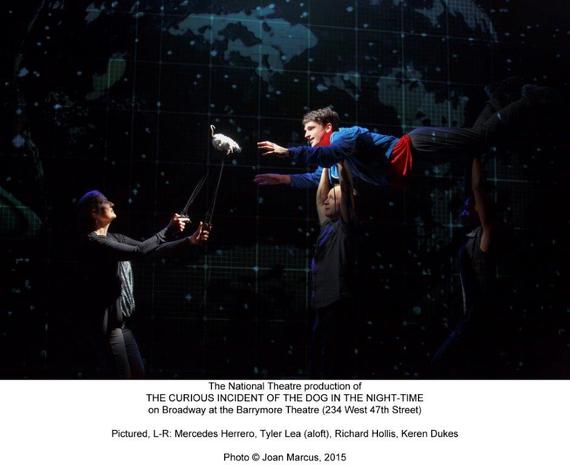 Now this role is a very physical one. You are running around on that stage quite a bit. How has that part been for you?
I sort of took a month to condition myself. I have a lot of dance background so that helps. I'm sore sometimes and I get random bruises but all in all doing ok so far.
Christopher is of course a math whiz. How did you do in math in school?
I was ok. I understood it; at least temporarily for the test! For the particular math question in the play, I had to get a little help to work it out.
I've heard that you are into horticulture. How many plants are in your apartment?
I only have one real terrarium but I have a few other succulent-type plants.
Do you have any in your dressing room?
No because I have no sunlight, but I have cut flowers in my dressing room.
What do you like to do in your free time?
So much of my life in NYC has been leading up to this point. I was always in acting class, or auditioning, and now I'm discovering other things that I like to do. I go out to eat with my friends and explore the city.
What's your favorite kind of food?
Probably pizza but sometimes chicken pad thai.
Who are your role models?
I admire actors like Meryl Streep, Sean Penn and Tom Hanks. And if Steven Spielberg ever hears this, a lot of his movies are the kind of movies I would like to be in. I really admire what he does.
What's one thing you would like to tell your 15 year-old self?
Believe in yourself. Believe that it can happen and that you can do it.
Hear the entire interview with Tyler Lea on The Erika Finn Show by clicking here.
To get tickets to see Tyler Lea in The Curious Incident of the Dog in the Night-Time, head here.
Calling all HuffPost superfans!
Sign up for membership to become a founding member and help shape HuffPost's next chapter