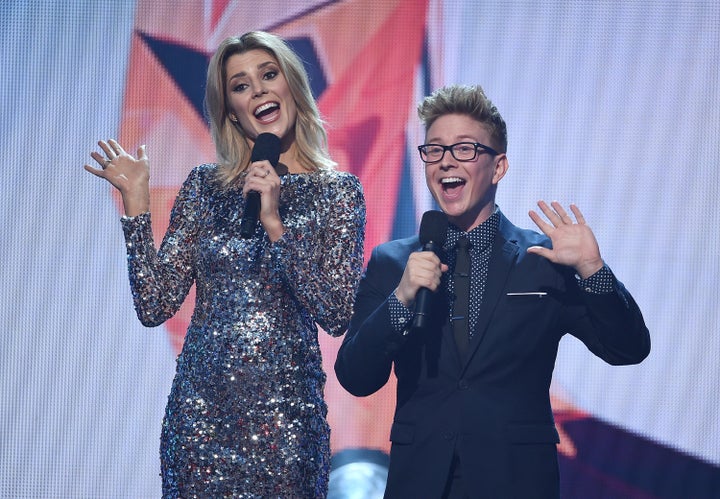 To say that Tyler Oakley has been busy for the last few years would be an understatement.
For more than 7 million subscribers, the YouTube star's channel provides a consistently fun and entertaining corner of the Internet. After watching Oakley interview One Direction, a viewer could stumble upon more humble offerings that bring the 26-year-old back down to earth, and back on our level; a challenge to stuff as many chicken nuggets in his mouth as possible in 20 minutes, for example.
Oakley is a lot more than his videos and millions of views, though. He will soon add author and documentary subject to an ever-growing resumé, which already includes Internet celebrity, podcast host and LGBT rights activist. Oakley's book of essays titled "Binge" comes out on Oct. 20, and December will bring the documentary "Snervous," which chronicles his life as a YouTuber. HuffPost Teen chatted with Oakley about both of these projects, the possibility of one day vlogging on the moon and who he thinks would be crowned YouTube's homecoming royalty.
You've been making videos on your own since 2007, so clearly you're no stranger to being filmed, but what was it like filming for "Snervous" and handing over the control of the video to someone else?
It was terrifying. It was the worst thing in the world at first. Even when I saw the first cut I was like, "Oh my god." Between YouTube videos and podcasts and now a book, I had always been kind of in control of what I put out there, and to have the fly on the wall type of feel of the documentary where they're just following along for my life for the better part of 2015 it was like I'm finally kind of showing a side to me that I would never, I guess, choose to share.
And whether good or bad it was just kind of like -- I kind of realized okay well 80 percent of the stuff that made it into the final version of the movie I would have never chosen to share, which I think is a good thing because it's a whole new side of me. Whether you've seen every single video or no videos and you don't even know what a YouTuber is, I think it has something for people that are curious about what it's like to actually be digital talent, I guess, or be an entertainer online. And whether it's the good or the bad it's really showing the truth of what it's like to be a YouTuber.
"I'm finally kind of showing a side to me that I would never, I guess, choose to share."
You also have "Binge" coming out next week, which is a collection of essays written by you. As a YouTuber, a part of your life is very public. Is there anything in "Binge" that you think fans will be surprised to read about?
I genuinely think every chapter. To me, I wanted to make sure this is worth it for super fans. I don't want it to be, "Oh, they already know the story already" or "Oh, they already know about this person." I wanted it to be fresh new content, which is kind of difficult because like you know, I've been making videos for however long. It was like, what's left?
Luckily, I started writing the book a couple years ago and so I always had it in the back of my mind like, "Oh, should this story make it onto my YouTube channel or in a podcast or should I save it for maybe a chapter?" And so a lot of what made it into the book was these incredible stories that I've been dying to share, whether it's about my personal life or embarrassing things or relationships or about my family or my friends or I guess the best of the worst moments of my life. I've been waiting to share them with people and now I finally have a place to kind of dive deep into them and be unapologetically honest.
What was it like transitioning to print for your book when you've done so many videos in the past?
It was exciting. After so long of doing YouTube videos, when I first started doing the podcast it was like a fun, fresh, new way to share my life. And then starting the book, it was like a whole other type of way to creatively express myself. It felt like for the longest time before I even got my book deal I was just writing because I wanted to practice and make sure that if I were to write a book it would be worthwhile and worth the time. I'm really happy with how it turned out because it feels like a whole new extension of what I can give to my people and the people that have gotten me the opportunities that I have gotten.
I've already started to hear back from some people who have read it. There have been some people that have got advanced copies, and my mom is one of them. I think the best indicator of how much content I think is brand new and fresh is the fact that my mom knew none of these stories. And she knows me better than any viewer. For her to be surprised and shocked by so many of the chapters; I cannot wait for the people that have gotten me these opportunities to finally read it.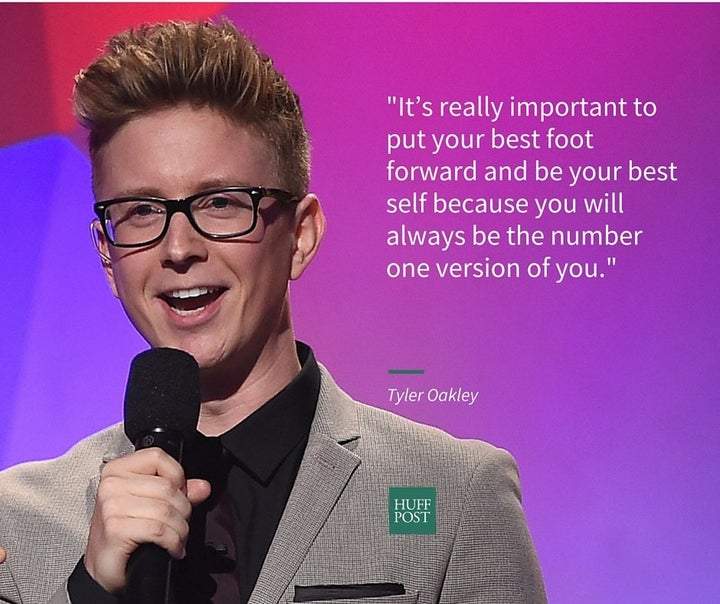 You've found major success as a YouTuber. What advice would you give to people out there who haven't quite found their "thing" yet?
I would say be yourself. There are so many voices on YouTube and there are incredible creators that are popular for a reason. And although it's great to be inspired by them, nobody is going to subscribe to a second-rate version of them. It's really important to put your best foot forward and be your best self because you will always be the number one version of you.
I would also say don't give up. It took me years and years and years to get to where I am today. I always think about the fact that PewDiePie, who has tens of millions of followers, started with zero. All of my favorite creators started with zero. And all it takes is one video to dive deep and you are officially a YouTuber. So you've got to make that first video. It's not going to be your best, but you will learn as you go. You have to not give up and you just have to be yourself.
I feel like you've been busy since pretty much forever. Aside from the book and the documentary, you've co-hosted the Streamy Awards and "The FANtastic Show" after "Teen Wolf." You have a podcast and you're also an LGBT rights activist. Is there anything you really want to do, but haven't done yet?
I used to joke that I wanted to go to the moon, but I actually do. Like, some day I think I'm going to go to the moon. That would be cool. I called my mom (because I mess with my mom all the time) and I was like, "Mom, I got some news for you. I just found out I got chosen to go to the moon." And she half-believed me! She was like, "Wait, are you serious?" I feel like the fact that she kind of believed me, I thought well maybe someday I could. So maybe that. I know it's far-fetched, but who knows? Why not?
That's becoming more and more possible every day though.
I feel like every year I'm surprised by the opportunities. I understand for all of my friends it's like, "Of course you should be doing these cool things." But then when something happens to me I'm like, "Oh my god. How is this even possible?" So every year I'm surprised and kind of taken aback by the cool things I get to do. So who knows? Maybe in a year or five years or 10 years I'll be vlogging from the moon.
"You are loved and you are worth sticking around for."
Do you have any suggestions for teens out there who are dealing with cyberbullies or bullies outside of the Internet?
I would say reach out for help. I think the bravest thing you can do if you are going through something or being targeted is to ask for help and ask and share what's going on. I would say know that you're not alone because there are so many people that are going through the same thing. The cool thing about the Internet, although it does give people the power to maybe use it for bad there are also so many resources online and communities that you can connect with where you can use it to kind of fight that and to empower yourself and to find your voice. I think the Internet is an incredible resource for people to feel more connected. I guess if you are being bullied you should know that that is not how it's always going to be. You are loved and you are worth sticking around for.
We've got one last activity for you. Let's pretend YouTube is like a high school and give superlatives. Which YouTuber do you think would be named class clown?
Caspar Lee. He is a goofball and he's always pranking people.
Oh, goodness gracious. Maybe Zoe [Sugg]. I think she's really skilled not just as a YouTuber, but as a writer, as a makeup artist. She is so multifaceted. I'm always amazed by her.
Most likely to be president?
Hannah Hart, definitely. Because her and I got to go to the White House together and the whole time she was across from Barack Obama himself. They were just talking like they were best buddies, but also so professional. I was just sitting next to her like, "Oh my god." I couldn't even believe that I was there and she was so diplomatic.
And finally, who do you think would be crowned homecoming royalty?
Queen would have to be maybe Miranda Sings. She's every YouTuber's favorite YouTuber because she gets to do whatever she wants and she's hilarious. She can get away with any type of video. So every time I tune in I'm like, "Oh my god. She is the best."
And then king? I'm going to vote for me. Why not? [Laughs]
My last question was going to be what would be your superlative, but you knocked it out.
I'm going to say me. I'm going for king!
Go big or go home, right?
This interview has been edited and condensed for clarity.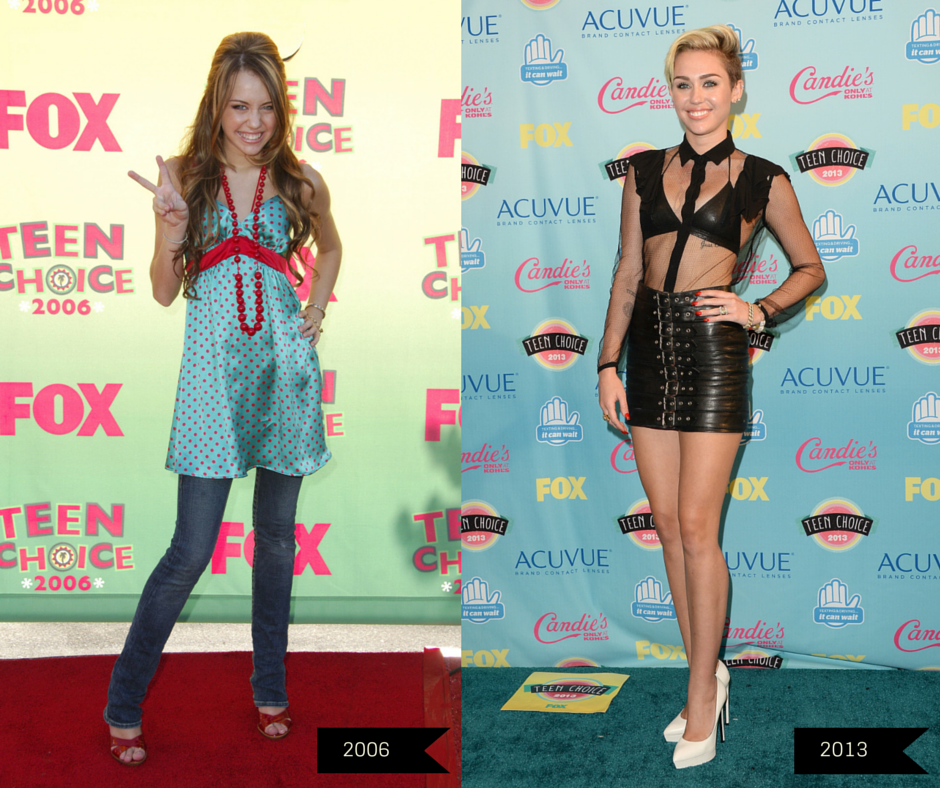 Teen Celebrities at the Teen Choice Awards Through The Years