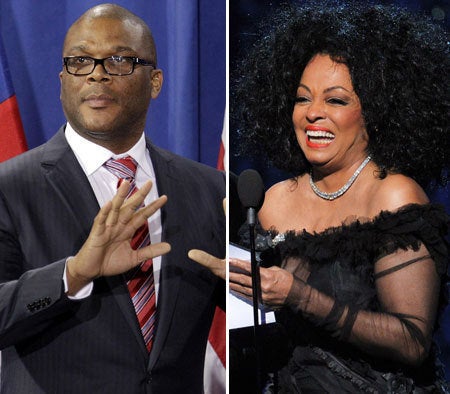 Throughout his career, Hollywood mogul Tyler Perry has managed to land various big-name talents for his movies, including Kathy Bates and Cicely Tyson. But there's one particular star who -- according to Perry -- has been dodging the director's casting calls.
During a recent interview with Essence, Perry revealed he has dreamed of working with iconic singer Diana Ross. But to his dismay, Ross has not returned any of his phone calls.
"She's been ignoring me for years. She's the only person that I have dreamed of working with that will not return my phone calls," Perry asserted before recalling a brief encounter with the "Upside Down" singer. "That was it, she never called me again. She said, 'No!' And that was it."
Aside from his dreams of landing the former Supremes frontwoman in one of his forthcoming flicks, the 42-year-old New Orleans native also recently opened up in an interview with the Huffington Post on the idea of working with Eddie Murphy.
"He's underrated and very brilliant, but he's also Eddie Murphy," Perry said. "I'm totally open to [collaborating], but that would definitely depend on Mr. Murphy."
Popular in the Community