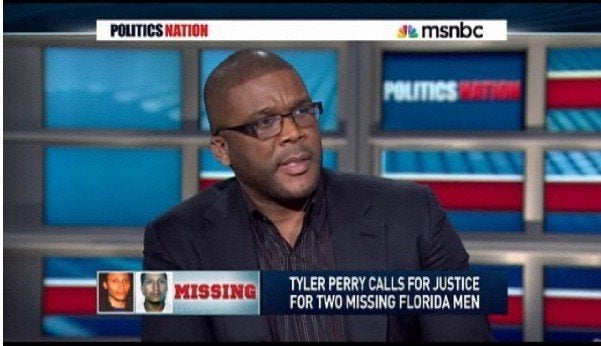 Actor, director and producer Tyler Perry has joined the efforts in finding two missing Florida men who both disappeared under similar circumstances. The media mogul recently made an appearance on MSNBC's political talk show "Politics Nation with Al Sharpton" to discuss the cases of Terrance Williams and Felipe Santos, who both disappeared eight years ago. Both men were last seen after encountering an arrest by Collier County police officer, Steven Calkins.
"I was just watching television, and I never watch it because I'm always busy," Perry explained to Sharpton on discovering the missing reports. "But I was watching this story on 'Investigation Discovery,' and I was just blown away because the last person to see him alive is this deputy, Steven Calkins, from what I understand. And as I'm watching the show, the story goes on that there was another man, Felipe Santos, who disappeared a few months before Terrance did. The last person to see him alive is the same sheriff. There's a lot of conflicting stories and I'm just trying to help his mother find some justice."
For Williams' mother, Marcia, having Perry on board in an attempt to find her son is an "angel that God had sent" her way and she cannot thank him enough for his assistance.
"We all should be outraged," Perry continued, "This is the kind of stuff that would happen in the 60's and earlier where black people would disappear and just be disregarded and never heard from again. And there is somebody that knows something about it…He has children that miss him. This is his mother who misses and love him. Felipe Santos, he has family and is from Mexico. And I just think it's unfair. I just want to see justice be done and be served here. We got to do something to he help her."
Watch Tyler Perry's appearance on "Politics Nation with Al Sharpton" in its entirety below:
Calling all HuffPost superfans!
Sign up for membership to become a founding member and help shape HuffPost's next chapter