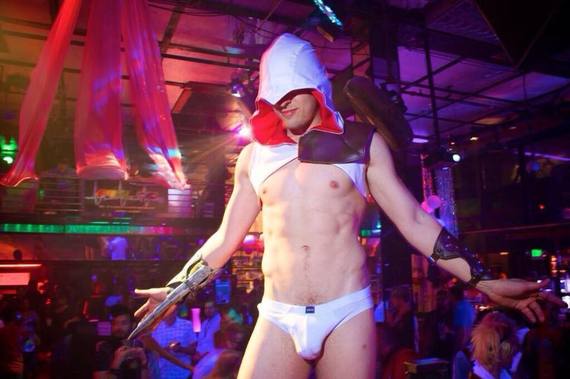 How did Tyler Rush go from being a shy, introverted nerd to an adult film star? Surprisingly enough, the nerdy passions that once isolated him wound up pushing him into the spotlight where he overcame his inhibitions.
Tyler's my guest this week on The Sewers of Paris, a podcast about the entertainment that changed the lives of gay men. It was when he graduated from Catholic school that Tyler decided to re-invent himself, and he was lucky enough to stumble upon an anime convention with some friends. Soon, he was dressing up as his favorite manga characters, and discovering that he loves getting attention for putting on a costume.
From there, it was only a matter of time before he discovered that he also loves the attention he gets when he takes his costumes off.
At one point I nearly called what Tyler makes disguises, but that's not quite right -- he's not hiding behind them, and couldn't if he wanted to since they're so skimpy. Rather, the thing I love about his cosplay is that it's all so HIM. Whether it's a cartoon character or a video game hero or a bound jock or a pup, his costumes are an expression of the shows and the characters and the bodies that he likes, and that are like him. So when he dresses up, you're not just seeing a sexy version of Finn from Adventure Time, you're seeing Amp express his own inner Finn: friendly, enthusiastic, kind and helpful. Those are qualities that were always there, but when he dresses up you know he's really committing to them.
We tend to think of costumes as a bad thing, a way of hiding your true self. But sometimes a costume can bring out something hidden inside you. For example, take a look at Yuna, the star of Final Fantasy X and the unusually-titled sequel, Final Fantasy X2, which is probably closet thing we'll ever get to a Jem and the Holograms game.
In ten, Yuna is quiet and tragic and innocent, but by the start of ten 2 she's learned to loosen up. The game opens with a ridiculous pop song, and one of the core mechanics of the game is all about outfits. Yuna and her friends' powers are based on dresspheres, which allow them to equip different powers by changing their costumes. She might dress as a songstress, for a example, using song and dance to attack her enemies. Or she could dress as a Samurai, using fireworks in battle. ten is serious and dire -- Yuna is preparing to sacrifice her life to save the world -- but in ten 2 she's decided to stop serving others and start living for herself. And that means going on adventures, having fun, and dressing in some truly ludicrous costumes. Costumes that literally give her super powers.
And if you'd like to get to know Tyler a little better, I highly recommend his new YouTube series, Watt's the Safe Word, in which he his friend Bolt answer questions about kink, demonstrate knots, decode handkerchiefs and decipher gay pride, on a strange sexy safari through curious gay culture. The boys prove that costumes aren't always elaborate -- they can be so minimal you might not even notice them at first. Sometimes, for gay men, dressing up as something can really mean dressing down, signifying as much as possible while wearing as little as you can. Can a length of rope or a scrap of fabric really be considered a costume? I think so, since those knots and hankies say plenty about the men tied up in them.
And that's what the best costumes do: they put your character on display, telling everyone who sees you that you're kinky, or nerdy, or friendly, or shy. The right outfit isn't just something you wear -- it's something you are.