When photographer Tyler Shields captured the provocative photo of a naked black man hanging a white Klansman from a tree branch, he considered his work a significant achievement.
However, when he chose to widely share the image, his friends expressed caution. They said it was "too much" -- but Shields merely batted away their worries.
"I've been wanting to do this series for a while," Shields told The Huffington Post. "I've had this image in my head forever."

There is no doubt the image itself is jarring. It has the power to evoke many emotions, some of which may align with the discomfort expressed by family and friends who were reluctant to have it released.
It shows a naked black man standing in muddy water and using his might to hold one end of a rope that hangs over a tree branch with the other end tied as a noose around the neck of a white Klansman whose body hangs limply. It's a provocative photo and one that harks back to a dark time in history when black lives were devalued, disrespected and disposed of without repercussion.
In many ways, the parallels to today's issues are hard to ignore. The recent deaths of Michael Brown, Freddie Gray and Natasha McKenna serve as harsh examples of what activists say is ongoing unjust treatment of black individuals in America.
Shields said these perceptions of race were the focus of his work and he aimed to deconstruct them through imagery that reflected a striking role-reversal. Not only do the individuals in this particular lynching image reflect a distinct moment or period in history, they are positioned as opposing players in a way that delivers a different message than those previously shared.
"It's haunting; it's shocking," Shields said. "It humanizes the situation in a very strange way."
To put it simply, Shields says, his photos relay one key message: Treat others how you would want to be treated. "It's the golden rule," he said.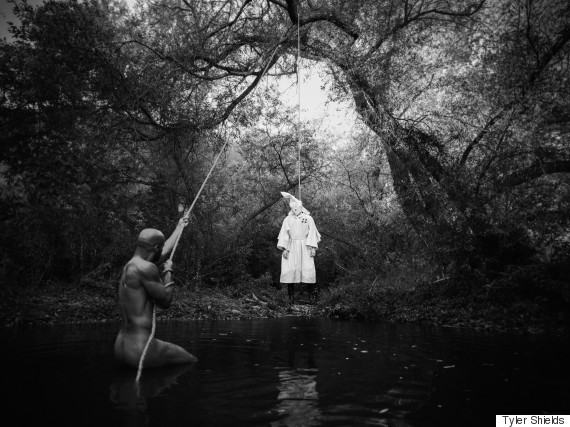 The image is just one of 23 that Shields has included in his latest project, "Historical Fiction." The project's photos reflect some of the most traumatic events in America's history. Many of those included are set during the civil rights era but not all deal directly with race. There are reflections of 9/11 and the deaths of Martin Luther King Jr., John F. Kennedy and Marilyn Monroe. Through each picture, Shields said, he attempted to portray the perspective of those who witnessed such tragic events rather than those who fell victim to them.
For Shields, a 33-year-old white resident of Jacksonville, Florida, racially charged instances seemed to occur all too frequently so he decided to tell various interpretations of them. Although the other photos aren't as shocking as the lynching one, Shields said some others also expose a duality in the discussion of race in America and how it is perceived. Perhaps this explains why more than 4,000 people attended the debut of Shields' display at the Andrew Weiss Gallery in Santa Monica, California, on Saturday -- and it is likely his work will draw many more viewers over the coming weeks.
"I was interested in seeing what it was like during that time for other people," Shields said. "I was interested in the reaction."
Shields' work has prompted a series of reactions of its own. He shared that a Klansman wrote him a letter to express his disapproval while others criticized the imagery for being too harsh.
These criticisms are similar to those Shields received from the release of some of his previous work. Shields has earned notoriety over the years for producing controversial imagery that has provided commentary, whether intentionally or not, on many political and civil topics such as animal cruelty and domestic violence. He touched on the latter in a series of photos he released in September 2011 showing a bruised-up Heather Morris, of "Glee" fame, posing for images that were intended to denounce domestic violence. Instead, they were condemned by many -- and by HuffPost too -- who criticized Shields for missing the mark.
"Looking at the images of the TV show's ditzy blonde Britney with a bruised eye and hands tied up in a plastic cord felt like being confronted with some glamorous-looking domestic abuse," Ellie Krupnick previously wrote.
Shields claims he "doesn't follow politics," yet his work reflects various sorts of political statements that are ripe for debate and dissection. While he said many have praised his latest work for evoking emotion -- no matter how dark or ugly it may seem -- others have lambasted it for failing to display due respect and delicacy while tackling such sensitive topics.
His latest collection is susceptible to some of the same criticisms, but so far, viewers have been widely receptive. Shields is more than satisfied with his work -- and he won't let the critiques or calls for caution hinder his creativity.
"I don't regret anything. I'm very happy that I trusted myself and didn't listen to people who tried to tell me not to do it," Shields said. "People will want to see this."
Before You Go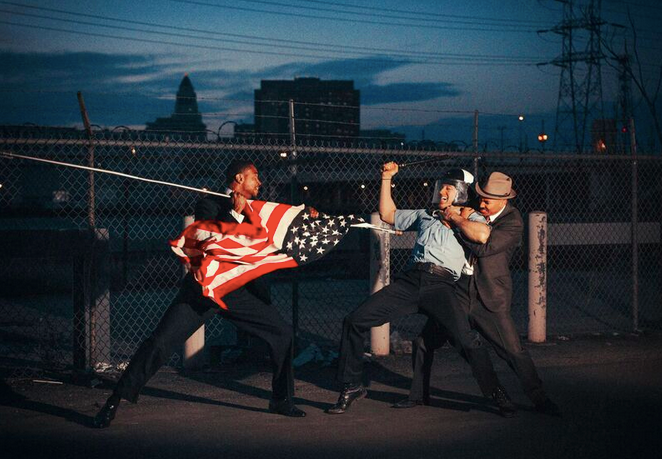 Tyler Shields' 'Historical Fiction'