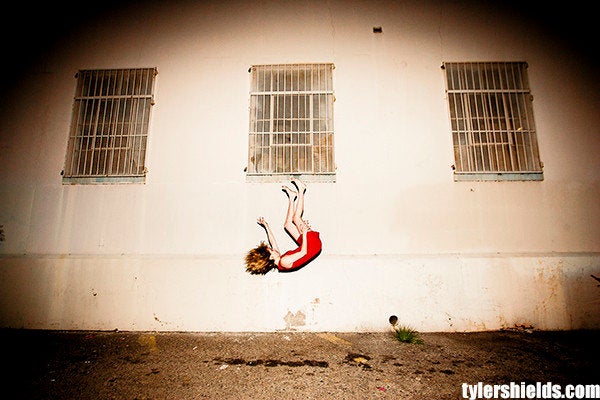 Tyler Shields' "Suspense," an exhilarating array of images that began with a shot the photographer took of himself backflipping across train tracks in the middle of the desert, was originally planned as a series of self-portraits. But then Shields' previous muse Emma Roberts and girlfriend Francesca Eastwood learned of the project and immediately wanted to get in on the action.
Shields was initially concerned that the concept of subjects posing midair was too precarious to enlist others. "I was like, it's really not very safe. It was the first time ever in my life that I was dissuading people from doing something," he recalls in an interview with The Huffington Post. But Roberts and Eastwood were insistent. "So I thought, okay we'll go out and we'll shoot, and they'll want to give up after about 10 minutes. Eight-and-a-half hours later, we had shot the entire day."
While Shields kept the cast of "Suspense" minimal -- only those undaunted by the idea of jumping off buildings need apply -- he recruited a few other brave souls, such as model Lydia Hearst and two childhood pals he'd skated with. Roberts' current beau Evan Peters also makes an appearance. In one image, the actress is being thrown to her boyfriend. "If he doesn't catch her, they're going to have some serious domestic issues," Shields remembers joking.
Shields says he was blown away by the agility of both Roberts, 22, and Eastwood, 19. He maintains that all stunts in the series are real, a testament to the physical abilities of his subjects. "Obviously, people say, oh, did you superimpose it, or use wires or whatever? There was no superimposing and no wires in the entire series. Now, how people are doing certain things and how they got where they're going and where they land, that's part of the mystery."
However, that's not to say the yearlong project hasn't been without mishaps. For example, there was the time Francesca and Emma collided. "The one of them in the air together, that was the first time we did it," Shields, 30, says. "That was one of those moments where we got the shot and they both said, 'Let us do it again. I think we can do it better.' And the second time, they collided into each other in the air and smashed down on the ground. That was when it became the rule that if you get it the first time, we're not doing any retakes."
Even Shields was surprised by what they were able to capture. "There's one shot of Francesca, where we got this crazy balloon and had her catapulted into the air," he says. "It's ridiculous. She's perfectly flying into the air, almost a la Mary Poppins. I wasn't really expecting that when we went to shoot. We shot it in Malibu and there were clouds, and there are never clouds in LA. It was just one of those happy accidents."
The lensman reveals that the theme reflects a longtime obsession of his. "I love the idea of freedom," he explains. "When I was a kid, I would always jump off things and I was always into the idea of being able to fly and being able to do the impossible." He continues, "When people look at these images, you see a moment when sometimes somebody looks like they're about to die, and sometimes somebody looks like they're about to live. And that was one of the most exciting things to me: How can you create an image that really makes somebody feel something?"
Ultimately, Shields says he wants to prompt viewers to push their own boundaries. "My hope is that it pushes people to want to explore what they're actually capable of more," he says. "If these images make someone want to make better images, or want to live more or see the world in a different way, then that's perfect to me."
Before You Go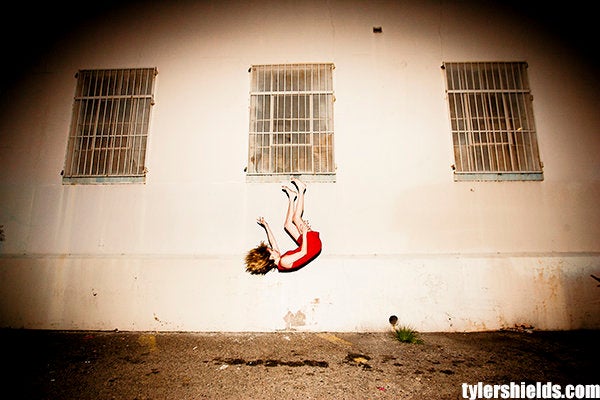 Tyler Shields, "Suspense"
Popular in the Community