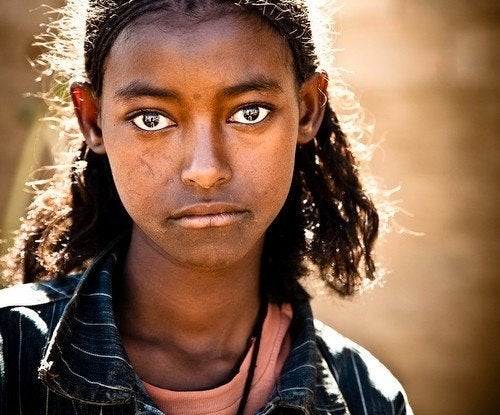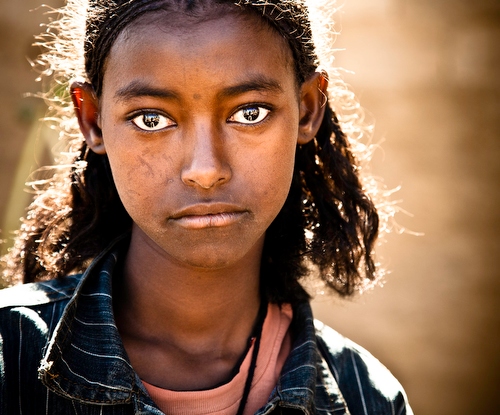 There are 5 million orphans in Ethiopia, according to the official UNICEF estimate. Frehiwot Abera is one of them. Photographer Tyler Stableford met her on his volunteer work there. He says she lost both her parents by age five. She is now 12, living with her unemployed aunt in the war-ravaged town of Rama. (c) Tyler Stableford/Getty Images
Ethiopia and Trying New Things
Tyler Stableford is serious about his service to others. Seriously intrepid. He and his wife adopted their son from Ethiopia in 2009. A few months later, he was "so deeply invested" in the humanitarian group that facilitated the adoption, he offered to shoot a documentary for them. The only problem -- he hadn't made a documentary before.
"I try to reduce my fear of trying new things, of holding myself back," he told me late last month. He was in Los Angeles to give an IRIS Lecture at the Annenberg Space for Photography in Los Angeles as part of their Extreme Exposure exhibition.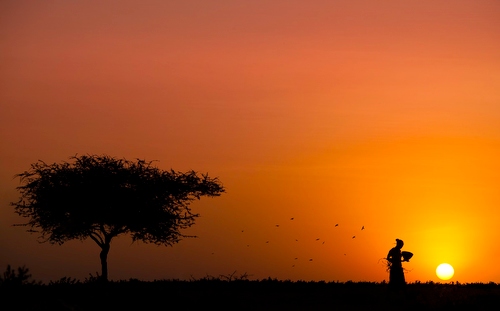 Any time a person holds a camera up to his or her eye, Stableford says, there is an alteration of view. See video clip below from his Annenberg lecture for an insight into his approach. (c) Tyler Stableford/Getty Images
(The entire Annenberg lecture can be viewed here.)
Stableford is well established in Colorado and nationally as an outdoor still photographer, and, as you can see in this blog, he definitely took stills on the Ethiopia trip. But the nonprofit Wide Horizons for Children also wanted a short film. Stableford bought two Canon 5D cameras shortly after they came on the market -- they shoot high definition video as well as stills -- and took them to Ethiopia a week later with a couple of batteries.
"I said okay this is going to be my crash course into shooting movies." (You can see the result by clicking here.)
He was following a path that many talented still photographers take these days as they follow the DSLR technological breakthrough into the world of film-making. That he decided to turn it into eight weeks of service to a humanitarian nonprofit is indicative of his approach to life.
A few years back, he decided to dedicate at a week each year to nonprofit work. He also is an active member of 1% for the Planet.
"That's been easily one of the more rewarding things in my life. I came to it late. I was not an active volunteer in my 20s... I mirror a lot of the people in my photographs - who are upper class white people recreating in the outdoors.... I started looking at my own searches for greater and lasting happiness. A a lot of them -- meditation, books I was reading, practices -- converged in service as being a core tenet of happiness -- of a full life. I realized it [service] was missing from my life."
He describes himself as a "marketing photographer" and believes the best way he can contribute to nonprofit work is with his camera. The trip to Ethiopia also allowed him to use his story-telling ability and his journalistic background -- he has experience working as an editor in magazines.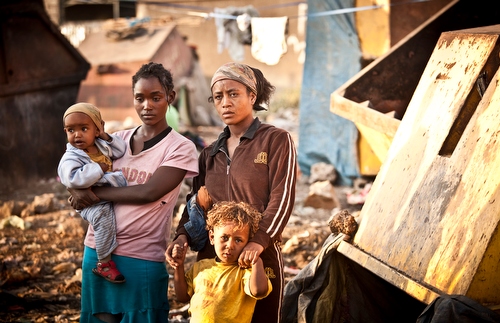 Stableford told the story of two orphans who became solo mothers raising their children while living in a "dumpster home" in Addis Ababa. On the left, Meskeran Gedacho lost her parents in 2000. She holds her 1 year-old son, Nati. Bethlehem Demesy is 20. Her son Nahom is four. Bethlehem's parents died when she was a teenager. She, like Meskaran, turned to prostitution and begging for survival. Stableford, with the help of an interpreter, made this photo, and the following one, because he felt it was important to tell the stories of the vulnerable people who didn't receive outside support from organizations like Wide Horizons for Children. Both photos (c) Tyler Stableford/Getty Images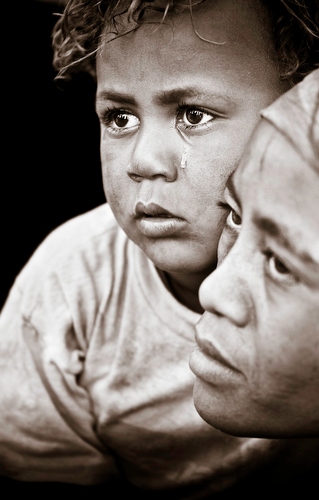 (c) Tyler Stableford/Getty Images

"Ethiopia .. is about as hard hit as a place can get. I was able to go out with a translator and ask questions that never, even if they were friends, would I ask. "How did you lose your mother? How did you lose your father? What are your memories of them? How did you survive before you met this agency to help you? "
The documentary trip did more than help spread awareness for the nonprofit Wide Horizons. Stableford says two fund-raisers he attended on the East Coast of the US coast raised several hundred thousand dollars for the cause.
But Stableford says he was just helping "in a small way, not like other people who give relatively more of their time and resources." He also says he's being selfish.
"When I talk about doing nonprofit work, I say, for me it's an entirely selfish act. And [I add] that it's most sustainable when it's done selfishly. It has brought so much joy and perspective and gratitude to my life."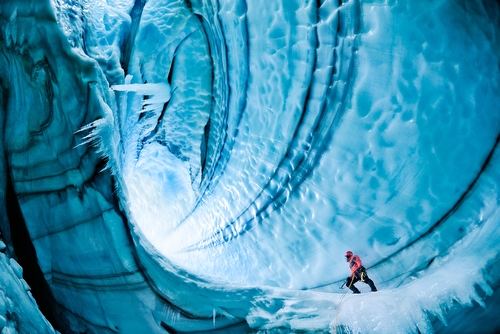 Stableford takes a wide view of nature. He made this photo of a glacial cave in Iceland with a 15mm lens. The approach distorts normal perspective, but allows him to tell his stories with more detail and a greater sense of an all-encompassing environment.(c) Tyler Stableford/Getty Images

"I spend pretty much every day in the outdoors," Stableford says. Living in Carbondale, Colorado, he has plenty of opportunity. He loves climbing and skiing and anything that puts him out in nature. He says the outdoor experience connects him to what is timeless and therefore is "incredibly soothing." And it shows in his photography.
"I use very wide angle lenses. About as wide as companies make is what I want to shoot with. All my photos have people in them for the simple reason that I can make a living. .. If there's nobody in the photo, nobody wants to buy it, pretty as it is... So I capture the model or the athlete and still tell the wider story of the environment. All my themes are about finding that freedom and escape in the outdoors."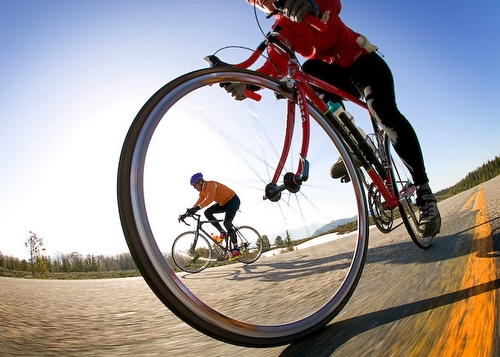 "Every photo is an experiment," Stableford says. Success is often not replicable from setup to setup. But he says "there's magic in that entropy. So I stopped trying to nail the perfect image." Not a bad effort here, though. (c) Tyler Stableford/Getty Images
The Iraqi Veteran & the Paralympics
Most of the video work Stableford does is for nonprofits. One of his latest efforts is a 13 minute film called The Fall Line shot in early 2010 in Aspen, Colorado.
The film follows Iraq veteran Heath Calhoun and his quest to make it to the Paralympics as a skier. Check out the trailer below.
The Fall Line is another example of Stableford pushing himself to reach another level.
"I shot with the 5 D and it was my first time I stepped into film-making fully instead of a documentary hybrid. "
He says it was "like going to graduate school." He had hired a Carbondale neighbor and Hollywood second unit director, Kent Harvey, to work with him and teach him. The resulting film was chosen for 2011 Banff Film Festival World Tour. He donated the film to the U.S. Paralympics team which is using it as a fundraising vehicle.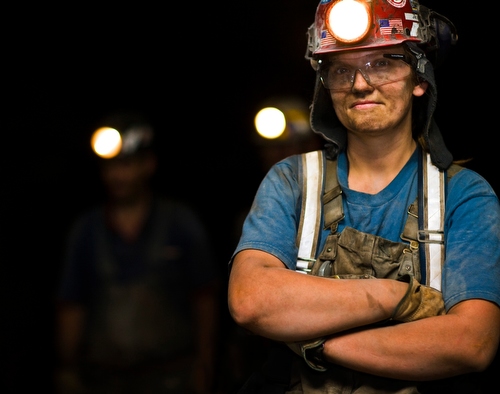 One of the few female miners at a Colorado coal mine. Stableford says he works hard to establish a rapport with his subjects and always give prints to them soon after he shoots so they can see the images he is making. This builds trust and inspires cooperation, he says. (c) Tyler Stableford/Getty Images
When I talked with Tyler Stableford, I sensed a calm, philosophical, strategic mind at work. And yet, he loves adventure and is an avid rock and mountain climber. He sees no contradiction there. Even in his parenting, he has a daughter as well as a son, he is thoughtfully bold.
"My wife and I are both on that page of encouraging our kids not to grow up with excessive fear. [The general idea is --] Embrace exploration and get hurt when you can. Within reason of course. That's a huge thing for us."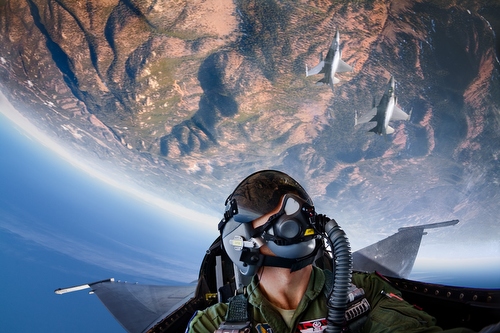 New perspective. Stableford shot this image from the backseat of an F-16D fighter jet using a Canon EOS 5D Mark II camera and a 15mm lens. It was part of a story for 5280 Magazine about the citizen fighter pilots at the 140th Wing at Buckley Air Force base in Aurora, Colorado. (c) Tyler Stableford/Getty Images

Winston Churchill & Photography of Service
Stableford used a quote from Winston Churchill in his lecture at the Annenberg Space for Photography.
"We make a living by what we get. We make a life by what we give."
By this definition, Stableford has managed to make both a living and a life. In the process, he's created some memorable images and an even more memorable example of blending art, service and self.
Calling all HuffPost superfans!
Sign up for membership to become a founding member and help shape HuffPost's next chapter