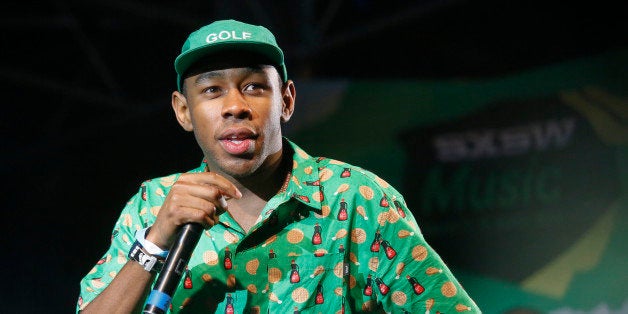 Tyler, The Creator, really admires Elon Musk.
In an appearance this week on WQHT Hot97, the rapper gushed fawningly over the Tesla Motors CEO's decision last year to free up the electric automaker's patents.
"Instead of holding that patent, he's sharing it with everyone so car companies can get on that," the rapper, whose real name is Tyler Okonma, said during a 30-minute interview on the New York radio station. "That is so cool because some people would be selfish and keep that to continue to make money."
Skip ahead to 4:20 for the discussion of Elon Musk.
That isn't to say Tesla's move wasn't a shrewd business decision. By releasing its patents -- vowing not to sue anyone who copied them -- Tesla encouraged other companies to use its platform. In time this could result in a whole segment of the car industry being compatible with Tesla's chargers. Not to mention that, as electric vehicles are more widely adopted, Tesla's customer base grows.
Moreover, other automakers could build battery-powered cars at a cheaper price than Tesla. Tesla's Model S sedan starts at about $70,000. A release date for the planned Model 3 line of more affordable vehicles -- Musk says the company is hoping for a $35,000 price tag -- has yet to be announced.
"What about people who can't afford the Tesla?" Tyler said during the radio interview. "They'll get the Ford one that's not f-----g up the earth. It's all relative. It's sick that he did that."
The rapper said he had yet to meet Musk. They planned to cross paths in April at the Coachella music festival, but their schedules didn't align.
The billionaire entrepreneur, who serves as CEO of Tesla and SpaceX and as chairman of SolarCity, came up in conversation after Tyler listed him as someone who has achieved an impressive level of success.
"If you look at Jay, P. Diddy, Elon Musk, I'm nothing," he said.
"Elon Musk?" the interviewer, Ebro Darden, asked. "Is that a cologne or something?"