For dramatic impact, it's not easy to match a multiple murder. Tyler Young says the love story in USA's new crime thriller Eyewitness just might.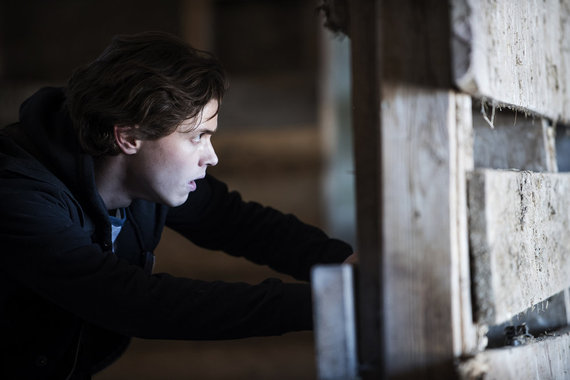 In Eyewitness, which premieres Sunday at 10 p.m. ET, Young (above) costars as Philip Shea, a teenager who begins an affair with his closeted schoolmate Lukas Waldenbeck (James Paxton).

They are having a clandestine tryst at a secluded cabin when the cabin is invaded by psychokiller Ryan Kane (Warren Christie).

Murders ensue and the two teens barely escape. Unfortunately, so does Kane, who isn't keen on having a couple of witnesses on the loose.
What Kane (above) doesn't know is that Philip and Lukas agree they will never even admit they were there, in large part because Lukas is petrified that the rest of the world would deduce that he's gay.

"This show has a lot going on," says Young, "and the love story is at the center."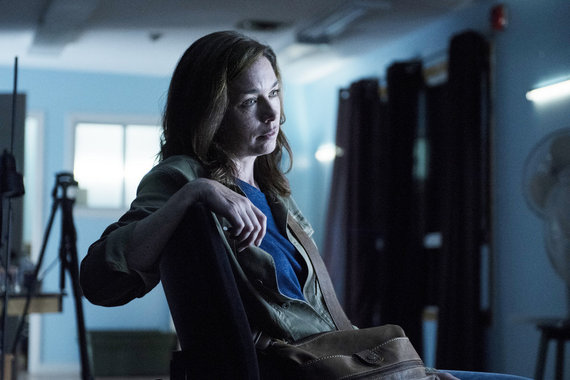 Much of the action also revolves around Helen Torrance (Julianne Nicholson) (above). She's the sheriff of the small upstate New York town where the murders occur, and she used to be a New York City cop.

So when the big guns of the FBI try to freeze her out, she stays in anyhow, if only because she misses the excitement of doing more than writing the occasional littering ticket.

She and her new husband Gabe Caldwell (Gil Bellows) are also Philip's foster parents. Philip thinks they're okay, but he really misses his biological Mom back in Queens. Trouble is, she's a drug addict who has to focus on trying to reclaim her own life.

So Philip is trying to make the best of things.
"With his mother, he's spent almost all of his life taking care of someone else," says Young. "So he's never really had time to pursue his own passions. Now he has a chance to do that.

"But there's a lot going on. He's a foster kid from the rough side of town. He's also the new kid in school. And he's figuring out who he is."

That includes being gay, and Eyewitness deftly walks the fine line between acknowledging that a gay affair in a small town will draw some attention and reflecting Philip's feeling that it's just who he is.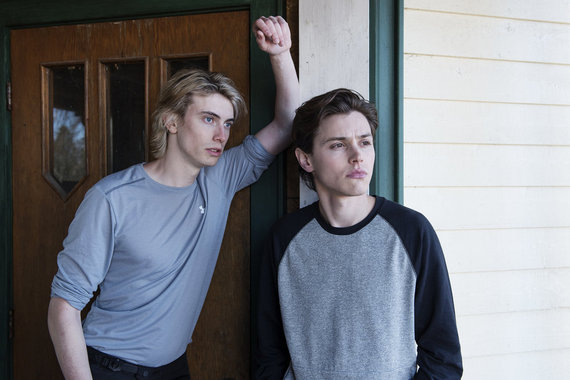 Philip's comfort with his sexual orientation stands in sharp contrast to the unease of Lukas (above), who early in the first episode snaps to Philip, "I'm not like you!" Later Lukas slugs Philip in the school hallway to show his pals that he's not going to get too chummy with this new kid.

"Some people might be surprised Philip is out of the closet while Lukas remains very closeted," says Young. "Actually, Philip is coming to terms with his sexuality as well.

"So you see two very different coming-out stories on the same show, and I think that's very true to the experience of LGBTQ youth. There's no one way to come out. Everyone has a journey."

Moreover, he says, despite the real-life progress in LGBTQ rights, some of those journeys remain more challenging than others.

"If you live in a major city or an urban area, it can seem like the norm," Young says. "Where Philip comes from, in Queens, everyone is different. You have trans people, gay people, people in grey areas. But then he moves to a small town, where if you don't fit into the hetero model, you're an 'other.'

"He's still okay. But when he sees what Lukas is going through, he realizes that in other parts of the country, it's not so easy to be who you are. It can cause antagonism and hatred.

"So Lukas internalizes everything, and it's hard for Philip to watch because he sees that Lukas is doing all this to himself.

"That's why Philip says, 'Let's tell people, let's get this done.' Because young love can feel like life and death."

In Eyewitness, of course, that might be literally true.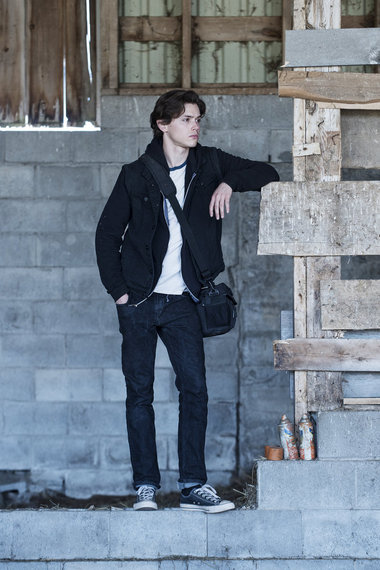 "You have to remember all the time that this killer is out there," says Young.

Eyewitness is the latest U.S. TV drama based on a foreign series, in this case the Norwegian Oyevitne. In keeping with those roots, the show has a perpetual ominous cloud cover for which Young credits cinematographer David Greene.

"It has a great look," he says. "It's cinematic."

Young adds that filming the show in northern Ontario also contributed to cast chemistry, since there weren't a lot of distractions after shooting ended.

"There was hardly even any Internet access," says Young with a laugh. "It was like living in the '80s. We actually had to talk to each other.

"But it really gave us a lot of time to focus on the show and the relationships, and I think that made the show better. After a few episodes, you could see that the writers were starting to write for the actors, because they saw how we worked together."

Young, who signed on to the show after reading the pilot, says he was "surprised every week" by where it went. That included both the crime suspense part of the story and how romance played out for Lukas and Philip.

"The love story isn't a side plot," says Young. "It isn't written as a PSA, either. I think it becomes a teaching moment without trying to be."
REAL LIFE. REAL NEWS. REAL VOICES.
Help us tell more of the stories that matter from voices that too often remain unheard.