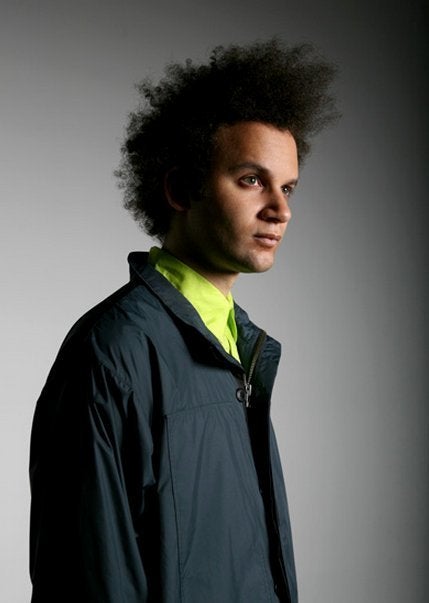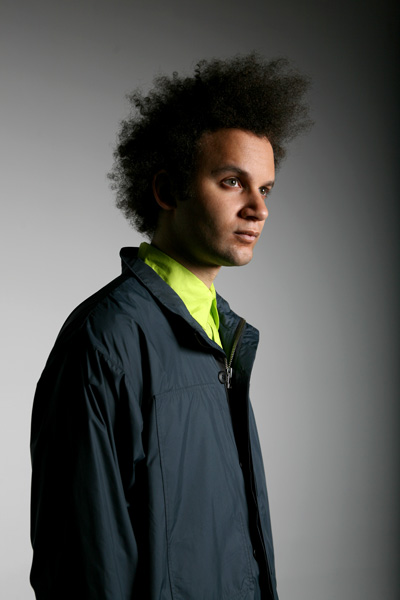 Tyondai Braxton is one of the most intriguing artists I know. He is a composer/performer of fugitive musical scope: from co-founding the avant-rock group Battles in 2002 (in which he was front man until 2010) to collaborating with iconic composer Philip Glass (performing NYC's ATP Festival in 2012) to writing for today's hottest new music super groups (including Kronos Quartet, Bang on a Can, and Alarm Will Sound), Braxton is masterfully involved in multiple musical scenes like few others.
As a flutist, one of my all-time favorite projects was touring Braxton's Central Market in 2011 with Wordless Music Orchestra. A large-scale, genre-defying "symphonic" work, Central Market combines electronic indie-rock sensibility with old school classical orchestration, and a few kazoos to boot. (How many guitar players does it take to launch a 2 a.m. tour bus kazoo sing along? Six.) The Walker Art Museum was among the many stops on this trip, and although playing Central Market in their theater was lovely, I couldn't help but think, walking amidst giant cherries in the sculpture garden, how awesome Tyondai's music would be as a central force in a modern art museum.
On March 21 I'm going to get my wish! Braxton and Wordless Music are teaming up again, this time joining forces with the Guggenheim Museum for the world premiere of HIVE, a "part installation/ part band" multimedia experience. Featuring Braxton performing live with musician Ben Vida and percussionists Yuri Yamashita, Jared Soldiviero, and John Ostrowski atop massive HIVE pods designed by Danish architect and carpenter Uffe Surland Van Tams, HIVE adds yet another dimension to Braxton's already beguiling canon. I had to know more about what he has in store for us:
Jessica Schmitz: Is HIVE your first installation work?
Tyondai Braxton: It's certainly my first installation work of this scale. I received a commission a couple of years ago for the first HIVE pod to be built and did a show with one. Compositionally, technologically and visually though, I've never done anything like this before.
Tell us about the HIVE pods and your collaboration with Uffe Surland Van Tams. How did you meet and develop this project?
We met in the early 2000s when I was playing a lot in New York and he'd come to see my shows. I would play solo sitting on the floor with an array of guitar pedals and loopers and one day Uffe introduced himself with the idea of constructing a platform that I could perform on. Since then, I've been thinking about developing HIVE so when the Guggenheim expressed interest in collaborating, it allowed me to realize this next phase of the project.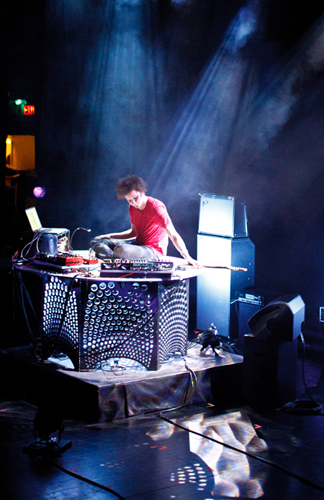 Do the visual and musical elements of the piece mirror the title beyond the physical structure of the hive-like pods?
Yes -- the musicians and lighting are technologically interconnected in very exciting ways: we each have individual roles with the instruments we're playing, but the way we're able to interact technologically allows multi-dimensional musical unity. The percussionists will be reading scores off iPads that are linked to an Ableton Live session, and the lighting designer is creating patterns triggered by Ableton as well. It all sounds very techy but musically it's very symbiotic and alive.
The music of HIVE is all brand-new. What instruments will you, Ben, Yuri, Jared, and John be playing? Do the pods themselves produce acoustic and/or electronic sound?
Ben and I will be using modular synthesizers, laptops and samplers. Yuri, Jared and John will be performing various percussion instruments, all of which will be routed to affect what Ben and I will be doing. The pods are made of wood and are simply structures that the performers perform on top of.
Is this a site-specific project, or will you be renting a very large tour bus and taking the pods on the road?
I intend on doing a bunch of shows with HIVE and I'll be pursuing that once the music solidifies more. I'm psyched to see how this project could grow.
Is there more multimedia installation work in your future?
I'd very much like there to be, yes.
Photo credits: Top left: Grace Villamil, bottom left: Amanda Hatfield
Popular in the Community