Faced with the widespread suffering caused by Typhoon Haiyan in November 2013, people in Hawaii gave generously. Various groups organized donation drives, concerts, and other events to raise funds for the thousands who lost homes and loved ones to the fury of one of the many super destructive storms that we have come to associate with climate change. One such group was the Congress of Visayan Organizations (COVO). Those leading the COVO effort were fervent in their determination to make sure that the funds they raised actually helped people build new homes and reconstruct their lives.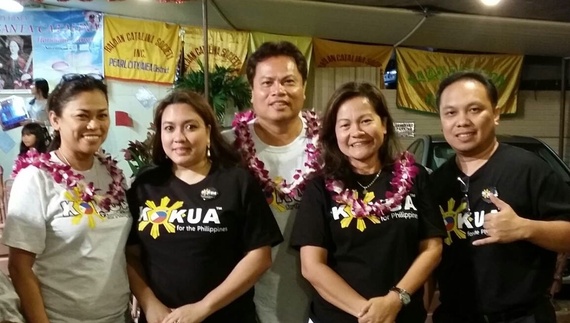 1-r: Night of Hope concert team - May Mizuno (COVO President); Faith Navasca (Graphic Artist); Hernando Tan (COVO Executive Director); Eva Rose B. Washburn-Repollo (COVO Secretary); Raul (Jake) Navasca (Cebuano Association Treasurer)
Group retreat leads to better governance
So, the first thing the organizers did was to hold a retreat. The idea originated with Hernando Tan, who as President of Local 5 had seen how retreats had helped union staff and leadership take stock of themselves, resolve conflicts and set goals. "I wanted to make sure we were all on the same page," he says. "We were getting lots of donations from housekeepers and low income workers. It was very important that these donors who gave so generously from their hard-earned wages, knew for certain that the $25 they contributed was going to help the victims. We did not want anyone to have even the slightest fear that the funds were going anywhere other than to the victims."
Eva Washburn-Repollo, a Communication professor at Chaminade University, who also comes from the Visayan islands, expressed that same determination. She had long wanted to become more involved with the Filipino community aid organizations in Hawaii. "I only moved to Hawaii in 2003, but my ancestors in the Philippines made their living in the plantation industry too." Still, as a relative newcomer, she had hesitated about joining organizations that already had an established structure and leadership. Until the day May Mizuno, President of COVO asked if she would help raise funds for the victims of Typhoon Haiyan.
"We had more in common than I realized," she said. "Both of us were from the tiny Visayan islands. We were both graduates of Silliman University in the Philippines. And I was already involved in an effort to raise funds for victims of the Bohol earthquake that had taken place the month before Haiyan struck. So we were ready to hit the ground running."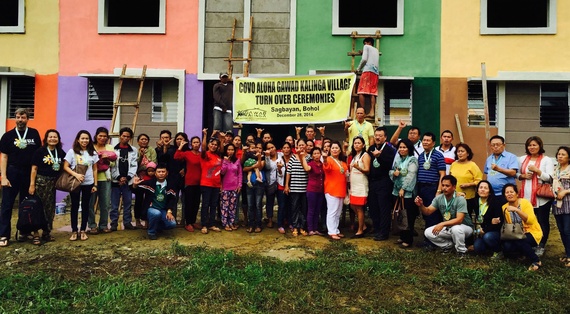 Washburn-Repollo sees the retreat and the guidance from the Hawaii Attorney General's office as critical to helping the leadership team build trust and work together on ways to ensure transparency and accountability.
"It was scary to see how little scrutiny there is of fund-raising efforts of the kind we were engaged in, " she said. "No one was really holding us accountable and we had raised $100,000 in donations. The only thing guiding us initially was our collective resolve, fortified by our retreat, to do our best for the victims of Haiyan and be totally transparent in all our actions. And that led us to the AG's office, to taking deliberate steps to draw up memorandums of agreement (MOA) and address leadership issues within COVO," she said. She attributes a lot of their success in ensuring zealous management of the funds raised to COVO Foundation President Jane Clement who worked tirelessly on drafting and executing the MOAs as the head of the non-profit arm that finally got the project going. "She is also the one who keeps us updated on the progress of the donation drive."
Where did the money go?
All of the money raised through COVO's efforts, except for what went towards the concert production and the documentary now being made, mostly with pro bono hours, paid for the building of homes for survivors of the earthquake in October and Typhoon Haiyan a month later. In January this year, a delegation from COVO, led by its President, May Besario Mizuno, were on hand in the Philippines for the grand opening of two villages consisting of 20 homes each in Leyte and Bohol. "Everyone worked together to build those homes under the umbrella of Gawad Kalinga, not knowing if they would be lucky enough to qualify for one. It was amazing to watch the generosity of spirit as the ones who did not qualify congratulated the ones who had," said Washburn-Repollo.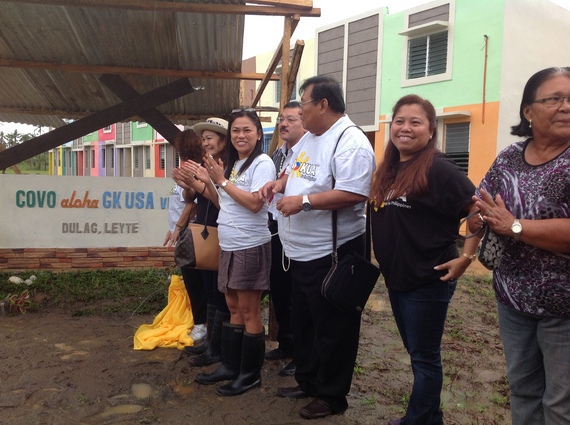 l to r: On site at the COVO Aloha GK USA villages: Dr. Eva Washburn-Repollo (COVO Secretary); May Mizuno (COVO President); John Mizuno (Vice Speaker of the House, State of Hawaii); Ben Sanchez (COVO Foundation Board member); Dr. Verna Subere (COVO Member from Leyte), and a Sagbayan Public Official.

COVO was able to make the money it raised go a long way through effective partnerships forged with Gawad Kalinga USA and its CEO, Tony Olaes who matched the donations. "We went to the Philippines to meet the people who worked on these homes, to let them know we were interested in much more than in just sending them money. We wanted them to understand what drove us to want to help. We also wanted to understand in some small measure the depth of what the people in the Visayan islands had been through," said Washburn-Repollo.
Looking back on the road they travelled together to get to COVO Aloha GK USA Village, Washburn-Repollo and Tan both say they were trying to model a way of giving that would inspire confidence in donors. "We also wanted recipients of the aid to have an explicit stake in the effort to rebuild: through their sweat equity, through the values and aspirations they expressed."
"We weren't just trying to help them rebuild their lives. In some sense, we were also fighting for our souls, for our own integrity, as we looked for the right way to channel our help, " said Washburn-Repollo.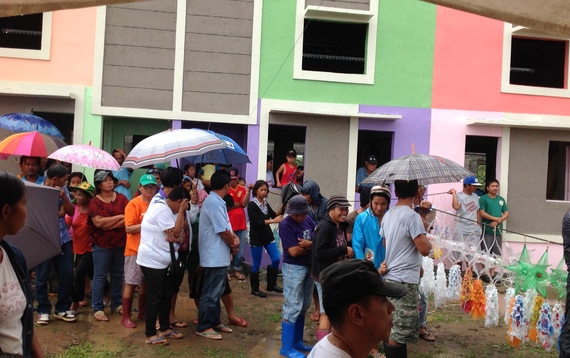 "If our approach inspires the big aid organizations to return to their original missions, to understand that we are dealing with the lives of real people, we would have built something even more important than the homes," said Hernando Tan. "We would have taken real steps towards a better, more sustainable future."
REAL LIFE. REAL NEWS. REAL VOICES.
Help us tell more of the stories that matter from voices that too often remain unheard.