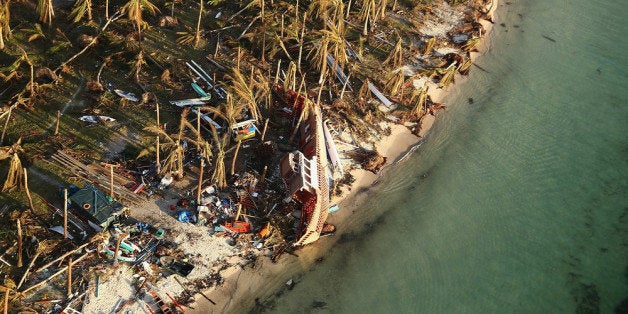 I love my generation. I love my generation because every day I get to work with young people actively trying to change the world. We are a generation that not only recognizes the issues and problems facing our world, but are actively trying to change them.
One such issue is climate change. And that's why, within days of the super typhoon Haiyan (locally known as Yolanda) striking the Philippines, Esperanza Garcia, founder of the Philippine Youth Climate Movement appeared on MSNBC to voice her concerns, not only for the people of the Philippines, but for the future of our world. Joining Chris Hayes and Dr. Radley Horton, she was able to draw attention to the affect climate change has on, not only the environment, but on economies and the lives of people everywhere. And she is just one example of young people raising their voices to fight issues such as climate change. These issues affect everyone, everywhere and have most recently affected the Philippines in a drastic way.
It all starts with a choice. The choice to acknowledge that this is happening and that it will only get worse if we don't do something about it. The choice to be vocal about these issues and make sure that our voices are being heard. And the choice to take action.
Taking action is exactly what a group of dedicated young people has decided to do by joining together to create a grassroots campaign that seeks to provide solidarity and relief to the nine million people affected by the super typhoon. The group, called "ReliefPH Bundles of Joy and Letters of Hope," not only seeks to provide food, clean water, clothing, vitamins, and light to survivors of Haiyan, but they also will be including letters of hope in order to bring comfort to these survivors and let them know that they are not alone.
This is such an amazing initiative because anyone can get involved and show their support. Even if you cannot give monetarily, there's always an option to write a letter of hope. Letters of support can be posted to the ReliefPH "Bundles of Joy" Facebook wall or by sending them to phbundlesofjoy@gmail.com.
This is a way anyone, anywhere can get involved. You never know who your letter might reach or whose life you might touch. The entire world is standing with the Philippines right now and this is a simple way to show them that they have our support now and as we look into the future.
REAL LIFE. REAL NEWS. REAL VOICES.
Help us tell more of the stories that matter from voices that too often remain unheard.