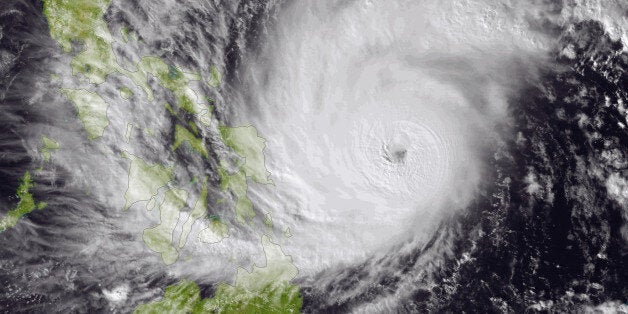 By Rosemarie Francisco and Manuel Mogato
MANILA, Dec 7 (Reuters) - A powerful typhoon plowed through the central Philippines on Sunday, bringing howling winds that toppled trees and power poles and cut off communications with areas where thousands were killed by a massive storm just over a year ago.
More than 1 million people had fled to shelters away from coastal areas and landslide-prone villages by the time Typhoon Hagupit made landfall on Saturday night, in what a U.N. agency said was one of the world's biggest peacetime evacuations.
As the storm barrelled in from the Pacific, power was cut across most of the eastern island of Samar and nearby Leyte province, including Tacloban City, considered ground zero of the devastating super typhoon Haiyan last year.
"I can't penetrate the areas, I can't go north or south because of fallen trees and power lines. Many areas are flooded," Ben Evardone, congressman for Eastern Samar, said from his base in the provincial capital Borongan.
Local radio reported at least two people were killed in Eastern Samar, that could not be confirmed by officials. The Philippine Red Cross said they were also verifying the report.
Hagupit had weakened to a category 3 storm, two notches below "super typhoon," when it hit land, but still brought torrential rain and the risk of potentially disastrous storm surges of up to 4.5 meters (15 ft).
"This storm is still very strong, it could bring massive devastation," said weather forecaster Alvin Pura.
The eye of the typhoon was located 70 km (45 miles) northwest of Catbalogan, Samar, after slamming into the town of Dolores, in Eastern Samar, on Saturday night.
After churning across Samar island overnight, it was expected to make a second landfall on the island of Masbate around 10 a.m. (0200 GMT) on Sunday, the Philippine weather bureau PAGASA said.
"There were areas that experienced storm surges," said Science and Technology Secretary Mario Montejo, adding the agency was verifying the exact height of the waves.
Hagupit was moving west northwest at 15 kph (9 mph), bringing winds of up to 160 kph (99 mph) near the center and gusts of up to 195 kph (121 mph).
The weather bureau said Hagupit - which means "lash" in Filipino - maintained its projected path towards Masbate, Romblon and Oriental Mindoro provinces, slightly north of areas devastated by super typhoon Haiyan last year and missing the capital Manila.
Residents of low-lying villages and landslide-prone areas had been evacuated to schools, civic centers, town halls, gyms and churches, the national disaster agency said.
There were more than 1.2 million people crowding over 1,500 evacuation centers across central Philippines, said Gwendolyn Pang, secretary general of the Philippine Red Cross, adding local governments were providing the evacuees' basic needs.
But there were worries on sanitation and the impact on health of the evacuees in cramped spaces especially in urban areas.
"The critical issue is in evacuation centers where there is a high number of evacuees," said Social Work Secretary Corazon Soliman. "We are concerned that the congestion will cause more threat on health."
Environment and humanitarian groups are hoping the typhoon would spur action at U.N. climate talks in Lima, where almost 200 nations are meeting to work out an accord to slow global warming, due at a summit in Paris in a year's time.
"My country is under water, farms have been wiped away, homes destroyed, families separated," Shubert Ciencia of the Philippine Rural Reconstruction Movement and a member of global relief organization Oxfam, said in Lima.
"Nobody should have to live under the threat of destruction year after year. But we want action, not pity. Negotiators have a chance to make history by standing up for those who have already lost so much and the millions more who will suffer the same fate unless we act now," Ciencia said.
An Oxfam report in November showed Asia is highly vulnerable to increasingly severe and frequent weather extremes and woefully underprepared to manage growing crises.
(Reporting by Rosemarie Francisco and Manny Mogato in Manila and Alister Doyle in Lima)
Calling all HuffPost superfans!
Sign up for membership to become a founding member and help shape HuffPost's next chapter
BEFORE YOU GO
PHOTO GALLERY
Typhoon Haiyan Aftermath (WARNING: GRAPHIC IMAGES)