The supermodel-turned-business mogul has already built quite the fashion empire with "America's Next Top Model," "smizing" app and the now-defunct daytime TV talk show. Now, Banks is expanding her portfolio with a new makeup line called Tyra Beauty that is fully self-funded.
She's teamed up with HSN to sell her collection of sassy-named lipsticks, eyeliner, mascara, highlighting and contouring sticks online and during a two-hour televised special on November 7, complete with a gospel choir and runway show.
We recently sat down with Banks to discuss her foray into cosmetics, the beauty trick that intimidated her for years and the lip color she believes is perfect for FLOTUS.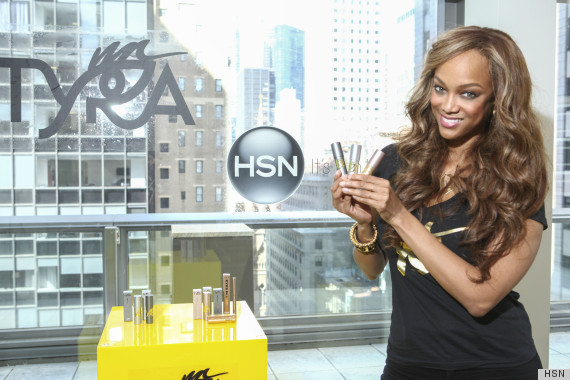 HuffPost Style: As a woman of color and covering backstage preparations at Fashion Week, few makeup artists seem knowledgeable about working with different skin tones or having the best products to use. Was this something you considered when creating Tyra Beauty?
Tyra Banks: So one of the big, big decisions that I made was to not start this line with foundations and concealers. I do not want to disappoint anyone and say I do not have their color. We're developing some new technology right now for what I want to do.
Also, because it's a start-up, it's self-funded. I can come out with five shades right now because that's what we can afford with our budget. But that would disappoint a lot of women and I want them to feel beautiful when they wear this line -- whether they have alabaster or ebony skin -- and to feel like Tyra is embracing them just as she does with different models on "America's Next Top Model." So when we do come out with foundations and concealers, [they] will be accommodate different skin tones beautifully.
HPS: A lot of cosmetics creators wear their makeup secretly for a period of time. Can you talk about that process and any feedback you received that helped you get it right in the lab?
TB: Instagram is my feedback! So I would post pictures of myself and there's one picture of me where I cropped my face out and it's just my lips. They're fuchsia and really sparkly. All these girls were like, "What lipstick is that? What lipstick is that? Girl, I want that so bad." And I was like, "Oh my god! They really like it."
HPS: What are some of the Tyra Beauty products that you always have in your handbag?
TB: Well I always have What Lipstick. I am very obsessed with this ... It has this wonderful technology developed in Italy specifically for us where it has a beautiful glide that moisturizes as it goes on. It also gives you high color payoff.
Years later, I wanted to create an homage for that ['Kiss My Fat Ass'] moment and honor women everywhere with this product that I decided to name Smack My Fat Lash. And the great thing about Smack My Fat Lash is the dual formula -- the blue side is volumizing and the black side is lengthening. Most mascaras lengthen or darken, and this does both.
HPS: We are fascinated by your Oops Liner! It's like having the perfect liquid eyeliner and an eraser to make it flawless! What's the scientific secret?
TB: As much as I like to say I can do my face or do other models' faces, I struggle with upper liquid eyeliner. I can put on a lash and not put liner on top because it would be so messy. Or one side would be thick and the other would be thin. And I would try to clean it and it would get super crazy. I shared these stories with Doug [Cooper], the president of IP Brands and said I needed to figure out some mistake-proof upper liner.
I've noticed how the face is instantly transformed with liner and it's such a disservice by not doing it. It takes your eye to the next level! We talked, researched and developed Oops Liner. So it is the eyeliner on one side and the other side is an eyeliner corrector.
[Editor's note: Cooper, who is also a Tyra Beauty consultant, said that the Oops Liner contains a combination of ingredients and emollients that are made together so that the eraser/corrector component is made exclusively for the liner. The chemistry enables the eraser to break the liner down immediately and correct mistakes on the spot.]
HPS: If you could give one product to Beyoncé and Michelle Obama, what would it be and why?
TB: I would send Beyoncé Oops Liner because I know she loves a top liner. Very rarely do you see Beyoncé without a top liner. But what Beyoncé doesn't know is if she uses Oops Liner, she can do it really fast while she's practicing that new move in the mirror. She might mess up a little but she can clean up that mishap.
I would send Michelle Obama What Lipstick in a shade call Ask for a Raise. I'm all about empowering women and so is she. And just about being this strong leader. So whenever the world sees her wearing Ask for a Raise, they just might ask for one.
This interview has been edited and condensed for clarity.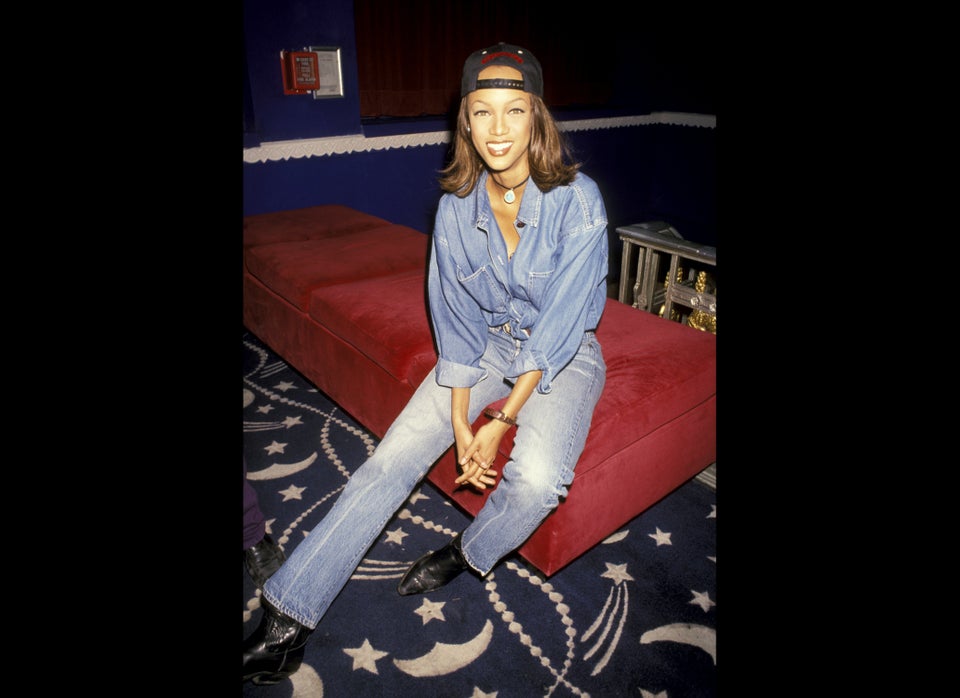 Tyra Banks Style Evolution