The Tyreke Evans conundrum in Sacramento was hardly a secret: While the 2010 Rookie of the Year's talent has never been at question, over the past three seasons the matter of which position and what role best suit him was never settled. New Orleans struck gold on draft night when Nerlens Noel fell to six and the Pelicans sent him packing to Philadelphia for All-Star point guard Jrue Holiday. But there are four good reasons to think that dealing for Evans was a massive mistake: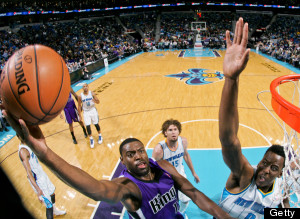 Tyreke Evans is a tremendous talent whose potential appears it will never be realized. (Getty Images)
Aside from Holiday, New Orleans' roster also includes Eric Gordon and 2012 lottery pick Austin Rivers. Gordon has a chartful of health concerns, but he is a young, dynamic talent and a pure scorer who, like Evans, needs the ball to be effective. And does the addition of Evans mean that the team has already giving up on Rivers? Like many others, I thought he screamed bust, but New Orleans picked him tenth -- bringing in a ball hawk like Evans could seriously stunt his growth.
The logical expectation is that Evans will play the three spot, because he is a dynamic athlete who excels in space. That said, Anthony Davis and Holiday are easily the team's greatest assets, and they should thrive playing off one another. Holiday can easily score 20 points a game, and Davis should get around 15 as a second-year man. If Gordon is healthy, he gives you 16-plus points a night. So where does that leave Evans, a mercurial talent who often hunts for his own offense?
3) What kind of team are you building?
It makes little sense to trade away Noel and a protected 2014 first-round draft choice (in a "golden draft," moreover) for a young lead guard in Holiday if the goal is anything other than to build a team that can win right now.
To be fair, Sacramento over the past five seasons has probably been one of the most toxic organizations in the NBA, given the ownership problems, coaching changes and issues surrounding DeMarcus Cousins. Evans, however, hasn't lived up to what he appears to be capable of. He is definitely not a point guard, and he's never won anything, even during his one college season at Memphis.
Davis is a star in the making, but he is also without a reliable post game. Evans, for his part, has never been a particularly good screen-and-roll player, especially as a facilitator.
There is also the matter of dealing 26-year-old point guard Greivis Vasquez, who is coming off a career year in which he averaged 14 points and 9 assists -- good enough for third best in the league. Similar to Evans, he has terrific size at 6-foot-6 and can play off the ball for long stretches. He is a far more efficient player than Evans and a tremendous all-around bargain: Evans signed a four-year, $44 million offer sheet with New Orleans, as compared to Vasquez, who will earn $2 million and change next year.
Email me at jordan.schultz@huffingtonpost.com or ask me questions about anything sports-related at @Schultz_Report. Also, be sure and catch my NBC Sports Radio show, Kup and Schultz, which airs Sunday mornings from 9-12 ET, right here.
REAL LIFE. REAL NEWS. REAL VOICES.
Help us tell more of the stories that matter from voices that too often remain unheard.