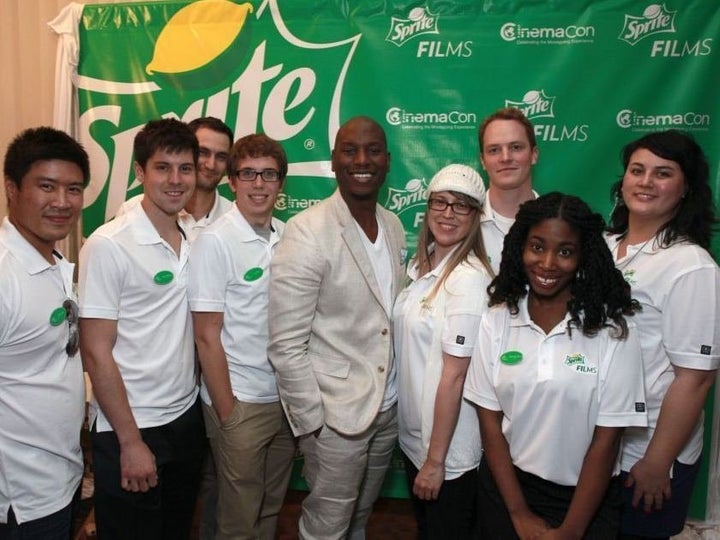 As part of Sprite Films' annual program, which gives emerging student filmmakers the opportunity to compete for a theatrical release of their short film, Gibson has been tapped by the Coca-Cola Company to serve as a celebrity mentor for this year's contest.
Under his guidance eight lucky finalists have the chance to take in the singer-actor's advice on how to navigate the various challenges and misunderstandings they may encounter during the filmmaking process.
"Coca-Cola, Sprite that's my original family, that's the first thing that I ever did," he recently explained to the Huffington Post. "We just been trying to figure out a way to get some more synergy and energy going with my original family, because they changed my life in such a major way. So I was just honored to do anything that they wanted me to do. And this just so happened to fall up my alley."
"The gist of the stuff that I was telling them was, we are as dreamers, perception creators and the world is an empty canvas waiting on new thoughts to think. And however way you get them out, whether it's through clothes, whether it's through technology, music, filmmaking, the world is waiting for us to create those new perceptions and concepts," he continued.
"When the world loves and respond to what you're doing, they all fall in line and start doing things that are just like what you just did…it's like all of a sudden, James Cameron does 'Avatar' in 3D and so now every movie on earth is in 3D."
In addition to Gibson offering words of wisdom to students, he also plans to become a film student in the near future and ultimately land in the director's seat.
"I told two people already that I don't want anything for Christmas, I just want to be put through film school," he added. "I just want a four or five month course and I just want to get out of there, because I'm a fast learner."
"I've been around cameras for many, many years and I just want to understand the basics. I pretty much know what to do and how to do it; I just want to understand specific questions. So that whatever I'm doing it comes from a place of knowledge."
Fans can view and vote for their favorite filmmaker now through August 31 at Sprite.com. Winners will be announced on September 5, followed by their winning film being shown in theaters in November.
Calling all HuffPost superfans!
Sign up for membership to become a founding member and help shape HuffPost's next chapter
BEFORE YOU GO
PHOTO GALLERY
African-American Filmmakers