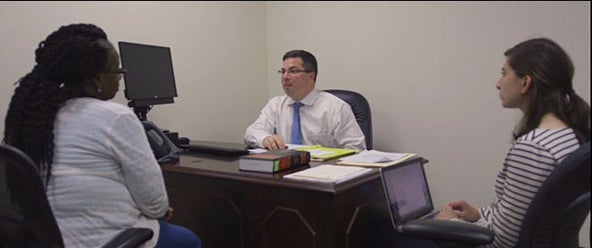 When Tzedek DC, an organization providing legal help for people in debt, first met Shirley Adams,* she was living on her aunt's couch, being sued for her bills, and receiving physical threats by the father of her child.
The one time highly-educated school teacher, who has a master's degree, was now a defendant in a case brought against her for a loan default.
Although Adams had gotten pregnant while employed, her pregnancy-related medical complications ultimately forced her to leave her job as an educator.
Tzedek DC was not only able to get the debt case against Adams dismissed, but by working with one of their sister legal service organizations, was also able to help Adams get a restraining order to protect her and her child.
Shirley Adams' story in many ways embodies what Tzedek DC does: safeguards the legal rights of of vulnerable families facing debt-related legal crises in the Washington, DC area.
The organization, which is an independent public interest center at the University of the District of Columbia's (UDC) David A. Clarke School of Law, works to increase access to justice for residents in the Washington, DC area where the wealth gap is among the widest in the country and tracks along racial lines.
"Community resources can and should help people of all backgrounds get meaningful access to the justice system," Ariel Levinson-Waldman, Founding President and Director-Counsel of Tzedek DC, tells me.
He explains that debt-related civil legal disputes often have life-altering consequences: the loss of an indispensable driver's license, the seizure of a bank account or garnishment of wages, and the inability to secure employment or housing due to a bad credit report.
"Under the current system, because these are civil cases and not criminal cases, defendants have no right to a court-appointed lawyer and little ability to afford or access to a commercial lawyer, only a tiny fraction of those experiencing debt-related legal problems – just 5 % – obtain legal help," Levinson-Waldman says.
That is the "justice gap" Tzedek DC aims to close.
In addition to being one of the only local legal services group, and one of the few nation-wide, to make debt and debt collection issues their principal focus, Tzedek DC is also the first-ever local legal services group in the Washington, DC area to be organized by the Jewish community.
"This work will have a significant impact in helping District residents stay on a path to financial stability and is particularly critical now, as the safety net and consumer protection efforts of the federal government are facing a severe threat," Irvin Nathan, former Attorney General for the District of Columbia and former General Counsel U.S. House of Representatives, said. "In our past work together, I have seen up close the terrific contributions Ariel Levinson-Waldman has made through tenacious lawyering, creative partnering with community leaders, and conscientious execution."
As heightened anxiety grips the country's immigrant communities, Levinson-Waldman stipulates that predatory lending and follow-on lawsuits often target immigrant families, particularly Latino households.
"In the wake of the recent U.S. Immigration and Customs Enforcement (ICE) and deportation threats, we've seen fewer and fewer people in court who request translation services," Levinson-Waldman says. "We believe that this is a direct result of the reports of ICE officers showing up to detain persons who are appearing in courts in the metro DC area. This push for deportations is another reason why access to legal help for the defendant in these cases is so important. An attorney can go to court in place of an immigrant who has been sued, so that she can stay home protected and make decisions over the phone in consultation with her lawyer."
Although Levinson-Waldman did not plan to start his own organization, he credits his commitment to accessing justice in society to his grandparents' experiences as Holocaust survivors and his father's experience as an immigrant to the United States.
"My dad arrived in Bloomington, Indiana, speaking only ten words of English," Levinson-Waldman tells me. "He inculcated me with a sense that we are unbelievably fortunate to be alive, let alone living in this country, and that one of the special things about this country is the rule of law and the U.S. justice system."
Levinson-Waldman states that Tzedek DC's focus is fundamentally on a civil rights issue, serving the communities where predatory abuses in lending and lawsuits have been most prevalent.
"Although there is well-established evidence that access to legal help in these cases makes a dramatic difference in the outcome, most people facing debt problems or a debt collection lawsuit get no legal help. Through our community outreach and education, policy reform, and direct legal services, Tzedek DC is working to change that."
By drawing on a central tenet of Jewish teachings, "tzedek, tzedek tirdof" which means "justice, justice you shall pursue," Levinson-Waldman hopes to increase access to justice for as many residents of the nation's capital as possible.
*Names of Tzedek DC clients have been changed to safeguard their privacy.
REAL LIFE. REAL NEWS. REAL VOICES.
Help us tell more of the stories that matter from voices that too often remain unheard.
This post was published on the now-closed HuffPost Contributor platform. Contributors control their own work and posted freely to our site. If you need to flag this entry as abusive,
send us an email
.