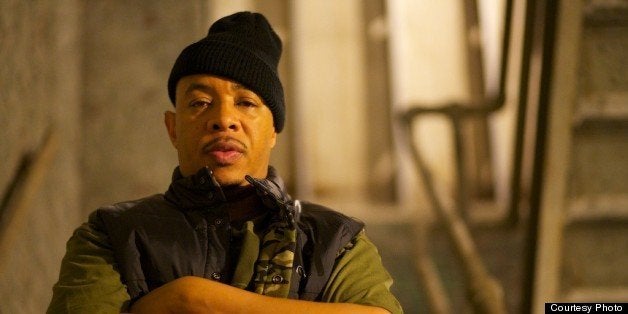 Before Shawn Corey Carter picked a stylized version of the word "Jehova" (J-Hova, "Hov") for a nickname and well before Kanye West decided to shed his "slave name" in favor of his "God name," "Yeezus," there was U-God.
Born Lamont Jody Hawkins, the Staten Island rapper with the distinctly rugged voice took his place in rap history in Wu-Tang Clan, the legendary group credited with transforming rap and bringing a street sound to new levels of popularity.
"Enter the Wu-Tang (36 Chambers)," the group's debut album, turns 20 years old this November, giving U-God plenty of time to reflect and build upon two decades of experience in the rap game. On Tuesday, the Staten Island rapper is releasing "Keynote Speaker," an album that features Method Man, Inspectah Deck, GZA, RZA and more. U-God described the album as "his becoming" in an interview with HuffPost Entertainment -- one that has been a long time coming, at that.
"I'm coming to the podium to tell my story," he said. "That's the meaning of the record -- I'm talking like Obama and saying my speech, like someone giving a piece of his mind and his element."
In keeping with that theme, U-God has words for Kanye and Jay-Z. The two other self-proclaimed God MCs have both released controversial albums in the past two months, and U-God didn't shy away from making his preference known. Jay's "Magna Carta Holy Grail" earned a much warmer review: "Jay's in a creative zone, and he had to adjust to the digital age. He had to make that transition like any other artist. I look at this as a transitional album for him. The man is always going to have lyrics and be rhyming. That's just what he do. It's all good, man."
West, in U-God's estimation, "is getting too far away" on "Yeezus": "Tell him there's no sound in space. He's got to come back on planet Earth. Space is a vacuum. There's no sound in space. Earth is where it's at. Come back down baby, come back."
It's that level of confidence and nearly untouchable authority which positions U-God and the other members of Wu-Tang Clan as hip-hop godfathers of sorts. And from his vantage point, the game is certainly lacking in some respects, and hip-hop culture has been weakened as a result.
"It was about struggle and hardship," U-God said of rap's birth. "It wasn't about making a bitch or a nigga look silly, which is what it has grown into. When we came out, we changed the whole dynamic because we brought the whole street rap to the game. Right now, it's getting away from that, and you need to keep that core element. Because people are going through hardship, it's not always good. You have to appeal to those people -- it's out there. If someone doesn't speak to that, someone else will come and fill the void. It's rough out here, with Trayvon Martin, people shooting each other in the streets in Chicago and the lack of jobs. You have to keep that in the focus."
That focus should also apply to one's own craft, the 42-year-old said. U-God bristled at mention of J. Cole's claims that his sophomore album, "Born Sinner," was proof that he was at a Jay Z and Nas level of talent. "See, my whole thing is, with respect, dude's got to earn that," he said. "Don't just talk about it. I don't like it when dude's just talking in the air, it's like taking a gun out and shooting in the air. Naw, man. Just keep coming -- just keep making music until people bow down like that."
But that doesn't mean he thinks only older artists are worthy. He actually likes J. Cole's music, though it's Kendrick Lamar who earned U-God's biggest praises. "That's my little man right there," he said. "There's a long list of younger brothers coming up, but what makes my blood boil is when I hear my brothers like Jay and Nas rapping. There are just certain dudes that when they spit -- like P[rodigy] from Mobb Deep -- when I hear them rhyme, it just triggers something in me. That's how you're supposed to do it. Kendrick got my blood boiling like that, too. He has that spark, like, Oooh. Lil Wayne has my blood boiling too -- he be saying some fly shit. Drake too, man! I don't know why niggas frontin' on Drake. He has rhymes, man. He's getting it in. I'm not trying to be like him, but I'm not going to front on you, I like his style of music. Everyone who is in touch with their individuality -- I enjoy it. That's what hip-hop is about."
U-God claims he never really thought about whether or not Wu-Tang would be around for two decades: "It just came into reality more or less. We had a good transition and made some good choices and some bad choices in life. This is one of the good ones." And while he's spoken somewhat openly about current discord within the group, he said working with RZA on "Keynote Speaker" was the epitome of a no-brainer (RZA has produced most of the output of Wu-Tang Clan, including both group and solo projects).
"This is my family, so when you have a family and you have a discrepancy, you still have to take care of situations," U-God said. "You're going to go through ups and downs. But we stick together because we just understand. And that's love -- the highest level of elevation is love. And he has heat, so even if he's mad at me, I'm going to go to his house and say, 'Give me my shit.'"
REAL LIFE. REAL NEWS. REAL VOICES.
Help us tell more of the stories that matter from voices that too often remain unheard.
BEFORE YOU GO
PHOTO GALLERY
Grammy Awards 2013