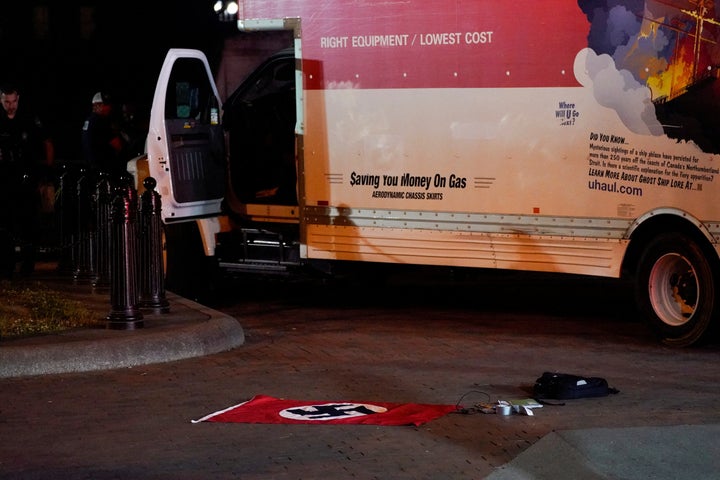 The U.S. Secret Service said the driver of a U-Haul vehicle that crashed into barriers near the White House on Monday evening may have acted "intentionally," according to preliminary investigation findings. No injuries were reported as a result of the incident.
U.S. Park Police identified the driver as Sai Varshith Kandula, 19, of Chesterfield, Missouri. He is facing several arrest charges, including threatening to kill, kidnap or inflict harm on a president, vice president or family member, police said.
Reuters released an image of a Nazi flag and other items lying adjacent to the truck. Those items were found inside the vehicle, Reuters reported, citing a witness.
Anthony Guglielmi, the Secret Service communications chief, said Washington D.C.'s police department examined the truck and declared it to be safe.
A "preliminary investigation reveals the driver may have intentionally struck the security barriers at Lafayette Square," Guglielmi wrote on Twitter.
The incident took place just before 10 p.m. Monday, according to an earlier statement by the Secret Service. Agents apprehended the driver, whose truck collided with security barriers on the north side of Lafayette Square at 16th Street NW.
Chris Zaboji, who was returning home after completing a run near the National Mall, told Reuters he heard a loud noise and turned around to see the U-Haul crash into the barriers twice.
"I looked back and saw that the U-Haul van had rammed into the barricade," he said. "I backed away behind a guy on a golf cart and took the video on my phone. After I saw it rammed again I didn't want to be anywhere near the truck and left."
The White House has yet to comment on the incident.
This is a developing story. Please check back for updates.
Related
Popular in the Community