When former University of Illinois Athletic Director Ron Guenther was earning a relatively modest $340,000 a year in 2003, no one really paid much attention. Nor were any red flags raised when, five years later, his salary ballooned to $600,000 a year.
After all, the public was regularly assured, UI athletics "does not use taxpayer dollars for (its) salary program." So why would taxpayers worry about Guenther's salary?
Maybe because of what's happened since he retired.
Today, just six years after his retirement, former UI, Urbana Athletic Director Ron Guenther is collecting an almost unbelievable $473,094 annual pension.
And Illinois taxpayers are paying every penny.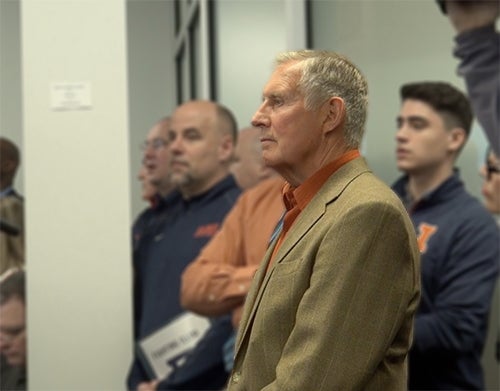 Guenther is not alone. A recent investigation shows that retired coaches and administrators from the athletic department at the UI's Urbana campus cost Illinois taxpayers more than $2.6 million per year in pensions. Add in a guaranteed three percent annual cost of living increase, and that total is almost certain to rise every year.
All from a department whose salaries we were consistently told cost the taxpayers nothing.
There are plenty of familiar names on the list of retired athletic department employees currently drawing big pensions. After Guenther, the next highest pension belongs to legendary former U of I men's head basketball coach Lou Henson. Despite earning a relatively modest salary throughout his Illinois coaching career, Henson's pension is currently $347,058 per year, the 17th highest for all state university employees. That's more than he ever made per year in salary as the head coach.
Other notable taxpayer-funded athletic pensions (all rounded to the nearest thousand) include former UI head baseball coach Richard "Itch" Jones ($173,000), former UI assistant basketball coaches Jimmy Collins ($200,000), Mark Coomes ($129,000), and Richard "Dick" Nagy ($109,000). And remember the woman who was going to put the UI women's basketball team on the national map, the long-since departed women's head basketball coach Theresa Grentz? You should, because we're paying her more than $116,000 per year.
So, how did this happen? Like all benefit-eligible U of I employees, Guenther and others in the UI athletic department are enrolled in the State Universities Retirement System, or SURS. All SURS members are required to pay 8% of their salaries into the system. That 8% contribution, plus interest, accrues in each employee's account.
When Guenther retired in 2011, his account contained a total of $614,647 from his contributions plus interest. By 2015 he had collected more in total pension from SURS than he had accumulated in his account.
That means from 2015 on, for the rest of his life, every pension dollar he collects now comes straight out of the pockets of Illinois taxpayers.
More than anything, it's the huge salary increases that Guenther received at the tail end of his career that created his outsized pension. An employee's SURS pension is based on several factors: years employed, age at retirement, and the average of the highest four consecutive years of salaries. Every time a coach or an athletic department employee's salary goes up, their potential pension goes up too.
So, in effect, every time Guenther was handed a raise, the Illinois taxpayers were handed a bill.
Keep that in mind every time the U of I Board of Trustees approves a huge raise or bonus for another U of I coach.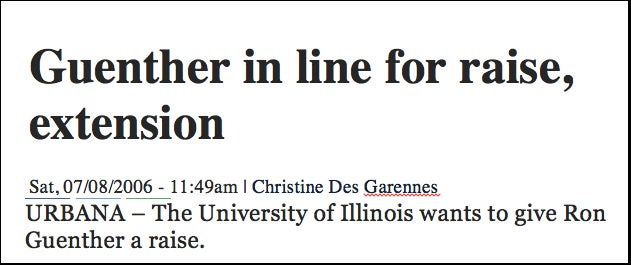 While a total of more than $2.6 million in taxpayer-funded pensions are being paid to retired U of I athletic department employees (see table below), the actual annual total is undoubtedly much higher. That's because SURS doesn't record information about the retiree's former unit or department, so it's impossible to search the SURS database to identify former athletic department employees. No doubt there are more retired athletic department members than just the eighteen below whose pensions add up to the $2.6 million total.
This news comes at a particularly bad time for Illinois' state universities, which saw significant losses in state funding due to the state's two year inability to pass a budget, and even with a new state budget face an uncertain future with respect to state support. Seeing the amount of state money being used to pay Guenther's and other retired coaches' huge pensions, while at the same time seeing the amount of state money being used to support the U of I shrink, is sure to rankle the school's faculty and staff, not to mention tuition-paying parents and students.
And perhaps even the Illinois taxpayers, the people who are ultimately left holding the bill.
-------------------------------------------------------------------------------
Pensions for Select Retired UI Athletic Department Staff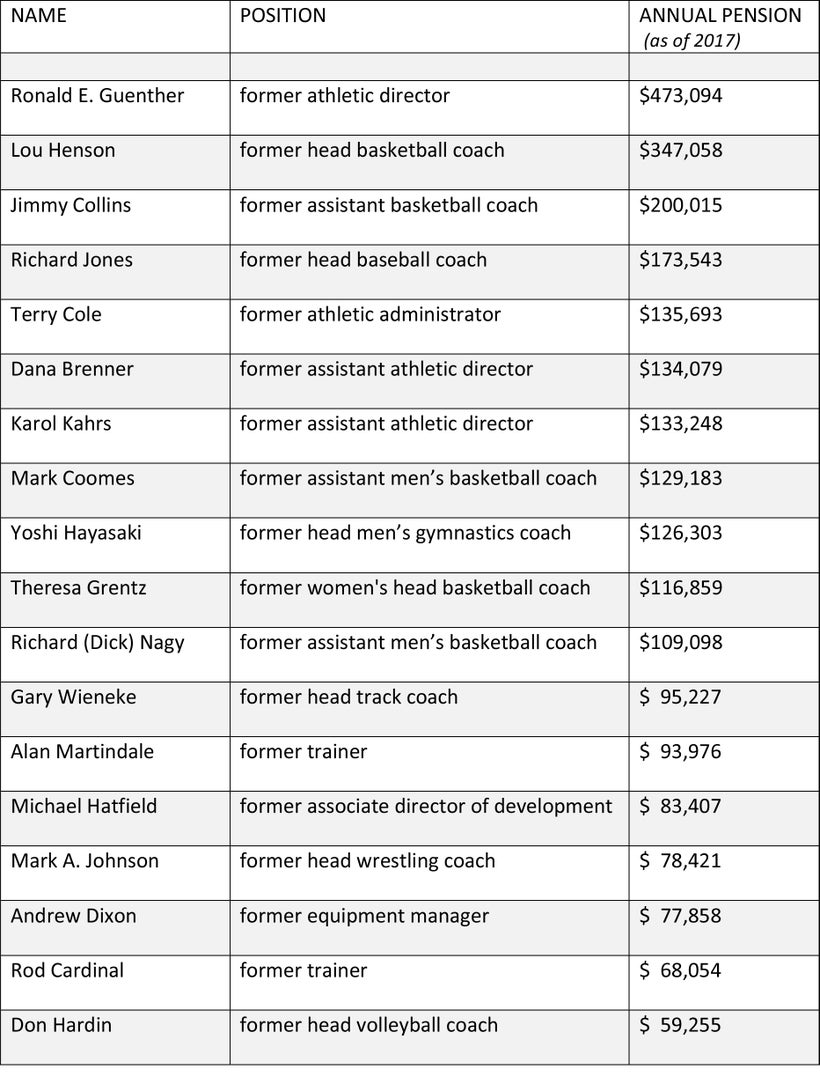 Author's note: the abbreviation UI is used to indicate the University of Illinois, Urbana campus
Calling all HuffPost superfans!
Sign up for membership to become a founding member and help shape HuffPost's next chapter
This post was published on the now-closed HuffPost Contributor platform. Contributors control their own work and posted freely to our site. If you need to flag this entry as abusive,
send us an email
.