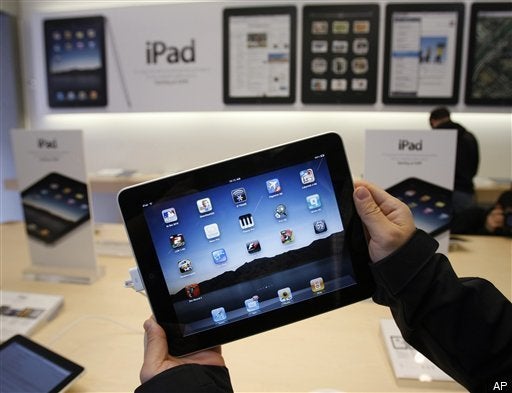 On a recent Friday, the morning before the iPad debuted in stores around the U.S., a group of 16 students and six instructors met in a University of Oregon classroom. The meeting marked the first day of Mobile Media Production, a much anticipated experimental class lead by a group of visionary instructors at the University of Oregon's School of Journalism and Communication.
Over the course of the term, these students will be expected to create content for Apple's iPad. They will pitch, write, shoot, edit, program and design several pieces meant to be consumed on mobile devices.
The lead instructor and creator of the class is Ed Madison, a media professional and current graduate student at the university. Madison noticed that certain media groups had begun to embrace the iPad as a publishing platform. He figured, why wait for others to develop content for mobile devices?
Madison set out to be a pioneer in content production for the iPad, not next year or next month, but now.
In mid-January Madison sent out an e-mail to the journalism school faculty about the possibility of merging traditional journalistic storytelling with emerging technologies. Within minutes, Madison received an enthusiastic response from advertising professor Deborah Morrison, who immediately suggested that Madison's idea be turned into a class. They transformed concept into reality with surprising speed.
"Academe tends to get mired in a sense of bureaucratic tradition," Morrison explained. "But journalism and advertising can't be mired right now. We have to be nimble."
Students enrolled in the course will complete two projects throughout the term. The first is a campus-related piece -- one team will create a package about reporting classes, another will focus on photojournalism. For the second project, students will work with client partners, ranging from Dark Horse Comics to Wend Magazine, to create an application for the iPad.
"The reason that I was so enthusiastic about doing this is because it's a great example of where journalism education ought to be and what it ought to be doing," Gleason said. "We really need to be an incubator, pushing envelopes wherever they can be pushed. We're trying to figure out how to do good journalism in a new environment, as new technology comes along."
Madison and Morrison have partnered with a number of other journalism school faculty members to bring the class to fruition. One of the staff team members is Tom Lundberg, an Information Technology Consultant, who will act as the IT facilitator for the class.
"It almost feels like I'm involved in a start-up. We're figuring things out as we go, inventing solutions that weren't there before," Lundberg said.
Issac Viel, a class member studying advertising, hopes to figure out where the iPad fits in the world of media and understand how users will interact with the device.
"I think it's a great first step for the journalism school to really dig much deeper into digital content, especially portable digital content," Viel said. Although Viel thinks the iPad will change media consumption habits, he questions the debate about whether or not the iPad will "save journalism".
"I don't think any one thing will save journalism," Viel said. "I think good content will save journalism. If you write a good story, people will find it, no matter if it's on paper, on a cell phone, or on an iPad."
Despite the recent hype surrounding the iPad, Madison emphasizes that Mobile Media Production is not an "iPad class." He says that technology will constantly evolve, but the main point is to focus on the fundamentals of storytelling and understanding how mobile media can make the user experience richer and more dynamic.
The newness of mobile media technology and experimental nature of the course means that the students and the teachers have a relatively blank slate before them. Part of the excitement surrounding the class lies in the fact that none of it has ever been done before.
"It's a very radical idea of a classroom environment because the structure of the class is so different. It's so unorthodox," said David Moody, a senior class member studying magazine journalism and electronic media. "I feel like we're in a class that's basically in front of the wave, positioned to catch what's coming."
Related
Popular in the Community