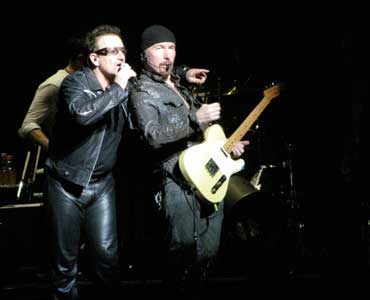 Photo by Karin Lindberg Freda
U2 ended their final show at Angel Stadium with words from Springsteen's "Jungleland" read as a coda to their own "Moment of Surrender" and a eulogy for sax magician Clarence Clemons. It was a night of insistent tributes, book-ended by Bowie's "Space Oddity" as processional and Elton's "Rocket Man" to play the capacity crowd out of the ballpark. Recovering Congresswoman Gabrielle Giffords and her astronaut hubby received wishes for a "Beautiful Day." Freed Burmese leader Aung San Suu Kyi was feted with "Walk On" and "One," as Amnesty International volunteers carried lanterns to recall 2000 Burmese dissidents not yet free. Dapper genius Quincy Jones was in the house and urged to produce more music via "I Still Haven't Found What I'm Looking For." The quartet played flashes from the Rolling Stones ("Miss You" and "It's Only Rock and Roll [But I Like It]") and Leonard Cohen ("Anthem") as synapses between the soaring songs of their thirty-year repertoire.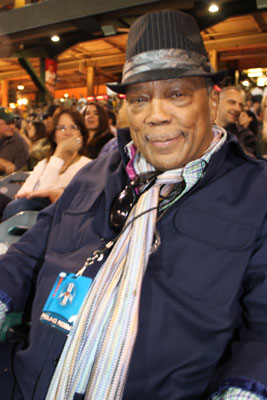 Photo by Karin Lindberg Freda
For this tour, interrupted by a back injury and successful treatment for frontman Bono, the band appears on stage in puffs of smoke reminiscent of our infamous SoCal smog. They play a two-hours-plus set in a structure that could be the lovechild of the flying saucer Theme Building at LAX. Bono told the ballpark that he wanted to "shrink the stadium," declaring, "We want to feel close to you up in the top tiers." "One" melted into "Amazing Grace," which then fired up into an urgent "Where the Streets Have No Name." From the opening song to the last, the show highlighted U2's latest studio album, their twelfth, No Line on the Horizon. "I'll Go Crazy If I Don't Go Crazy Tonight" was a stand-out, rocked with more intensity, need, and noise than the album version.
Light, photos, words, map, and art flitted across the frieze above the band. Spectacular sensual images of dancers wrapped around the upper deck during "Mysterious Ways." The biggest band in the world's ways with sound are too well known to be mysteries but the debut of the crystalline precision of the Edge's guitar behind the dark swoon of Bono's voice was originally celebrated as a startling innovation. That sound, heard streaming out of a car radio, or encountered at their early gigs, made millions of listeners fans for life. Jimmy Page praises the Edge as a "sonic architect" in the Davis Guggenheim guitar doc, It Might Get Loud. Henry Rollins withholds praise in a well-known YouTube. I revere both Page and Rollins. In their finest iterations, the Edge's effects are to me extensions of the chiming triangle in Van Morrison's "Sweet Thing" from Astral Weeks, announcements of sacred space. Redemptive. Pure.
It is fascinating for fans to reckon what U2 keeps making of its early influences. Hell-bent on healing the fractures of our brutally divided world, the foursome has spent three decades trying to milk some joy from punk and post-punk predecessors, including Joy Division. The Wombats' manic "Let's Dance to Joy Division" is an alternate approach to the same conundrum. Joy Division's dark gift remains untouchable. And U2's desire to reach out is inextinguishable. Bono's mother was fatally stricken with a hemorrhage at her own father's burial when Bono/Paul Hewson was just a kid of fourteen. He saw death take control, vanquishing an old man, then claiming a woman in her prime. U2's most wrenching of its many tributes Saturday was "Stuck in A Moment You Can't Get Out Of" for INXS star Michael Hutchence, who died in 1997. Bono uses this John Lennon-influenced tune to try and out-think death. Because of his early loss, or because of Ireland's troubles, or because chance placed U2 in rock history after the impossible to replicate accomplishments of foundational rockers, and confrontational punkers, Bono and his band choose different ways to try to "Rise Above." "Stuck In A Moment" radically exculpates the innocence of every suffering human being. The song suggests stuckness is owed only to circumstance, to materiality. Bono and co. famously pursue activist improvements to all kinds of circumstances worldwide. To help the Hutchence in every human heart, they recommend pulling timelessness out of time. "This time will pass," Bono sings. The aural expansiveness of U2's Eno/Lanois-sculpted soundscapes tries to embody this saving timelessness. The repetitive quality of the Edge's mystical guitar effects suggests perhaps a mantra meant to carry the mind out of time. Some may prefer to dance to Joy Division but it is important to notice that the world's biggest band makes continued efforts to dialogue with the legacy of the world's darkest.
Other landmark Irish bands are on tour this year. Rollins favorite Lynott-era Thin Lizzy is now supplemented by a new Thin Lizzy with a new album and a tour with Judas Priest. Dolores O'Riordan and Cranberries have an forthcoming album and tour. Shane MacGowan continues to work with the Pogues and others. The Dubliners are still going strong. Flogging Molly, launched at LA's own Molly Malone's, is also touring behind their new album. Molly Malone's continues to feature new and established artists.
Related
Popular in the Community