U2 and Coldplay have canceled concerts in Paris following the tragic attacks that claimed at least 129 lives on Friday, citing safety concerns.
"As a result of the ongoing state of emergency across France, the U2 Paris concert scheduled for 14th November will not be going ahead as planned," a rep for U2 told TMZ.
"We watched in disbelief and shock at the unfolding events in Paris and our hearts go out to all the victims and their families across the city tonight," the band said in a statement Friday.
The show, which was set to air on HBO, will be postponed.
"U2 and Live Nation, along with HBO who were due to live broadcast the Saturday concert, are fully resolved to go ahead with this show at an appropriate time," the band's website said.
Coldplay also canceled their live stream concert which had been scheduled for Friday in Los Angeles. The concert will be "postponed out of respect for the terrible events in Paris," the band said in a statement.
Fellow rock band Foo Fighters announced that they would be canceling the rest of their tour in the wake of the attacks. They shared the following update with their fans on Facebook:
He then announced, "We decided we are going to continue with the livestream at 6PM to hopefully bring some light & hope to those hurting," in a tweet that has since been deleted, Entertainment Tonight reports.
Bieber later shared an Instagram post featuring Jean Jullien's viral graphic of the Eiffel Tower drawn into a peace sign with the caption, "My love prayers and thoughts are with the families of this horrible tragedy. #prayforparis."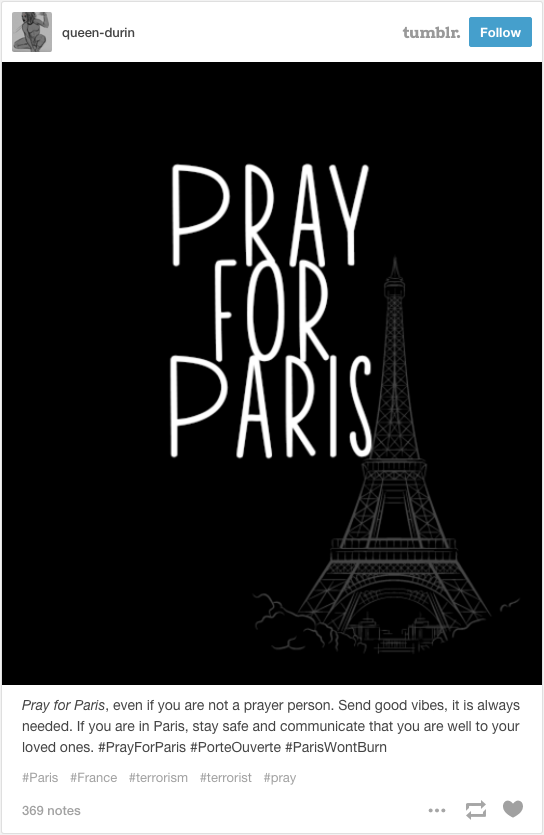 Messages Of Solidarity For Paris
Popular in the Community