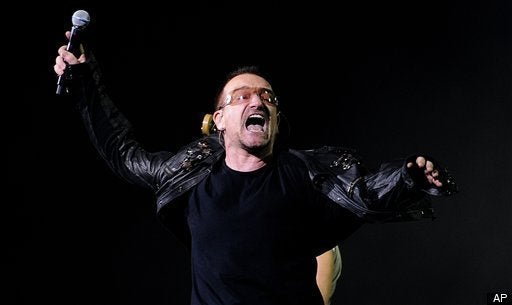 With the hovering, all-encompassing 360-degree stage setup, otherwise known as "the Claw," U2 came to Chicago's Soldier Field Saturday night to kick off the North American leg of their current world tour -- the first time since 1997 they're performing in outdoor stadiums.
As with everything U2 does, this show was big. Big stage. Big lights. Big sound. Big messages. But this show was played, for lack of a better term, in the round and, for as massive as it was, felt more intimate than your typical stadium concert. With the stage and its four-pronged tentacle-like structure set more toward the middle of the field, fans were able to get up-close-and-personal with the band. Speakers were installed into each structure to helped spread out the sound and massive lights beamed to every corner of Soldier Field, even up into the night sky. An incredibly hefty and visually encapsulating video screen that expanded projected images that even fans in the nosebleeds could see. Only if the band performed while hanging from helicopters hovering over the stadium could they have outdone themselves, but the Claw helped U2 deliver something utterly unique and completely distinct from any other show played before.
Too bad the same can't be said for the set list.
Don't take that the wrong way. U2 sounds incredible and has almost as much energy as it takes to power their setup. But instead of truly going deep, they simply ran through their catalog, grabbing hits from various periods of their career. Whether that was playing a handful of songs off the latest album, No Line on the Horizon, including the poppy "Magnificent," the disco-accelerated "I'll Go Crazy if I Don't Go Crazy Tonight," and the somewhat vapid "Get on Your Boots," or other songs like "City of Blinding Lights," "Beautiful Day" or "I Still Haven't Found What I'm Looking For," the band put on a great show, possibly one of their best live spectacles to date. Yet, it seemed like they could have given more musically.
Yes, they played the requisite "With or Without You" and "Where the Streets Have No Name." Yes, they pulled out "Bad," "MLK" and "The Unforgettable Fire," which was definitely a show highlight. But at this stage in their career, U2 could throw the crowd a few bones. Maybe give up "Gloria" or "Party Girl," which, apparently, they played during the European leg earlier this summer. Where were "New Year's Day" and "October"? A snipped of "40" at the end of "Bad" was a nice surprise, but the entire song would have been a gift. U2 is one of the world's biggest bands and has been since the Irish foursome appeared on the cover of Time in 1987 (only the fourth band ever to do so at that point), but while their sound was edgy, gruff and dangerous, they've reached a point of comfort -- even when it comes to their political pontificating.
U2, particularly Bono, is never short on telling -- or, in the case of the massive video screen, showing -- what he stands behind. At Saturday night's show he talked about AIDS in Africa, dropping Third World debt and the recent protests over the Iranian elections. The band paid homage to Aung San Suu Kyi, the Burmese activist currently being held under house arrest, for whom they supposedly wrote "Walk On." During that song, images of Suu Kyi remained on the giant video screens while a few dozen people walked on to the outer ring of the stage holding masks bearing the activist's face in front of their own.
Mid set, the band rocked "Sunday Bloody Sunday" as they have for more than 25 years. They sang "How long must we sing this song?" showing that even though we appreciate the political messages, U2 ultimately is here for our entertainment. At Saturday night's show, despite a lack of deeper catalog digging, U2 entertained. It is, after all, what they do best.
Calling all HuffPost superfans!
Sign up for membership to become a founding member and help shape HuffPost's next chapter