The Spirit of U2 and Their Fans
"Love is bigger than anything in its way." -Bono, July 1, 2017, Cleveland, Ohio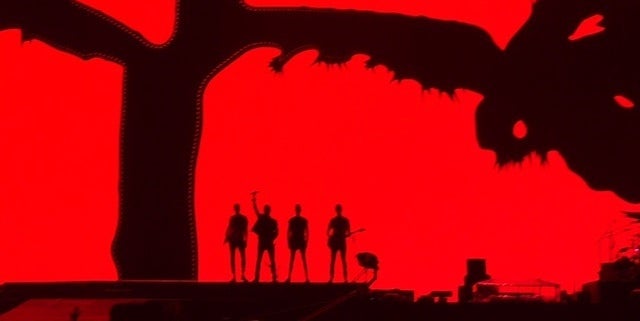 I have just spent six weeks with the music of U2, U2 fans, and a cross section of America. It has been like a six week spiritual retreat. A musical odyssey. —my own "musical journey" that spanned from Seattle to Miami. My internal systems have been re-wired in a good way by the music and its message. The U2 community you meet along the way is incredible. And hanging with the ministers of the music, night in and night out---Bono, Edge, Adam Clayton and Larry Mullen, Jr...there are no words for that.
An experience like this turns you inside out...in a supremely good way. Couple that with being pushed to the brink with a terminal disease, and the disease seems like an afterthought. The body might be failing, but the spirit rises to the occasion and conquers whatever the physical malady might be. All of this has been my sanctuary the last six weeks.
The title of this essay Love to Power and The Power to Love takes the concept of "truth to power" up a few notches and is the essence of U2 and their music and actions. Speaking "truth to power" basically means believing deeply in what you say and fighting every day to have your words heard. It may not be popular; it means taking a risk, it means standing for something. Love to Power is all of what truth to power is, and more...when it comes to U2. It is best summed up by Nelson Mandela in his autobiography The Long Walk to Freedom. "No one is born hating another person because of the color of his skin, or his background, or his religion. People must learn to hate, and if they can learn to hate, they can be taught to love, for love comes more naturally to the human heart than its opposite." Mandela and U2 had a long connection, and the band was nominated for a Grammy for "Ordinary Love," its contribution to the Long Walk to Freedom soundtrack.
You can't walk away from a U2 show without being touched deeply by these words. A U2 show is a sanctuary of love...if you let it.
I've spent a life with U2. I raged with U2 as Belfast burned in the 1970s and 80s. I proposed to a great woman at a U2 show in Montreal during All I Want Is You (she said yes). During mid-life as I raised a family, U2 was always in the playlist and of course a must-see in concert. The family and I would sing and dance to the music. I was the insufferable U2er —a U2er, for insiders I would also stay attuned to U2's good works around the world and contribute to their causes when I could. And I would evangelize. One love, one life, we get to share it. The music, the band members, the U2 spirit, the U2 tribe and the Irish heart and soul in all of it, resonate to my core.
All that being said, time is no longer my friend. A little dust-up with my mortality last December has spurred me to push the U2 experience envelope further. I've always been an envelope pusher. The first born and an outlier. Not by choice. It is in my Irish soul. So when U2 announced in January that they'd be hitting the road again, my renegade spirit kicked in. Sit home, convalesce and contemplate my demise? Eff that. It was time to grab life by the throat and get infused with a different type of drug: music. The music I love. The music that has always been there during my various scrapes in life. A U2 "chemical" infusion of the highest order.
It started in Seattle on May 14. From there I spent the next weekend in Los Angeles for two shows back-to-back. Then home to Chicago for two more shows back-to-back. Next was Miami, Louisville, Philadelphia (for Father's Day with my kids) and Cleveland. Nine shows in six weeks. I've got plans for more when they return to the US and Central/South America in the fall. It's been a musical treatment that has re-wired and amplified my internal systems for the battle ahead. A true labor of love—this tour, this band, this music, and the U2ers I've met from around the world.
A night with U2 and the Joshua Tree Tour 2017 has a very special look and feel. No spoilers here, though: you have to go and see it in person, especially if you are living in America in 2017. The music and message will speak to any open ear that hears. The Joshua Tree is 30 years old, but the record has the same relevance today that it had back in 1987. After my first tour experience in Seattle, I sat there for an hour when the show was over and took in what I had just witnessed. It was U2 unleashed, taking their musical craft to new heights, showing us the core of who they are with all the Irish passion and grit that we have come to know over the years. Those lads from 30 years ago are a 'bit older and a bit wiser—but they're still true to who they've always been. They're the very essence of The Joshua Tree spirit, still, in 2017.
If you have been to a U2 show this spring, all of this "letting go" talk will sound familiar to you. "Bad," a U2 staple of mine in this life, is all about letting go (and "Bad" has usually been in the setlist for most of the shows this tour).Suffering is all about hanging on. Letting go is all about opening up to new possibilities. U2 has been talking about letting go for over 30 years.
"If I could, you know I would, if I could, I would, let it go…If I could, through myself, set your spirit free, I'd lead your heart away, see you break, break away into the light and to the day. To let it go and so to find a way. To let it go and so find a way." – "Bad," U2
"When I let go of what I am, I become what I might be. When I let go of what I have, I receive what I need." – Tao Te Ching.
Finally, the power of love is on full display at every U2 show. U2 fans bring themselves to these shows with all the bumps, bruises and bad breaks that life has dished out. The one constant is that our spirits are elevated once we get to the venue: beginning outside the venue waiting in line, getting lit up by the music and taking all that good juice out the door to share with the rest of humanity once a show is over.
The singalongs. The intense visceral vocals and passion of Bono. Edge and Adam ripping the hell out of their guitars. And Larry beating those drums like no other drummer, ever.
In Seattle, my first show on the tour, I parked myself by the mix deck on the floor in the GA section. I could lean on a rail without the crazy crush of the stage rail, yet I was still hanging with Eddie Vedder and U2 manager Guy Oseary, who were on the mix deck themselves. To get a GA spot like this you have to jump through some hoops, but it's all very workable—you just need to power through standing for a few hours. So I started getting to know the folks around me and, what do you know, I eased into a discussion on author Pema Chodron with the guy next to me. I knew the spirit was in the house. The ease of slipping into a discussion with a U2er is like putting on a comfy slipper or sock. You slide right into it with complete strangers at these shows.
Stories like that were common for me in each stop along the tour. In Los Angeles, my "hotel" was adorned with prayer flags. There was that spirit in the house again. In Miami, my date was a woman with whom I'd spent 25 years of my life. The music and her company showed me again why we were together for so long in this life. We have taken different paths after those 25 years, but our humanitarian values remain remarkably aligned. It was a great, great night. In my beloved Philadelphia, where I lived for many years and raised my children, it was Father's Day with my kids. They jumped through all the GA hoops, and we were able to park ourselves on the stage rail—as close as you could get without actually being on stage...with our Irish flags. When the music started, I wasn't sure what to expect: did the kids really want to be here, or were they just doing it for me? In the corner of my eye I caught my daughter bouncing and swinging to the music. What a gift to be able to share this music and spirit with my children on Father's Day.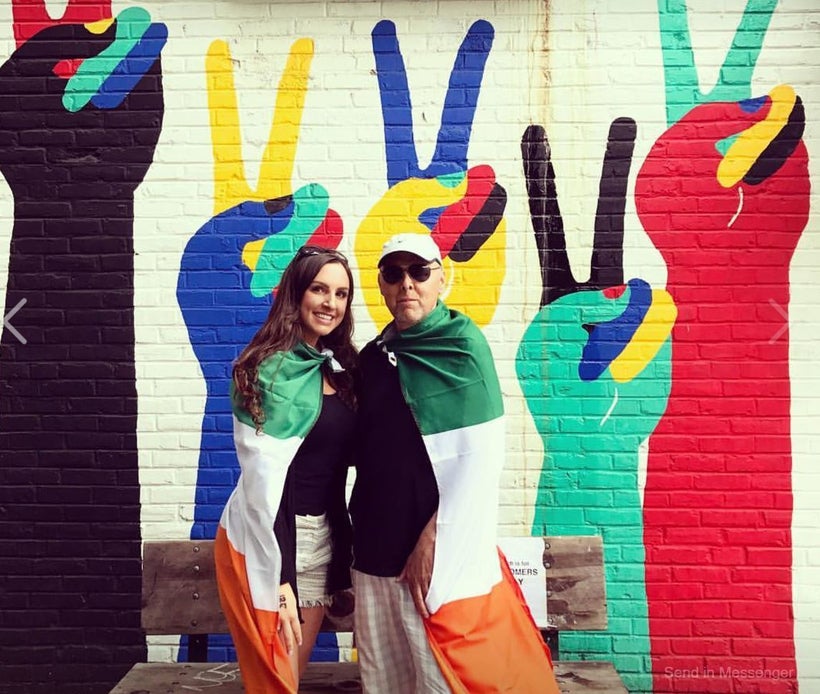 In Cleveland I took a great great soul to her first U2 show. We jumped through the GA hoops and met some wonderful people in the process. We spread out near the mix deck with our Irish flags and beach balls. Fast forward to 8 p.m., and she and I were lucky enough to get a few minutes with Edge back stage to talk about cancer research and the power of food in beating back cancer. (But that's a topic for another column.) And then Bono passes along a personal note. I guess they had read how much they mean to me. Who does that? U2 does.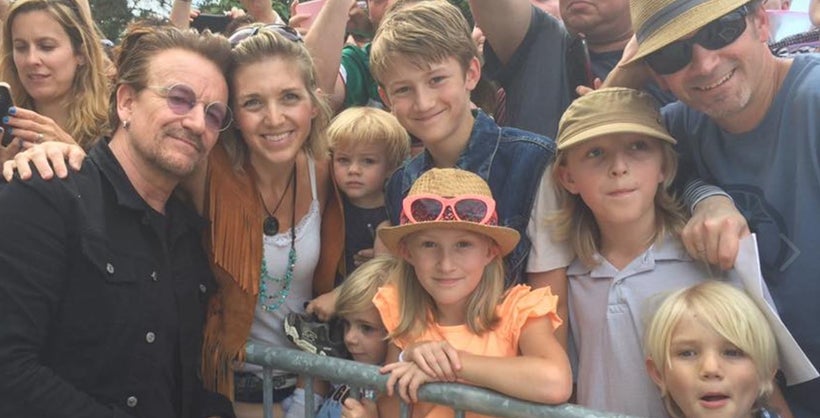 And then there were the hearts. In the trees in Seattle.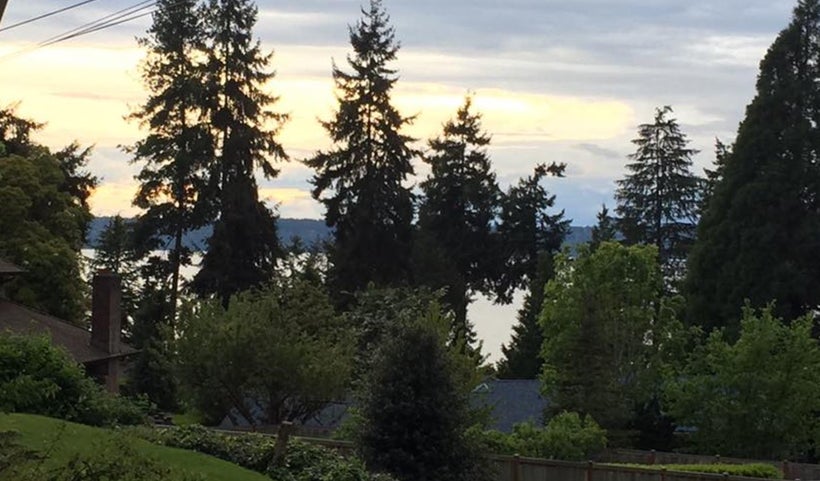 In Los Angeles the same thing as I walked down the street and on and on.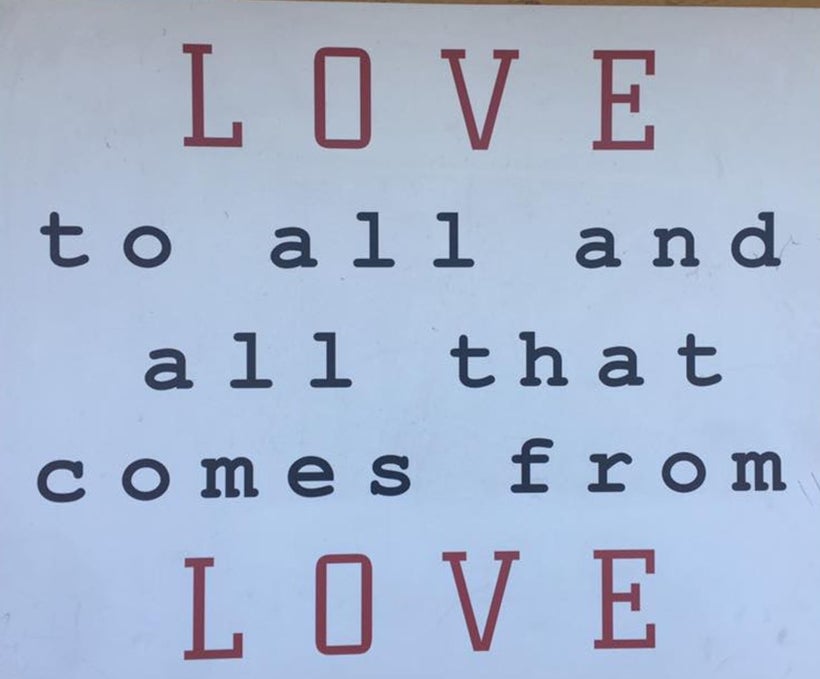 My special needs younger brother who I lost recently was all about music, love and hearts. We would travel together. I missed him on this wonderful odyssey. But, he was on my shoulder and by my side every step of the way, and those hearts were his way of saying hi.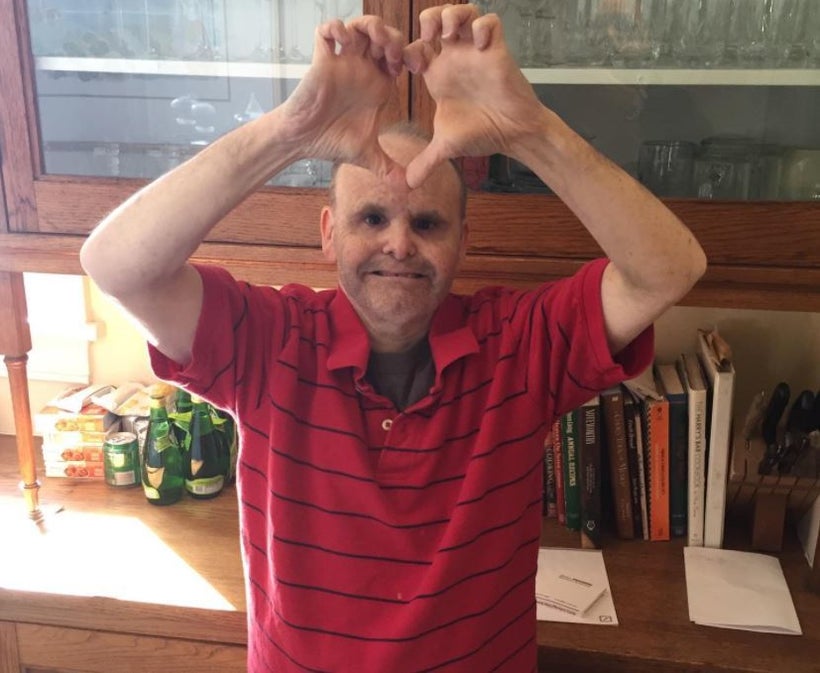 In closing, this love thing that we humans share is very real if you open yourself up to it. It's the essence of who we are. "So how do I do that AJ?" you might ask. It's simple yet difficult at the same time, and U2 has been preaching this message for more than three decades: let go. Let go of all the bumps, the bruises and the fractures that life dishes out. Clear your head. Amazing things can happen when you let go. New paths will open up. It's hard. It takes discipline. But it's so worth it.
Love love love.....in the name of love. That is my U2. Their music has the power to wake up the spirit in all of us ...if you let it.
Special thanks to Geoff and Angel for your support on this piece. ONE.
Calling all HuffPost superfans!
Sign up for membership to become a founding member and help shape HuffPost's next chapter
This post was published on the now-closed HuffPost Contributor platform. Contributors control their own work and posted freely to our site. If you need to flag this entry as abusive,
send us an email
.