In October, Sheikh Hamdan Bin Mohammed Bin Rashid Al Maktoum, the Crown Prince of Dubai, announced on Twitter Dubai's goal to become the first government in the world to execute all of its transaction onto a blockchain by 2020: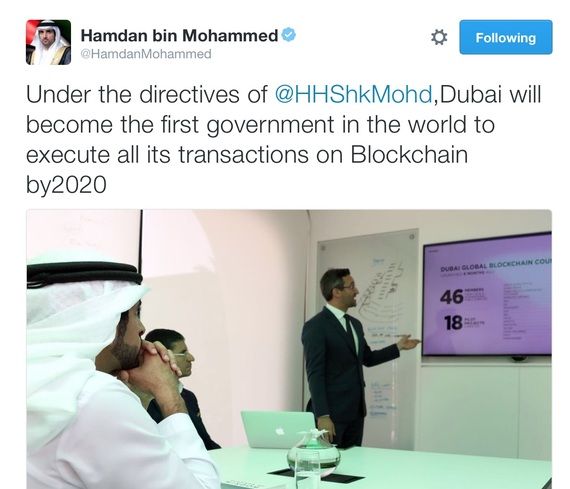 Such a strategy has many benefits such as cutting an estimated 100 million paper transactions annually and reducing 25 million hours of work required in handling paper documents in Dubai alone. Apart from reducing the paper footprint, here are some more of the benefits of how blockchain technology can support governments:
1) Re-inventing Global Identity
According to the UN, over 3 Billion people in the world lack an official identification. Utilizing blockchain technology to track and manage digital identities provides tremendous opportunities in all societies. From enfranchising a significant portion of the global population and enabling them access to a global financial system, to streamlining fragmented identity systems across the world, the opportunities are significant.
2) Fighting Fraud and Proceeds of Crime
Each year, billions of dollars are lost due to online fraud. The transparency of blockchain technology provides an opportunity like never before to track and record transactions that can reduce corruption and prevent cyber-crimes.
As a significant number of hospitals around the world have transitioned to digital records, blockchain technology provides an opportunity for patients to keep track of their medical history and provides efficiencies to the 'medical record chain of care'. This present an opportunity to improve the patient care experience and reduce costs.
As much of the world is investing in smart cities, blockchain provides a major opportunity in fiscal transparency, seamless payment transactions, and creating the opportunity for energy and data transfers that have never been possible before, empowering both consumers and energy providers.
The UAE government is organizing the largest virtual blockchain hackathon in history to push the limits of what's possible using the blockchain. The hackathon is one part of the overall World GovTechioneers Race, acknowledging government technology pioneers for providing global solutions to global challenges. The "World GovTechioneers Race" is an annual award designed to acknowledge government technology pioneers for providing global solutions to common global challenges. Winners will be awarded at the 5th annual gathering of the World Government Summit which will take place between the 12th and 14th of February 2017, in Dubai, the United Arab Emirates.
The World Government Summit is a global platform dedicated to the enhancement of government around the world. It convenes over 3,000 participants, world leaders, policy makers, international organizations and experts from over 130 countries. In previous years, the Summit hosted a number of thought leaders as keynote speakers. Among the previous speakers, we mention Hon. Barack Obama, President of the United States, H.M. Queen Rania of Jordan, H.E. Ban Ki-moon, Secretary General of the United Nations, H.E. Jim Yong Kim, and many others.
For more information on the hackathon, visit here.
Related
Popular in the Community