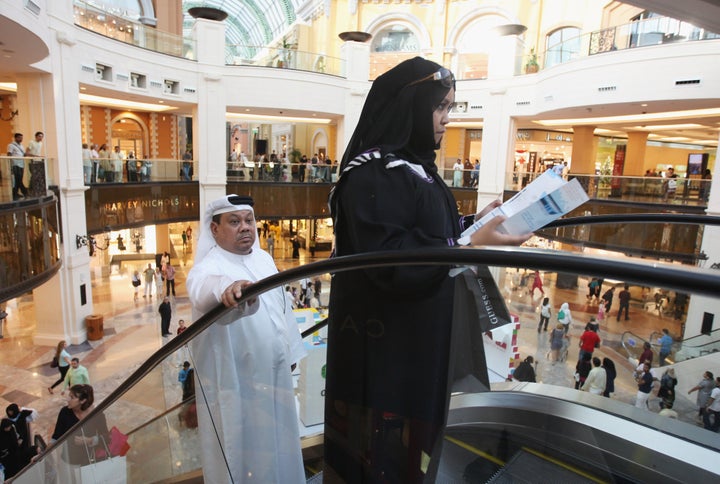 ABU DHABI, United Arab Emirates (AP) -- It could have picked London or Hong Kong. Instead, the lingerie retailer that styles itself "the original sex symbol" chose the buttoned-down sheikdom of Abu Dhabi for the launch of its first international store.
Frederick's of Hollywood, famed for its curve-cinching corsets and provocative push-up bras, opened up to little fanfare in the Emirati capital last weekend. Another outpost offering the chain's racy lingerie is set to open soon up the road in more freewheeling Dubai.
The choice of venue is revealing -- not only about demand for risque unmentionables on the Arabian Peninsula, but also for what it says about the United Arab Emirates' retail pull. In only a few short years, this South Carolina-sized desert country has emerged as an unlikely first port of call for retailers looking to test their brands overseas.
"Despite the outward conservative culture ... this is a very fashion-conscious market," Frederick's Chairman and CEO Thomas Lynch said in a recent interview. "They're no less interested in what we have to offer."
Other retailers seem to agree. Crate and Barrel, American Eagle Outfitters, Aeropostale, Pottery Barn and Bloomingdale's each have launched their first stores outside North America in the UAE in the past couple of years.Smaller companies are making the leap too. When Manhattan favorites Shake Shack and Magnolia Bakery decided to take their burgers and red velvet cupcakes overseas, the first city they turned to was Dubai.
Retailers and restaurant chains that once shied away from overseas markets are being seduced by the region's deep-pocketed citizens and the growing track records of their Arab franchise partners, who take on many of the costs and much of the legwork that goes into transferring the brand abroad.
Frederick's deal is a good example.
While financial details are private, Lynch said paying for the Gulf expansion is mainly up to the company's Abu Dhabi-based partners, Safeer Establishment. Frederick's is primarily providing "brand support" for an arrangement that envisions 10 stores across the region in the next three years, he said.
The UAE has other advantages too. It boasts plenty of high-quality retail space and few of the deeply entrenched local brands that can put retailers off expanding into mature markets like Europe. The country's booming airlines have turned the Emirates into a global crossroads, funneling armies of guest workers -- including Westerners -- and millions of tourists into the country's shopping malls each year.
That was part of the appeal for Bloomingdale's, which opened its first international store in Dubai's biggest shopping mall early last year.
"With all the tourists passing through there, it's a great billboard for Bloomingdale's," Chairman and CEO Michael Gould told The Associated Press.
Gould said it is tricky for many American retailers to translate their brands to Europe, as it is for European chains looking to enter the U.S. A market such as the Emirates, however, offers a "much more fertile environment. People have an opportunity to build something there," he said.
A recent surge of new retailers, particularly from the U.S., has pushed Dubai into the No. 1 spot alongside London in terms of market penetration for major retail brands, according to a recent report by real estate firm CB Richard Ellis. On the national level, the UAE is in second place globally, just behind Britain and ahead of the United States.
As the Gulf's most liberal and internationally-connected city, Dubai has traditionally been the first stop for chains looking to expand in the region. But as it becomes more saturated, CBRE expects international retailers will increasingly target nearby Abu Dhabi and other Gulf markets such as Kuwait City and Doha, Qatar.
Michael Leighton, a retail consultant at CBRE, said many American retailers have long resisted setting up franchises, which is effectively a requirement for doing business in the Gulf. The economic downturn helped changed that.
"As consumer spending has reduced in the U.S., they've been forced to adjust their business model," he said. Setting up a franchise in the Gulf is "a very easy way of generating extra revenue. ... People have to generate profits and balance the books, and in the U.S. it's very very hard at the moment," he added.
The strategy is not without risks. Dubai's economy was pummeled by the global economic downturn, which sent property prices plunging and exposed large levels of debt. Many retailers planned their regional expansions during the boom years late last decade and had to contend with leaner times when they eventually opened.
"When we made the deal, we made it right at the peak. ... When we opened, it was certainly at a much more difficult time," Bloomingdale's Gould said. He said the Dubai store nonetheless beat the company's first-year projections in 2010, and he insists this year is looking "just terrific." He declined to give specifics.
The U.S. retail invasion shows few signs of slowing down.
Chicago-based Potbelly Sandwich Shop this year opened two stores in Dubai -- with pork-free menus to suit Islamic rules.The Cheesecake Factory plans to open its first international restaurants in Dubai and Kuwait next year. It, like Potbelly and Shake Shack, is expanding through an agreement with Kuwait's M.H. Alshaya Co., which has Mideast partnership deals with several American companies, including Starbucks and frozen yoghurt chain Pinkberry.
"There is great demand for high-quality American brands there," said Jill Peters, vice president for investor relations at the cheesecake chain.
Frederick's expects its Gulf customers won't be that different from those in the U.S. -- young, fashion-conscious women who keep a close watch on what's happening on the red carpets of Hollywood, said Lynch, the CEO.
While the Abu Dhabi store offers saucy staples such as the "Exxtreme Cleavage" bra and even a pair of rhinestone-covered handcuffs, Lynch is eager to point out the company has lots more to offer, including swimwear and shoes.
Scantily dressed mannequins in the windows of its flagship Emirates store hint at the risque offerings inside, though the storefront is designed so passers-by can't easily peer in. Inside, lingerie is grouped by color, with a relatively more modest bridal collection showcased in a lushly carpeted centerpiece section.
The set-up differs from U.S. layouts and is designed to appeal to Gulf tastes, said Osama Rashad, retail manager for franchisee Safeer's parent company.
He expects local women, who generally appear in public covered in full-length black cloaks and headscarves, and other Arabs will account for as much as two-thirds of sales.
"They know what they want," he said. "They travel a lot. They know these brands. And they like to spend their money."Still, as savvy as the region's shoppers may be, there are limits to what Frederick's is willing to offer in its Arabian stores. Out for now, for example, are kinky dress-up costumes that are popular at Halloween.
"It's an area that's more conservative than Southern California. There's no question," Lynch said. "We're not naive. ... There are things that we traditionally carry on our website that we wouldn't even think of carrying over there."
Support HuffPost
The Stakes Have Never Been Higher
Related
Popular in the Community