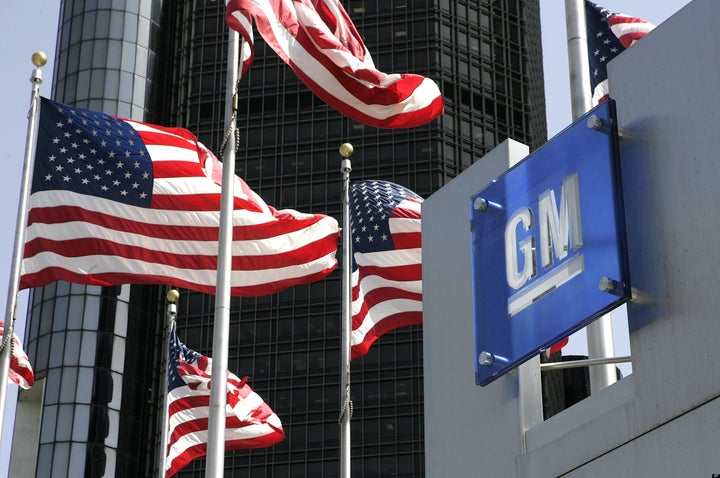 LORDSTOWN, Ohio -- On a recent rainy morning, community leaders gathered under umbrellas in front of the local General Motors plant to commemorate a remarkable turnaround: Three years after descending into a financial hole that resulted in a taxpayer bailout, GM was back. The Chevy Cruze, produced here, had become one of America's best-selling passenger vehicles. Among union officials and GM management, traditional enmity had given way to conviviality, a spirit both sides were celebrating as the key to future prosperity.
"We learned a lot three years ago," said Jim Graham, president of Lordstown's United Auto Workers local 1112. "We came to the realization that management is not the enemy; the enemy is the competition. Management and the UAW have the same goals now. We still have our issues with the company, but we resolve them like a business."
But at a nearby pub, where the plant's rank-and-file workforce gathers after work, Todd Siglow offered a contrasting take on recent events: As a result of the union's concessions, he has been forced to choose between relocating 400 miles away from his Michigan home, separating him from his two daughters – or stay home and risk a 50-percent pay cut.
"They're so proud of their image: the new GM, the new UAW," Siglow said. "They preach all this bullshit -- brotherhood, solidarity, whatever. You know what? My family is ripped apart. Nobody is helping me with nothing."
As the UAW launches negotiations with the Detroit Three in pursuit of a new contract, the spirit of cooperation that has governed relations between union leaders and management is being tested by the bitterness of many rank-and-file workers, who assented to painful cuts during the industry's darkest days and are now intent on collecting a share of the resulting corporate spoils.
"We've sacrificed to make them profitable," said Denise Perry, 52, a third-generation UAW member who's worked at GM for nine years and is making a little over half the wages of many other people doing identical work on the Lordstown line. "It's only fair that people now be paid -- across the board -- fair wages."

The contract talks are not expected to be particularly divisive -- at least, not in the traditional sense: Industry management and union leadership are increasingly speaking from the same script, intent on preserving the peace that has fostered the turnaround. But beneath that dynamic, many union members are seething, as reflected in conversations with dozens of workers in recent weeks. And that anger threatens to weaken further the power of the UAW, whose influence has been waning within the industry for decades.

"You could get rank-and-file rebellions inside the UAW to take control," said Jonathan Cutler, a sociologist at Wesleyan University and author of "Labor's Time: Shorter Hours, the UAW, and the Struggle for American Unionism." "But the other option is that the union collapses, because there's no point in paying union dues if the union's main job is to sell you the car-makers' line, only with the union label."

TWO CLASSES OF WORKER
The sense of grievance among autoworkers in large part stems from concessions accepted by the UAW in recent years, as the industry has grappled with declining sales and the government has stepped in to rescue major automakers. The concessions in essence created two separate classes of autoworkers via a two-tier wage system -- a term now underlined by many workers as the source of enduring unhappiness.

Under the two-tier system, workers with seniority have generally been able to preserve their pay scale, with basic wages of about $28 an hour. But new hires can now be paid half as much, at a wage officially referred to as "entry rate" because workers are theoretically able to move up through the wage levels as senior workers retire. And at one plant in Michigan, 40 percent of the workforce became vulnerable to demotion to the lower tier of pay, prompting many to accept transfers to other plants -- often far from their families -- to avoid pay cuts.

Less than five percent of GM's 47,000 total hourly employees now receive second-tier wages, according to Kristin Dziczek, Director of the Labor and Industry Group at the Center for Automotive Research. But many workers interviewed expressed concern that lower tier wages are the future of GM, and they fear the union has bought into this reality in a bid to preserve jobs: Rather than striving to increase the lower tier, the UAW will simply agree to drop the upper tier wages in future negotiations.

Although some experts believe that scenario to be unlikely, and only possible under significant duress, it is not without precedent. It happened four years ago at the auto parts giant Delphi Corp, a spinoff of GM that slipped into bankruptcy, which led to large-scale plant closures. At remaining plants, the UAW assented to a wage scale ranging from $14 to $19.50 an hour -- down from the traditional $27.

"The two tier, it's been hard," said Graham, the president of the local UAW chapter, sitting at his desk in Union Hall before a massive Pop Art print of a young Bill Clinton shaking hands with John F. Kennedy.

He, like many union people, pins the blame on competition from foreign automakers. "When our country was at its greatest, everybody was making a decent wage. Unions were strong. In today's world," Graham paused. "Look, down in Washington it's a game they're playing, and we're stuck in the middle of this game. We've been outsourcing jobs for years to other countries. That's why we are in the position we are today. We just let it get by us. Everybody says, 'Well it doesn't affect me, why should we be concerned?' But it sooner or later, it will affect you. And that's where we are today."

The concessions that have upset rank-and-file autoworkers came in the midst of extraordinary crisis, with the survival of the American auto industry seemingly at stake, and millions of jobs on the line. But management was able to impose those cuts in part because of a deeper historical force at play: the long, steady decline of union membership within the American labor force.
"The crucial problem today is that the industry is only a minority unionized," said labor historian Nelson Lichtenstein, author of "The Most Dangerous Man in Detroit," a biography of Walter Reuther, one of the UAW's most influential leaders. "This is a horrifically difficult situation, and it creates these terrible compromises. When you're partly unionized, you are negotiating yourself out of a job if you demand more money, so you can get a situation where the union exists but it can't really do anything about conditions or wages. It just exists and then, de facto, it is in collaboration with the company."
Perry, the third-generation UAW worker, is more worried about her own overdrawn bank account than about the future of the UAW. She saw her wages cut nearly in half under the concessions made to GM. She and 27 other workers at the Lordstown plant have sued the UAW and GM, accusing them of violating the terms of their collective bargaining agreement. She and the other plaintiffs assert they are owed hundreds of thousands of dollars in back-pay from the company. GM denies any liability in the matter and declined to comment on the litigation.

Now, GM is profitable again, with its reported net income surging by 89 percent between April and June compared to the same period a year earlier, reaching $2.5 billion. GM's chief executive Dan Akerson is expected to take home $9 million this year in compensation, according to published reports. Yet Perry is struggling to make ends meet on about $16 an hour, making her quest for fair pay feel more urgent than ever.

"It's disheartening and maddening," Perry said, her voice cracking. "The people making the decisions are not missing a beat. They didn't take a pay cut."

SEEKING PAYBACK

On July 28, the Lordstown plant threw its doors open to the public for a "Thank You America" open-house tour -- a key piece of GM's ongoing public relations effort to rehabilitate the company's image after the beating it took following the bailout in 2009.

More than 8,000 people registered for the tour, many of them GM retirees. Some subjects were celebrated by the tour guides: The Lordstown plant lays claim to being the largest single-line manufacturing facility in the world. But when The Huffington Post asked the plant's manager, Bob Parcell, about the impact of the two-tier wage system on workers and their families, a plant public relations officer immediately stepped in and ended the conversation.

Senior union representatives declined repeated requests to discuss their relationship with management and the new contract talks.
The current contract expires in September. Union leadership still stresses the goal of winning a share of the company's newfound profitability for their members. But Siglow, whose father was a UAW member and Ford autoworker for 30 years, finds such rhetoric increasingly difficult to accept. He and many other workers at the Lordstown plant said they believe the lion's share of what the union surrendered in the last four years may be gone for good.

Siglow is furious that some of his coworkers back in Michigan opted to stay home but still managed to retain their full wages, while he accepted a transfer here, believing that such a decision was the only way to maintain his pay.

"The union told me, 'Rush, rush, hurry, hurry,'" Siglow recalled. "'If you don't take this choice, you're fried. You're done. Man, if you don't take this, you're going to be terminated. You're going to lose everything. It's over.'"

Now he is marooned in Lordstown, his moving money long since spent, with no clear path home.
"If the new GM means they just get to rip their people away from their family and friends," Siglow said, his voice trailing off. Tall and broad shouldered, he sat at a table near the back of the local pub, as rainwater leaked through the roof, dripping into a pail set on the stained linoleum floor. He wore a baseball cap, looking very much like a man accustomed to making things with his hands. As he described what has become of his life, his face contorted into tears.

"I just want to go home," he said.

Over the past two years, he said, his once-pristine credit rating has deteriorated as he has struggled to support his family from 400 miles away, using credit cards to pay for the gasoline required to get back and forth. Every night, he has listened to his five-year-old daughter cry on the phone, as she asks him when he is coming home. Now, he watches his union leaders getting ready to accept more of this sort of treatment -- the two-tier wage system -- in the interest of keeping his employer strong.
"We all have to work together," Siglow said. "I mean, that's obvious. But I don't think that they need to just roll over and cave in to everything. I truly believe the union protects GM more than they protect us."

The UAW and General Motors were not always in accord. In the years after the Second World War and through the late 1970s, the UAW was one of the most powerful -- and combative -- labor unions in America. Its leaders wielded that power to secure vast improvements in working conditions and wages for autoworkers, both inside and outside the union, say labor historians.

For many decades of UAW history, strikes were frequent and union leadership competed to see which could be most aggressive in wresting a good contract from Detroit's Big Three.
But the unions' membership -- along with its bargaining power -- has been dwindling for many years.
"The UAW was really the vanguard of the industrial unions, the most active, the most forward looking," said Cutler, the Wesleyan sociologist. "The manufacturing unions have been decimated. First went the textile workers, then the steel workers, then the mine workers. And the UAW? They have become the vanguard of concessions."
The UAW's membership rolls peaked in 1979, at a little over 1.5 million. By last year, the union claimed fewer than 400,000 members.

That shrinking membership has paralleled a loss of dominance within the American auto industry, as new non-union plants – many operated by foreign companies -- have sprouted up in states whose laws pose barriers to labor organization. Union members comprised 60 percent of the American auto industry in 1983, according to unionstats.com, an independent site that analyzes government statistics. By 2009, the union share had slipped to 18.3 percent.

The loss of numbers has translated into an inclination by union leadership to shelve militancy in favor of seeking fruitful accommodation with management, say experts. This dynamic appears reinforced by the fact that the UAW, through its retiree health fund, now owns 10.3 percent of GM.
When UAW president Bob King assumed office last summer, he was lauded by labor advocates as a progressive leader committed to social justice. He enhanced his credentials by criticizing as "not livable" the $14-an-hour wages for second-tier workers, and by branding as "outrageous" the $56.5 million stock award given to Ford Chief Executive Officer Alan Mulally.

But King has also indicated repeatedly that he -- like the president of the Lordstown local -- views enemy number one as the competition, not management.
"We now know that the only true job security comes from producing the best quality products and services at the best value for consumers," King said at a recent conference of industry leaders and parts manufacturers in northern Michigan, the Associated Press reported. "We are fully committed to the success of our employers."

At the same conference, King described the ways that a strong union can help employers: by boosting vehicle quality, improving employee attendance and increasing corporate profits.
King's strategy has since drawn criticism from some labor advocates, who have pointed to his emphasis on corporate profits as evidence of a surrender mentality.

"Many people inside the labor movement -- and certainly at the UAW -- decided that the only chance for labor was if it became reasonable," said Cutler. "And reasonable meant incorporating the logic of the corporate side of the equation. They're leading down a path to union defeat, essentially. They're giving away the store, and they're doing it quickly."

Lichtenstein, the labor historian, said it would be unfair to blame King for weakening the union, noting that he assumed office when the UAW was already crippled. The concessions of recent years had already been made, and the union's membership was already diminished.

"It's a tragic situation, which is partly beyond King's control and partly built on the decisions that many other UAW leaders made in the past," Lichtenstein said. "The nightmare of history is on the shoulders of Bob King."
Some long-time observers of the UAW dismiss the notion that the union has lost its ability to marshal a fight.
"The UAW, Chrysler and GM passed through a near-death experience, and that tends to draw you a little closer together," said Art Schwartz, a former general director of labor relations at GM who retired in 2009. "The fact that they can see that without a company they have no members does not make them a weak union at all."
In the estimation of many labor experts, the UAW has merely adopted a pragmatic strategy, one that takes heed of the conditions it confronts: Instead of seeking higher wages -- an impossibility given the competition -- it is focused on preserving jobs by bringing wages down to the level of the so-called transplants, the foreign-owned factories taking root in many states.
Many labor advocates argue that even a diminished UAW plays a vital role -- if only to protect wages at foreign manufacturers' American factories while leaving open the possibility of future collective action at the Detroit Three.
"It's always better to have a union than no union," said Lichtenstein. "Because the possibility of resistance, democratic struggle, it's still there."
These days, though, resistance within the UAW seems increasingly directed at an unexpected target: union leadership.
On the afternoon of Lordstown's "Thank You America" day, the rain let up and Nick Waun, an employee at the plant and fourth-generation UAW member, circled the grounds handing out fliers demanding "Equal Pay for Equal Work" and "No more plant closings."
Waun, 31, is a rising voice of dissent at the UAW. The fliers he handed out were from the Autoworker Caravan, a dissident group that has held multiple gatherings in Detroit in recent months calling for an end to the two-tier wage system.

Waun became involved with the group when he was forced to transfer to the Lordstown plant last fall, moving away from his elderly parents in Michigan and disrupting his education at University of Michigan, Flint.

Though the move has been hard for him personally, Waun says, what most inspired him to protest outside the UAW's Detroit headquarters, Solidarity House, was the sense that the union leadership had lied to him and abandoned the interests of its members.
"The UAW wasn't upfront and truthful with us from the beginning," Waun said. "We couldn't resort to normal problem solving with the union. Bob King wanted to ignore our concerns."
Waun and Todd Siglow both say they were told by the local branch of the UAW in their hometown of Lake Orion, Michigan, that they would have to move to Lordstown, perhaps temporarily, if they wanted to keep their wages intact. Both are now stuck here, among some 900 workers transferred from other GM plants, some of which are shuttered and some still going but paying substantially reduced wages. They are known as the GM gypsies, and many say they have no hope that they will ever be able to return home.

Five days a week, Waun sleeps -- he never says "lives" -- in a trailer parked across the highway from the plant here in Ohio, alongside a cluster of other transfers. He devotes much of his free time to writing and thinking about the troubles of the rank and file. His posts have appeared on various activist labor sites.
Waun sent an open letter to Bob King, urging him to "put the power back in the hands of the rank and file" and calling for an end to the two-tier system, which Waun said is divisive and unjust.

He also filed an appeal, challenging the collective bargaining agreement at Lake Orion.

King did not respond to the letter, but his response to the appeal -- which began "Dear Brother Waun" -- categorically dismissed his grievance: "The Appellant cannot demonstrate harm to himself or any other member of our union."
On most days, the harm is pretty much all Siglow can think about.
"My kids don't deserve to have me not there," he said, nursing a Gatorade in the pub, while men around him drank beer. "My five-year-old, she cries every night. My 16-year-old has all of a sudden become a complete introvert because she doesn't have anyone around. It's just a total nightmare -- especially to know that it could have all been avoided if I had just said no."
He tries not to think about the future -- his daughters growing up without a father, his troubled bank account. Instead, he hopes that "someone in that union has the heart to realize they made a mistake and they're going to make it right," he said.
But that is really hope trumping reason: He sees GM and the union working together to lower the cost structure, with the two-tier system and its attendant strains designed to provoke workers to give up.

"My honest opinion?" Siglow said. "I think it's a total ploy, a stress move: they want to keep all the tier one workers so stressed out and upset that they'll just quit."

He thinks about quitting frequently, he says, or taking a buyout. But he feels trapped.
"I don't believe I'll ever retire from the auto industry," Siglow said. "I believe that our job will be long gone by then. For me, everything I've worked for my whole life: building up my credit, it's just all gone. But at the same time, if I quit, then what do I do? I'm stuck."
Related
Popular in the Community