DETROIT - Sept 15 (Reuters) - Negotiators for the United Auto Workers and Fiat Chrysler Automobiles continued bargaining on Tuesday over wages and benefits for about 40,000 U.S. workers as the union delayed calling for strikes at the company's most profitable operations.
The two sides said they agreed early Tuesday to extend their old contract, which expired at 12:01 a.m. EDT (0401 GMT), "on an hour-by-hour basis." The UAW had still not called for walkouts as of 7:30 a.m. as workers started reporting for morning shifts in the U.S. Midwest.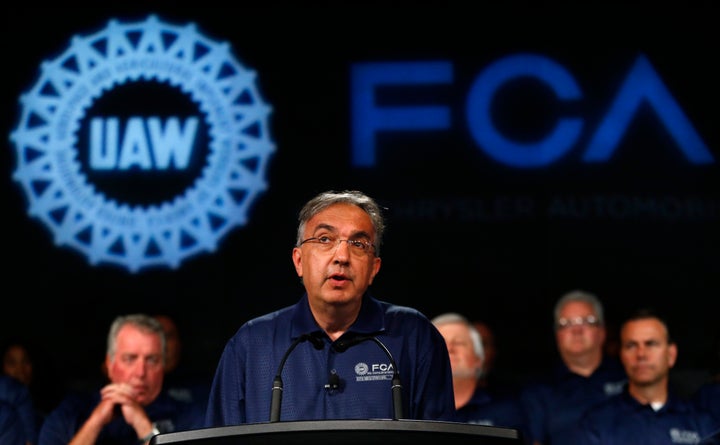 The decision to extend the contract indicates the two sides are making progress on complicated pay and benefit issues. Neither FCA nor the UAW issued comments on details of the talks Tuesday morning.
UAW officials could direct members to stop work at any time if talks hit an impasse.
At issue are proposals to overhaul a two-tier pay system the UAW wants eliminated and to restructure company health plans to curb rising costs, people familiar with the process said.
The UAW wants FCA to agree to raise wages for more senior workers, who make about $28 per hour, and to reduce or eliminate the disparity for more recently hires, whose hourly pay tops out at $19.28.
FCA Chief Executive Officer Sergio Marchionne has said he wants to eliminate the two-tier wage system, but he has suggested base wages be set lower than the current top tier. He wants to offer union workers more in the form of profit-sharing or bonuses when FCA's earnings are high.
At FCA, about 45 percent of the hourly UAW workers earn lower-tier wages.
The UAW has at least three options.
It could call a companywide strike or stage limited walkouts that could cripple FCA's operations without forcing hefty payments to workers from union strike funds. It could also opt to continue extending the talks.
The terms of any deal with Fiat Chrysler would set the pattern for subsequent labor agreements at General Motors Co and Ford Motor Co, the UAW has said.
FCA's U.S. operations have had an $8-to-$10-an-hour labor cost advantage over Ford, where 28 percent of the UAW workers are in the lower-tier wage group, and GM, where 20 percent are in that tier.
Ford and GM on Monday agreed with the UAW to extend their current contracts, the union and the companies said. (Reporting by Joe White; Editing by Lisa Von Ahn)
Calling all HuffPost superfans!
Sign up for membership to become a founding member and help shape HuffPost's next chapter