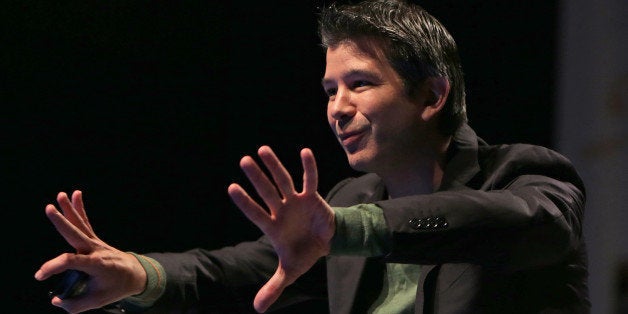 While many of us have spent the past six months getting mad at Uber, Uber has spent the past six months making $22 billion magically appear.
The ride-sharing app maker, a lightning rod for controversy, announced on Thursday that it has raised $1.2 billion in new funding, bringing the company's value to roughly $40 billion. That's up from a paltry $18 billion six months ago.
Uber's investors are apparently unfazed by bad press. In recent months, the company has had to apologize for a top executive threatening to smear journalists critical of the business. It's also been rated F by the Better Business Bureau, protested by its own drivers, kicked out of Las Vegas and accused of dirty practices aimed at undercutting its rivals.
But Uber is willing to acknowledge it has issues.
"The events of the recent weeks have shown us that we also need to invest in internal growth and change," CEO Travis Kalanick said in the blog post announcing the new funding. He promised Uber would make changes to become "a smarter and more humble company."
One possible teensy consolation for Uber is this factoid suggested by Wall Street Journal editor Dennis Berman: Roughly four years ago, the company was worth $60 million. Today it's worth $40 billion. At this rate of growth, it is appreciating by $19,839 per minute, according to Berman's math.
If you had invested $10,000 in the company when it started, that $10,000 would be worth about $80 million now, estimates tech investor Semil Shah -- though the effects of the company repeatedly issuing new stock would have cut that gain down significantly by making stock worth less. Maybe your $10,000 share would only be worth $20 million today. Still, $20 million > $10,000, according to my math.
At the moment, Uber is worth more than most members of the Standard & Poor's 500 index. It is worth more than Delta Air Lines and the railroad company CSX. It's also worth more than all the personal real estate in Anaheim, California.
Whether the company is actually worth all that money, or whether it's just the poster child for a growing startup bubble, is a different question altogether. Uber is making a lot of money, though the exact amount won't be entirely clear until the company goes public -- at which point maybe you can help boost Uber's valuation, too.
An Uber spokeswoman declined to provide further comment.

Popular in the Community