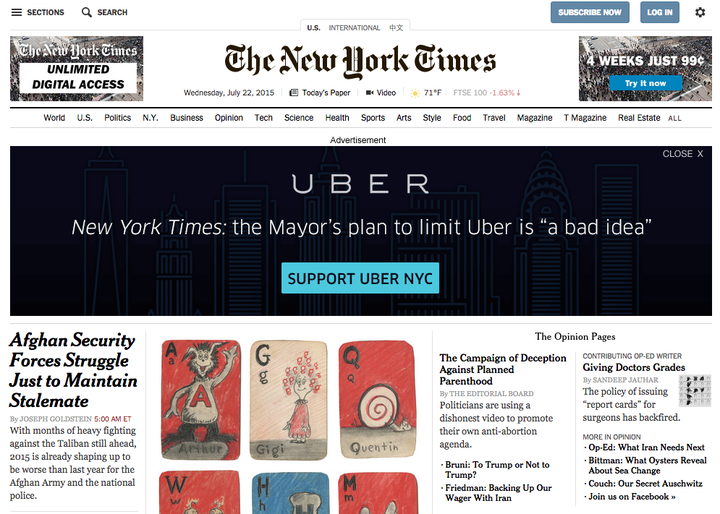 UPDATE: 5:15 p.m. -- The mayor's office announced that it reached a deal with Uber and will table plans to cap the company's growth during the city's four-month traffic study.
NEW YORK -- Uber has launched an advertising blitz against Mayor Bill de Blasio.
The ride-hailing service rolled out an aggressive campaign last week, attacking the mayor's plan to cap the number of new Uber drivers for one year as the city studies how to reduce traffic congestion. Uber has spent more than $3.2 million on these ads, according to a report in the New York Observer.
On Wednesday, a display ad quoting a New York Times editorial from last Friday appeared as a banner across the homepage of the newspaper's website. The editorial called the mayor's plan "a bad idea."
"We wanted people to know what's behind the Mayor's push to cap Uber and to hear directly from real drivers about the economic consequences of this proposal," an Uber spokesman told The Huffington Post of the ads. "The real story here is campaign contributions not congestion."
In a commercial released last week, Uber touted itself as an alternative to taxis, which sometimes refuse -- albeit, illegally -- to pick up people of color or drive to neighborhoods in the city's outer boroughs. The company also accused the mayor of "pushing the agenda of his big taxi donors."
At least in the press, Uber appears to be winning this fight. Along with the Times' editorial board, the New York Daily News' editorial board on Wednesday called statistics used by de Blasio to justify the cap "phony."
In an op-ed of his own, published in the Daily News on Saturday, De Blasio claimed "we're facing the addition of over 25,000 cars to our streets over the next year -- the rough equivalent of two times the total number of yellow taxis in all of New York City." However, the Daily News editors note that "Uber has signed up 20,448 fully inspected and insured cars, operated by drivers who pass background checks. But -- unmentioned by de Blasio -- only a fraction of them are rolling at any given time."
The New York Post, the city's other popular tabloid, on Tuesday published an op-ed by an Uber driver named Mohammad Hasan, who said the company provides jobs to minorities who may otherwise be overlooked by employers.
Even some progressive members of the the City Council -- who would normally side with the left-leaning mayor -- have vowed to oppose the driver cap.
Wiley Norvell, a spokesman for de Blasio, did not return an email requesting comment.
On Monday, the BOTEC Analysis Corporation released a study that found -- at least in Los Angeles -- taxis took "two to three times longer to arrive" than UberX, the firm's cheaper service. The study was funded by Uber, though participants did not know.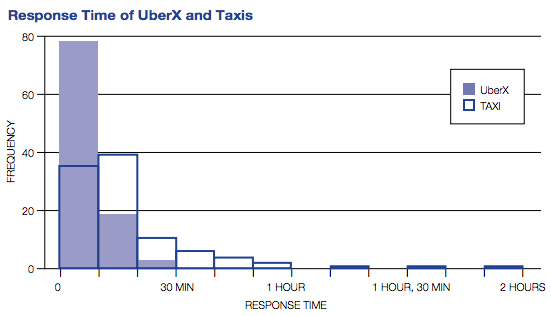 Popular in the Community