"This is more urgent than people realize," Carol Tyson, policy director for the United Spinal Association, told The Huffington Post.
Tyson, the author of a MobilityLab.org post about this issue, sits on the Disability Advisory Committee for the District of Columbia Taxicab Commission. That group's report, published in October, said that San Francisco's wheelchair-friendly cabs dropped from 100 in 2013 to just 64 in 2015.
While Uber has introduced limited offerings for passengers with disabilities in some cities, it and other on-demand car services don't currently operate under the same accessibility rules that cab companies do. There's no mandate for Uber, Lyft or similar startups to include wheelchair-ready cars in their fleets. What's more, the potential for on-demand startups to drive taxi companies into bankruptcy is no longer theoretical: More than 1 million Uber drivers now handle 2 million rides every day around the world.
If what's happened in San Francisco is replicated in other cities, more than 3.3 million American adults who use a wheelchair will be affected. If that's the outcome, on-demand services like Uber will have made life harder for these people.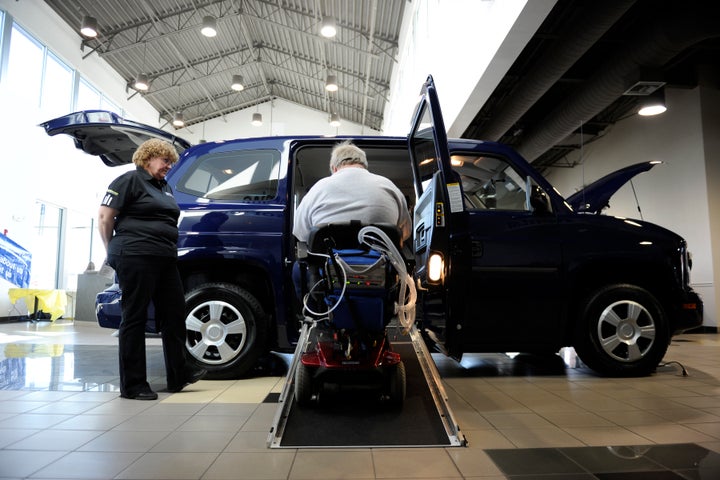 Taxi companies are considered a means of public accommodation under the Americans with Disabilities Act (ADA) and therefore must include accessible cars in their fleets. Uber acknowledged to HuffPost that it is subject to and complies with the law as a technology company, ensuring that its apps --but not its vehicles -- are accessible to Americans with disabilities.
That position may not sit well in some cities.
"Private sedan operators are a part of the District's transportation ecosystem and, as such, must be accessible to customers with a disability," Neville Waters, a spokesperson at the Taxicab Commission of the District of Columbia, told HuffPost.
Uber hasn't been sitting idle on this issue. As Wired reported in August, Uber now operates UberAssist pilots in seven U.S. cities and five Australian cities, offering cars designed to better meet the needs of senior citizens and people with disabilities. Unlike the van pictured above, however, UberAssist vehicles don't have ramps: They accommodate only folding wheelchairs, walkers and scooters.
Uber also provides its drivers with accessibility materials, and a section of its Code of Conduct prohibits discrimination when serving riders with disabilities.
Lyft did not reply to repeated requests for comment on this or other issues.
Neither ride-hailing company provided data on the total number of wheelchair-accessible vehicles available through their apps or daily rides requested in these particular cars. (In the past, Uber has lobbied against being forced to disclose ridership data to regulators.)
"Uber is committed to providing increased transportation options for everyone through the use of Uber's app," a company spokesperson said. "Our cross-functional accessibility team is dedicated to leveraging technology to increase the mobility, efficiency and freedom of all riders and drivers with accessibility needs."
What that actually means in practice will be tested in the year ahead.
While the D.C. advisory committee's research found that demand for taxi medallions for wheelchair-accessible cars had plummeted in New York City, the Big Apple's Taxi and Limousine Commission (TLC) expects cabs to provide accessibility options well into the future.
"The NYC TLC and mayoral administration have committed to a 50 percent wheelchair-accessible taxi fleet by the year 2020, accomplished through the attrition and scheduled replacement of retiring cabs," Allan J. Fromberg, the TLC's deputy commissioner for public affairs, told HuffPost. The city plans to offer a $14,000 subsidy to individuals for purchasing a wheelchair-accessible version of NYC's new standard taxi model.
Other cities are using federal funds, tax credits, incentives and governmental mandates to support and increase the number of public wheelchair-accessible vehicles on the roads.
For instance, although D.C. has struggled to meet its deadlines, as of Nov. 6, the city has awarded 90 grants to purchase new wheelchair-accessible cabs, retrofit existing vehicles or offset rental costs.
"My real concern as a disability advocate is that this is a company that is refusing to admit it needs to comply with the ADA, either as a transportation company or public accommodation," Tyson told HuffPost, "and yet this is a company that wants to provide service to disabled Americans."
If we allow this public debate to be framed as a binary choice between protecting incumbent cab companies against nimble innovators, the public will lose. On-demand startups can reduce discrimination or embed it more deeply, depending on how they're made and regulated. The companies that run them can also be key partners for cities to pool demand, reduce congestion and, one day, maybe even remove the need for car ownership altogether.
Governments of the people, for the people should work with these new engines of the economy to achieve desired societal outcomes. If cities don't shift their response to this issue into overdrive, our neighbors may be left waiting at the curb.
Related
Popular in the Community