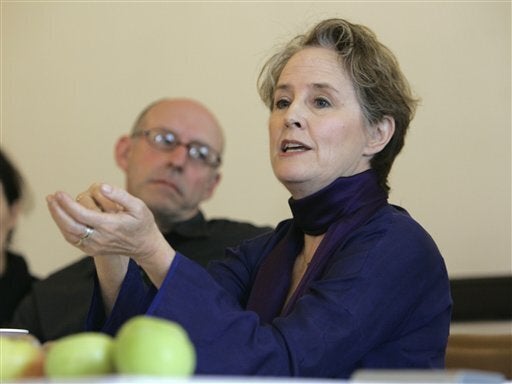 WASHINGTON--Uber-chef Alice Waters says "I never voted again" after her great friend, journalist-activist Bob Scheer, lost his 1966 anti-Vietnam primary challenge to the Democratic establishment's congressman. The man whose campaign Waters ran from her Bay Area apartment, helped spawn a movement to end the war.
She channeled her own considerable zeal into Chez Panisse, the world-class Berkley restaurant she built by championing local/organic/seasonal/sustainable food. In later years, she pushed for home and schoolyard gardens, along with a national crash course in the making of affordable, good-for-you meals.
Fast forward to 2008, when Waters, 64, returned to politics, raising big bucks for Barack Obama and smaller bucks for Hillary Clinton. In November, she cast her first presidential vote in 42 years.
Now she's heading east to celebrate, and to start prepping for what is easily the Inauguration's hottest foodie fete: a dinner for 150 people who've ponied up $500 each to sup on whatever she buys during her Sunday morning visit to a local farmers' market.
Aided by a group of local culin-istas, Waters hopes the Monday night menu will features Chesapeake Bay oysters and crostini; rockfish soup and a confit of saffron-spiked tomatoes, though if the fish don't look so great, she'll shift to winter vegetables; shoulder of local lamb with salsa verde, and an apple tart.
There will no fussy wine pairings, "just a red and a white" from California donated by friends. Yes, she knows the Veuve Cliquot Champagne, made in France and provided by the vineyard for the toast to President-elect Obama, is hardly carbon neutral.
"You try to eat as locally as possible but then you make exceptions" for such long-distance staples as olive oil and good bubbly.
Waters also knows that in tough economic times, people struggling to pay the rent or stay employed might find organic food too costly. This is why she thinks all our homes, including the White House, should have vegetable gardens, why we should learn to can and pickle summer's bounty for year-round eating, and why we should buy whole chickens rather than pricey parts, and use even the necks, backs and bones.
Waters--whose dinner is at the Phillips Collection, that temple of Impressionist art near Dupont Circle--is one of a dozen famed chefs from around the country preparing meals Monday night, though the other dinners are in Washington-area homes.
Proceeds from these feasts ($350 of each $500 ticket) will go to two city soup kitchens
and to FRESHFARM Markets, which oversees eight markets in DC and Maryland; last year it gave more than eight tons of leftover crops gleaned farm fields to anti-hunger groups.
"In Washington," she says, "we are trying to come back to the table, where we gather friends and family, where we want to eat together because the food is nourishing and tasty."
And--who are we kidding?--because Alice Waters is in the kitchen.
Popular in the Community