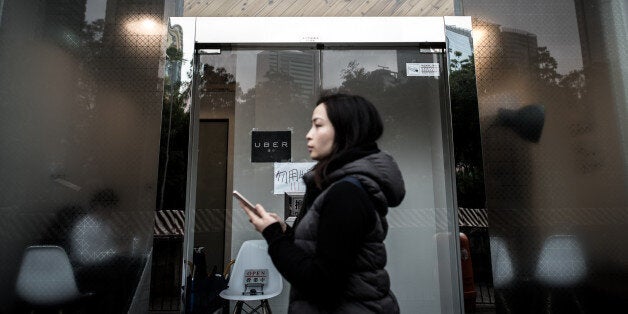 CAPE TOWN, South Africa -- San Francisco-based ride-sharing service Uber had already established itself as a leader in the U.S. market when Chinese-owned Didi Dache first released its own mobile application for on-demand taxis in June 2012 in China. Yet since Uber quietly moved into the country in late 2013 with a soft launch in expat-friendly Shanghai, the American company's imminent failure at the hands of its Chinese competitor has become central to the story.
In February 2015, Didi Dache -- backed by Internet giant Tencent Holdings Ltd -- put an end to its rivalry with local competitor Kuaidi Dache, whose taxi-hailing app was funded by global e-commerce leader Alibaba Group Holding Ltd. Together, they formed Didi Kuaidi -- which soon became known as Didi Chuxing, or Didi for short -- and turned their attention to driving Uber out of the market.
Both companies compete for riders with similar service offerings, including premium and standard on-demand private cars, but the Chinese contenders' head start has made catching up an enormous challenge for Uber. In August 2014, the American company surprised the world by piloting a non-profit ride-sharing program in China, which matches car owners with people looking for a lift. Riders pay a fee to cover the driver's basic costs, including gas and tolls. They called it "People's Uber," and not-so-subtly tapped into China's inclination towards nationalism by coloring the cars red in their mobile app. The message was clear: Uber was willing to forgo profit in order to woo Chinese consumers. Less than a year later, Didi followed suit with its own car-pooling service.
The message was clear: Uber was willing to forgo profit in order to woo Chinese consumers.
Certainly, no one expected the U.S.-owned transportation network company's success in the Chinese market to come easily. China is a notoriously inhospitable environment for foreign companies, and in the wake of Beijing's recent concerns over "Internet sovereignty," foreign tech companies in particular are at risk of being ousted or bullied. U.S. Internet giants Google, Facebook and Twitter have been fighting a losing battle in China since on-demand taxis were little more than a concept.
By establishing a separate Chinese subsidiary, Uber China, officially 优步 or "You Bu," the U.S. startup managed to circumvent some of the issues associated with operating on the mainland, and the company's growth since mid-2014 has been relatively steady, if rather expensive.
While speaking at a private event in Vancouver earlier this year, Uber CEO Travis Kalanick admitted to losing over $1 billion a year in China, Canadian tech news site Betakit reported. But the funding wars that Uber and its Chinese contender recently entered into helps to put losses -- or, more optimistically, investments -- of this amount into perspective.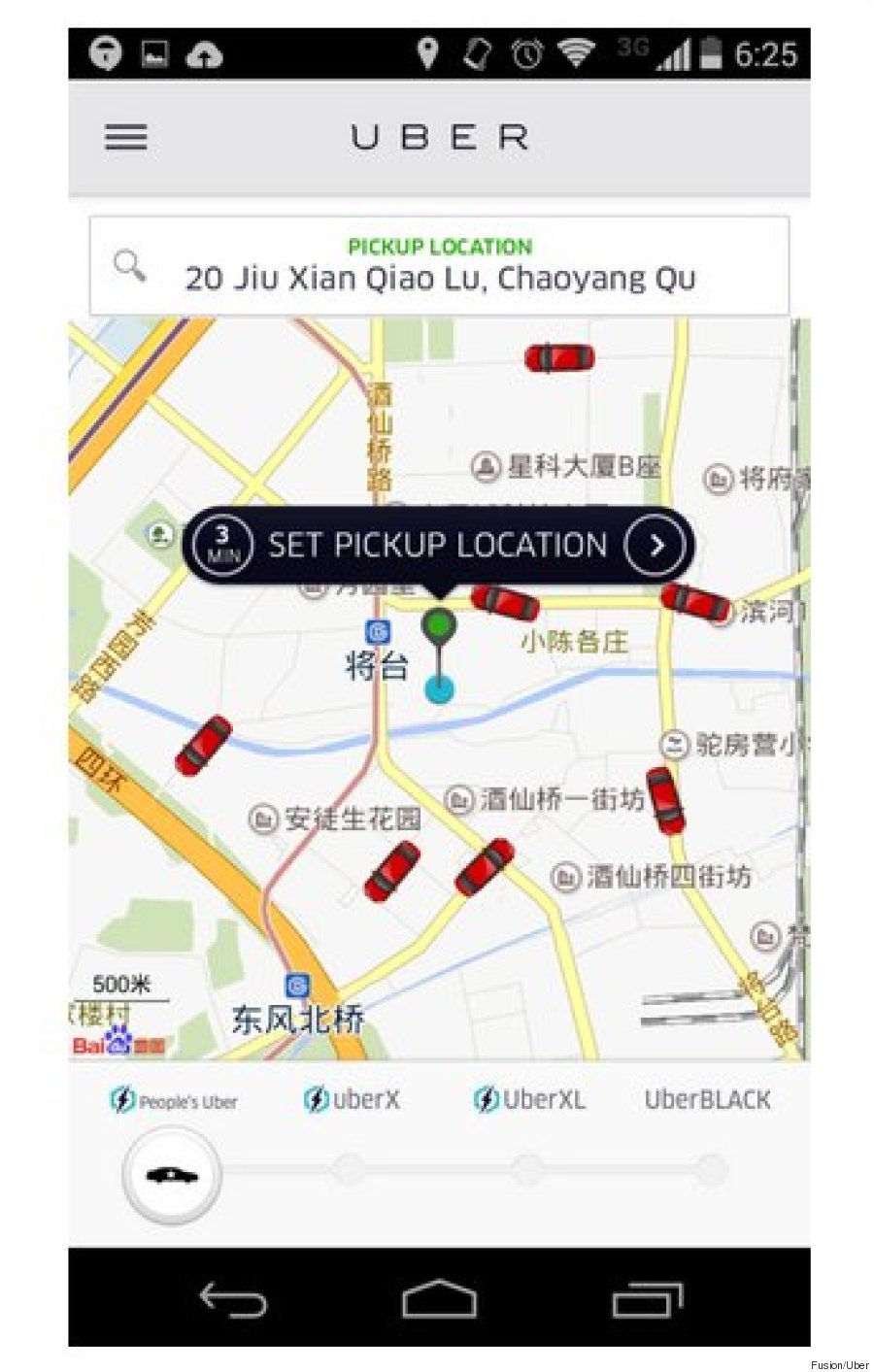 Screenshot of China's People's Uber. (Fusion/Uber)
On Sept. 7, Uber China confirmed it had so far raised $1.2 billion in its second series of venture capital funding to help fuel its expansion into 100 cities on the mainland over the next 12 months. The funding round was led by search giant Baidu and included a number of politically-connected, high-profile Chinese companies. That same week Didi announced it had secured an additional $3 billion in funding of its own. An October 2015 report by Beijing-based consultancy firm Analysys International chalks up 83.2 percent of China's private car ride-hailing market to Didi and 16.2 percent to Uber China. Neither company has released up-to-date figures, but Uber claims to have completed 1 million daily rides in 22 Chinese cities between summer 2015 and January of this year, compared to the approximately 7 million rides being fulfilled by Didi each day across over 400 cities, TechCrunch reported. Both Didi and Uber China have spent "hundreds of millions of dollars" on subsidies to attract drivers to their service, according to Forbes.
"Didi spent a lot of money on cultivating the market," Xu Ke, a 37-year-old employee at Nestle China who uses both Didi and Uber to get around Beijing, told me. "If I want to take a taxi I will first check Didi. If they have any promotions or special discounts, I'll use them. If they don't, I use Uber. Uber is about 10 percent cheaper."
'If I want to take a taxi I will first check Didi. If they have any promotions or special discounts, I'll use them. If they don't, I use Uber.'
Didi believes that having a far-reaching physical presence gives the company an edge over Uber, said Quartz, even though business may be slow in all but the largest cities where it operates.
"We have a fierce competitor that's unprofitable in every city they exist in, but they're buying up market share," Kalanick said in an interview with Betakit. Didi claims to have "broken even" in "over 100" of its 400 cities across China, where service offerings include taxis, chauffeurs, car-pooling and bus services, according to Forbes.
"I wish the world wasn't that way," Kalanick said. "I prefer building rather than fundraising. But if I don't participate in the fundraising bonanza, I'll get squeezed out by others buying market share."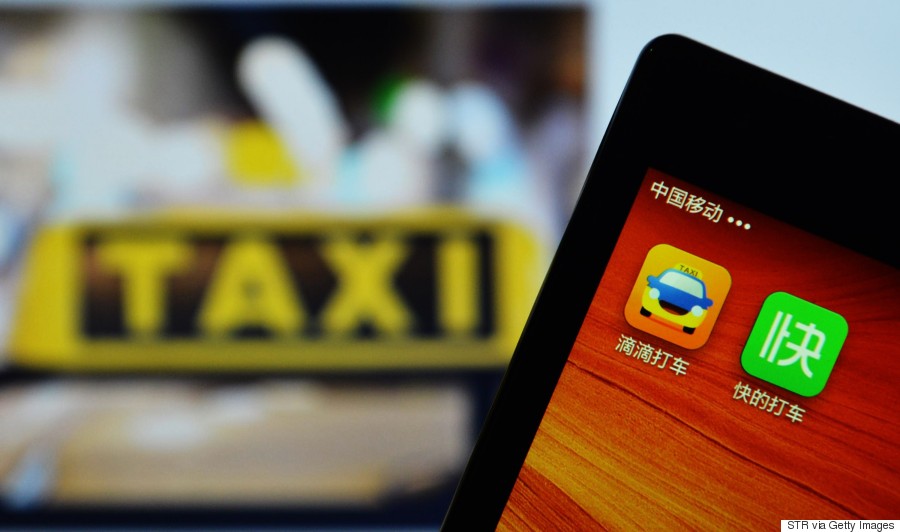 A smartphone shows the two apps, Kuaidi Dache -- part-owned by Alibaba -- and Didi Dache -- backed by Tencent before the merger. (STR/AFP/Getty Images)
Uber is the largest mobile app-based transportation company globally, but its latest $62.5 billion valuation puts it in a completely different league than the likes of tech giants Alibaba and Tencent, which both have a market capitalization in the region of $200 billion.
There's no doubt that the deep pockets of Didi's backers have been a key driver in its somewhat aggressive path towards market domination. But buying market share holds no guarantees of retaining it.
Kalanick asserts that Uber China is in a far better market position than its Chinese rival, Fortune reported. The CEO and founder is confident that his company can withstand obstacles and losses in China with profits from its other operations. Provided Uber continues to grow globally and Didi is, in fact, spending "many multiples" more on increasing its share of the market -- which Uber China claimed is the case in an email statement -- Uber could soon become the first foreign-owned tech company to truly flourish in China. After all, if Didi and its backers didn't consider Uber a real contender in the battle for the world's largest ride-hailing market, they would have stopped with the capital-raising bonanza some time ago.
Calling all HuffPost superfans!
Sign up for membership to become a founding member and help shape HuffPost's next chapter