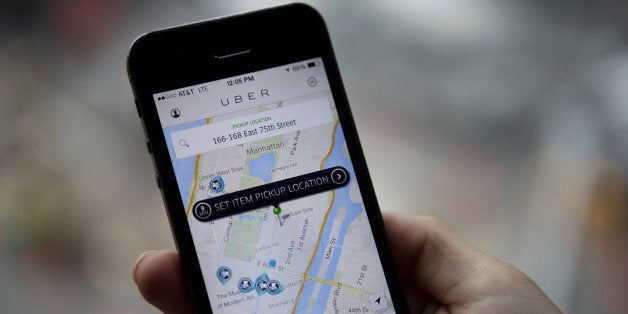 If you want to pull down close to $90,000 a year as an Uber driver, you'll need to spend most of your waking hours behind the wheel working.
Drivers for the car-sharing service in New York probably need to put in close to 80 hours a week to make around $90,000 a year, according to a blog post from Uber released Monday that looked at New York City drivers offering rides on UberX -- the cheapest Uber option available, which lets drivers use their own non-luxury vehicles.
Uber made headlines this summer when it said that the median income for a New York City driver was $90,000 a year. But the company hadn't provided much more detail until now.
A New York City Uber driver working a more reasonable 40 hour workweek would likely earn about $50,000 a year, or $25.17 an hour, on average, an Uber spokeswoman told The Huffington Post. That's still about double what the average American taxi driver makes, according to Labor Department data.
Unlike typical taxi drivers, though, UberX drivers own their cars — and incur the expenses that come with that. Uber's new numbers do not take into account expenses like gas and vehicle insurance that drivers have to pay for.
For all the new information, it's still difficult to nail down Uber's numbers. For starters, Uber drivers in New York City likely are making more than drivers in many other places. The base fare for an UberX driver in New York is $3, with an additional charge of 40 cents per minute and $2.15 per mile -- more expensive than many other cities in the U.S.
Also notable is the vast difference between hourly wages for part-time drivers and full-time drivers. The fewer hours an UberX driver works, the more range there is in the amount of money he or she makes -- anywhere from less than $10 per hour to nearly $60 per hour.
As a recent Buzzfeed article explained, part-time drivers can make more per hour than full-time drivers if they focus on working during "surge pricing" hours -- basically, Uber's term for the busiest periods, when fares can more than double in response to increased demand.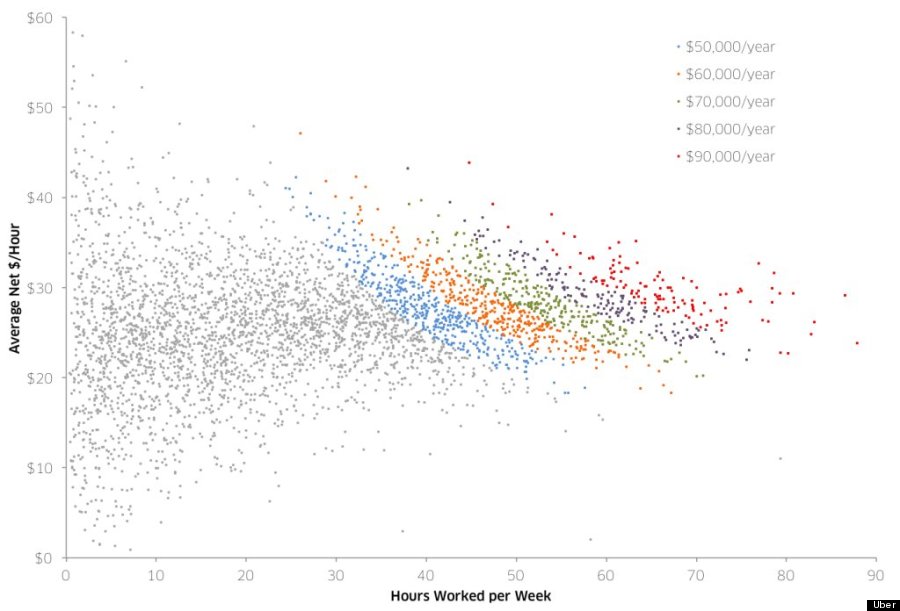 This chart from Uber shows the dramatic range in potential pay for UberX drivers who work part-time hours (Uber)
There's also the issue of Uber price cuts, which drivers have said hurt their bottom line. Noel Olken, a Los Angeles-based actor and director who has been making his living primarily as a driver for Uber and Lyft since November 2013, agrees.
"I'm making less than half of what I made [when I started]," Olken told HuffPost. "It's as if you went to work one day and your boss said, we're going to give you 20 percent less this week, but we're going to give you more work to make up for it."
Olken said that when he started, he usually had between 120 and 130 fares a week. After gas and commission paid to Uber, he made between $950 and $1,100 a week, he said. Now, Olken said it's hard for him to make $500 per week in Los Angeles.
Uber's representative argued that price cuts should help business overall.
"With each price cut, we've seen rider demand increase, which mean more trips per hour and lower pick up times -- increasing the earning potential and creating better economics for drivers," the spokeswoman said in an email.
Of course, money for drivers is just one issue Uber's had to address in recent weeks. The company has been hit with allegations that it invaded a customer's privacy, and also found itself at the center of a firestorm after an executive suggested the company hire a team to dig up dirt on journalists.
Update: This story has been updated with additional information about Uber drivers' expenses.
Related
Popular in the Community