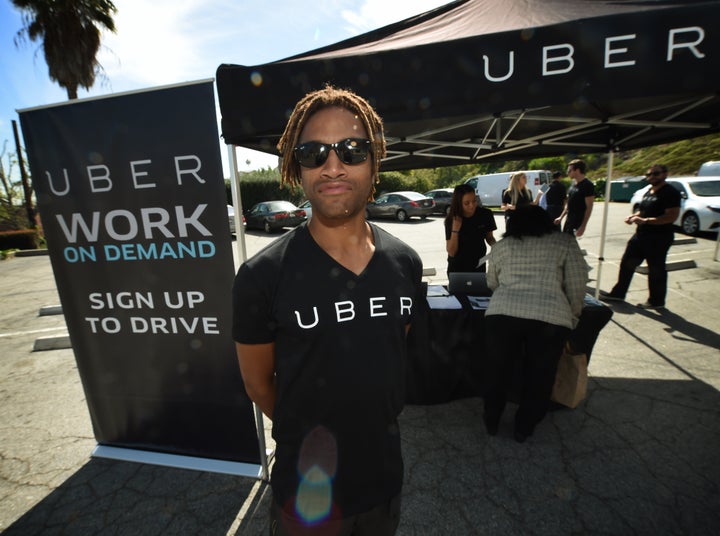 In five short years, Uber has shaken up much more than just the taxi industry. With the success of its "driver partner" business model, the ride-sharing giant has helped scramble the very concept of employment, forcing riders and regulators alike to ask themselves who qualifies as a worker and what constitutes work.
Those questions were around long before iPhone apps and surge pricing. But the sheer popularity of Uber -- and the rapid growth of its driver network -- has forced a debate over how to classify workers in the so-called on-demand economy. And even labor experts who are often on the same side can't seem to agree on how to do it.
Last year, economist Alan Krueger and former Labor Department official Seth Harris penned a much-discussed paper arguing that Uber drivers and other on-demand workers belong to a new category of employee -- one that should come with certain workplace protections but not others. On Thursday, economist Larry Mishel and lawyer Ross Eisenbrey of the Economic Policy Institute issued a rebuttal, arguing Uber drivers are workers like anyone else.
The debate isn't mere semantics -- it has significant policy implications.
As independent contractors, Uber drivers are technically not employees of Uber. That means Uber doesn't have to pay payroll taxes on them or cover workers compensation or unemployment insurance, all of which are high costs for any labor-intensive business. It also means drivers have to supply their own cars and pay for gasoline, and they aren't protected by the same workplace laws (like the minimum wage) that cover most other workers.
In return, Uber says, the drivers receive total flexibility. Because drivers only work when they want to and aren't beholden to the company like normal employees, Uber maintains, the "independent" label is a fair one -- even if labor unions and other skeptics argue it's little more than a way to skirt both taxes and labor regulations.
The regulatory fight over how to classify Uber drivers could affect all kinds of gig economy workers -- not just at competitors Lyft and Sidecar, but at Amazon's Prime Now delivery service, the cleaning service Handy and others.
In their Brookings paper, Krueger and Harris argue that when it comes to gig economy platforms like Uber, neither the "employee" nor the "independent contractor" label really works. Drivers, they say, aren't employees because they set their own schedules, and they aren't independent contractors in part because Uber dictates their pay rates and other conditions. Krueger and Harris propose a third legal category -- "independent workers" -- to cover what they deemed a gray area.
Such workers would be subject to some protections, like discrimination laws and the right to unionize, but not others, including minimum wage and overtime laws. Krueger and Harris say it's important regulators acknowledge the model of Uber and competitors like Lyft and Sidecar is different from classic employment. "[F]orcing these new forms of work into a traditional employment relationship could be an existential threat to the emergence of online-intermediated work," they write.
Eisenbrey and Mishel clearly disagree. In their new paper, they argue that work channeled through apps like Uber is not so different from other work as to require a wholly new category. Creating one, they suggest, would only muddy the legal waters and allow the Ubers of the world to dodge laws they shouldn't be allowed to.
The argument that Uber drivers aren't employees hinges in part on the idea that their hours can't be reliably measured. Harris and Krueger give the example of a driver who has both her Uber and Lyft apps open, doing personal tasks as she waits to accept a passenger. Those hours, they write, can't be apportioned to either Uber or Lyft. "In this sense, independent workers are working for themselves and working on their own time," they write.
If that's so, Mishel and Eisenbrey counter, then why do Uber and Lyft track their drivers' hours and often cite those hours in public statements? And what about the fact that Uber drivers can be dismissed if they ignore too many ride requests? "One suspects, then, that few Uber drivers keep their Uber app on while vacuuming or doing other household chores," they write.
Harris said he read the paper by Mishel and Eisenbrey and wasn't convinced by it, without commenting beyond that. Krueger couldn't be reached. An Uber spokeswoman said the company believes its drivers are independent contractors and declined to comment on EPI's paper.
In an interview, Mishel and Eisenbrey said they respect Harris and Krueger for helping to open an important discussion, but they felt frustrated by the assertion that Uber and other app-based services were inherently different from traditional work.
"Nobody has ever really offered why it is that an Uber driver or someone who does work through a digital platform is in a qualitatively new work relationship that requires a new legal status," Mishel said.
Added Eisenbrey, "We're better off not jumping the gun and declaring that these workers aren't employees entitled to minimum wage and overtime protections and unemployment insurance."
Correction: This post originally misidentified Eisenbrey as an economist. He is a lawyer.
Popular in the Community