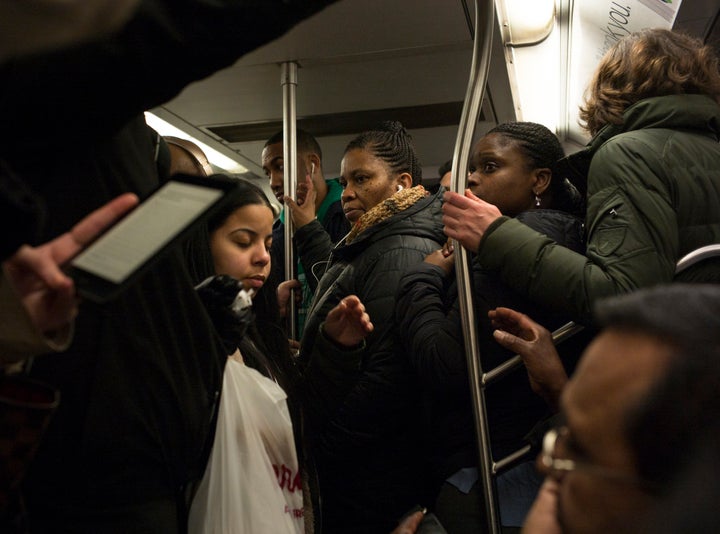 Uber has said for years that it's not here to kill public transportation. But a new uberPool promotion suggests the ride-hailing service may be inching closer to becoming competition for public transit.
The company announced this week that it's offering folks in Manhattan ridiculously cheap uberPool rides during commuting hours (weekday mornings and evenings, basically) throughout July and August. The deal, called the "Uber Commute Card," is available to members of Gilt City, a free but ritzy coupon site for people in New York.
Gilt City describes the card as a lower-cost, more comfortable alternative to the train or bus:
This summer, treat yourself to unlimited uberPOOL trips in Manhattan during commuting hours. Because while sweaty, full-body contact with strangers has its place, it's not on your way to work.
The Commute Card could be a pretty sweet deal for anyone who manages to snag one. A four-week pass costs just $79. By comparison, a one-month unlimited subway card is $116.50. Traveling in the city twice a day, five days a week, works out to $2.91 per subway trip or $1.98 per uberPool ride.
The promotion suggests Uber may be trying to expand its user base in the city by siphoning at least some riders away from the subway. While the short-term deal is unlikely to significantly reduce subway ridership, many people are concerned that drawing riders away from the subway will eventually suck money and political will from efforts to maintain the transit system.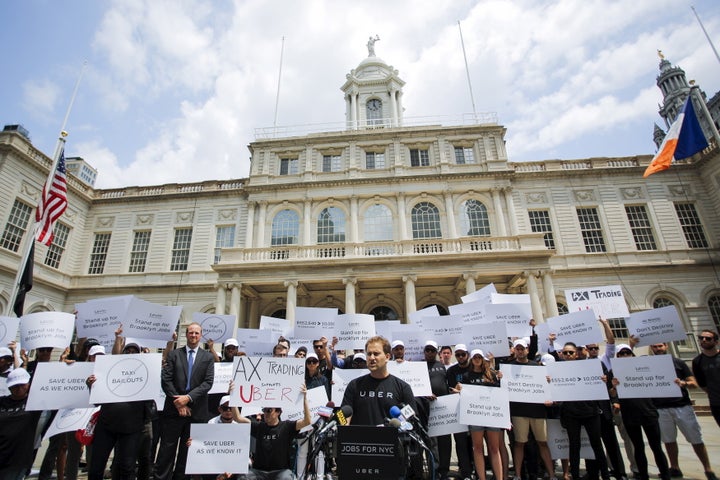 Such a gambit clashes with the company's insistence that it aims to complement, not replace, public transportation. But it isn't the first time an uberPool promotion has functioned a lot like a public transportation service (see: a promotion that involved picking up and dropping off riders only at designated corners).
Nate Silver and Reuben Fischer-Baum at FiveThirtyEIght predicted last August that we'd eventually see Uber move further and further into the public transit space:
But there's a much wider potential audience if Uber can also reach middle-class customers who want to save money. Perhaps in the distant (or even the not-so-distant) future, Uber can build its own version of "public" transit, making rides so cheap that they cost less than the $4 or $5 that Americans now pay, on average, to make a trip in their personal cars.
An Uber spokeswoman acknowledged that the new promotion might draw some riders away from highly congested subway lines, but said the deal is not an attempt to poach riders from public transit.
"[U]berPool often helps connect riders to mass transit both in Manhattan and the outer-boroughs which is a pattern we hope to continue," she told The Huffington Post. "The Commute Card is a temporary summer offer that we hope will make it easier for commuters to get to and from work in Manhattan."
It would take a lot for Uber to meaningfully compete with the subway. Around four times more people ride the New York City subway every day than take Uber each week, the spokeswoman said. The Commute Card is also only available for two months and, unlike a monthly subway pass, only works during certain hours of the day.
The goal of Uber's new promotion is nonetheless to encourage New Yorkers to use uberPool during times when they might otherwise be riding the subway.
"The relationship is more symbiotic than adversarial."
Uber probably doesn't pose a huge short-term threat to public transportation, said Robert Puentes, president and CEO of the nonprofit Eno Center for Transportation.
"The relationship is more symbiotic than adversarial," Puentes said.
Indeed, in cities with limited public transit options, like Atlanta and Dallas, ride-hailing services tend to complement public transit systems by helping people who live far away from a train or bus line get to a nearby station.
How ride-hailing services will fit into the quickly changing landscape of transportation in the U.S. remains the "ten thousand-dollar question," Puentes said.
"People will always take the cheapest, most predictable and most convenient way to get to work," he said. When it comes to ride-hailing services, "what we need to do over the next decade is figure out what their role is in the overall transportation network."
Note: The Huffington Post's editor-in-chief Arianna Huffington is a member of Uber's board of directors, and has recused herself from any involvement in the site's coverage of the company.
Popular in the Community