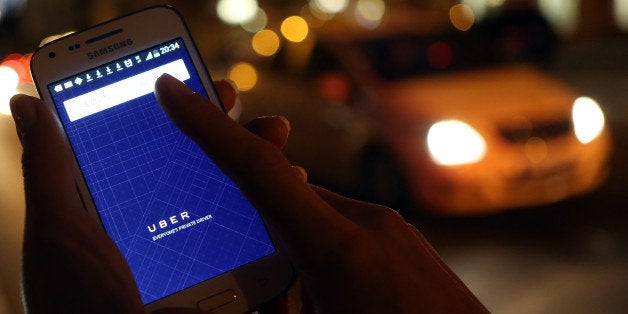 An official at the California Labor Commission has taken an axe to Uber's claim that its drivers are really independent operators and not employees of the tech company.
In an opinion filed in state court Tuesday -- and posted here by TechCrunch's Jordan Crook -- Stephanie Barrett, a deputy labor commissioner, challenged the business model that now undergirds much of the transportation industry as well as the so-called sharing economy. In the case, an Uber driver named Barbara Ann Berwick argued the company owed her money for costs she incurred while driving customers around in the car she owned.
In a normal employment relationship, those costs are borne by the boss, not the worker. But Uber considers Berwick an independent contractor, an increasingly common arrangement that shifts certain business expenses onto those doing the work. By using independent contractors, Uber not only doesn't have to buy SUVs and gasoline, it doesn't have to worry about payroll taxes or workers' compensation costs.
That model hinges on the idea that people like Berwick are truly independent in their work -- a contention held by Uber and just about any company using the independent contractor model. Drivers are more akin to business partners than employees, the argument goes.
Barrett wasn't buying it. Uber, she said in her opinion, is the one holding the reins, "retain[ing] all necessary control over the operation as a whole."
"Defendants hold themselves out as nothing more than a neutral technological platform, designed simply to enable drivers and passengers to transact the business of transportation," she said. "The reality, however, is that Defendants are involved in every aspect of the operation."
According to Barrett, Berwick was not owed any back wages, but as an employee she was due "reimbursable expenses" to the tune of $3,878.08, plus $274.12 in interest. Uber is appealing the ruling.
If it stands, Barrett's ruling will not upend Uber's business model, even in California. FedEx, which long ago mastered the independent contractor model, has been fending off claims like Berwick's for years, leading to a thicket of conflicting decisions by judges around the country. The Berwick case pertains to one agency in just one state, and it won't compel Uber to reclassify its drivers.
In a statement, Uber noted that the ruling pertains only to Berwick, and said other states had come to the opposite conclusion on the employment question. "It's important to remember that the number one reason drivers choose to use Uber is because they have complete flexibility and control," the company said. "The majority of them can and do choose to earn their living from multiple sources, including other ride sharing companies."
The California Labor Commission stressed in a statement that this particular ruling was not a statement of policy by the agency. "The Labor Commissioner's evaluation of whether someone is an independent contractor or an employee is done case-by-case based on the facts before her," the statement said, referring to Labor Commissioner Julie Su.
Still, the ruling could spur more claims by current and former Uber drivers in California who consider themselves workers who are owed money by the company. It could also put more wind in the sails of workers and labor groups that are challenging the independent contractor model, in California and elsewhere.
As Barrett wrote in her opinion, if it weren't for drivers like Berwick, Uber "would not exist."
This post has been updated with comment from Uber and the Labor Commissioner's Office.
Popular in the Community