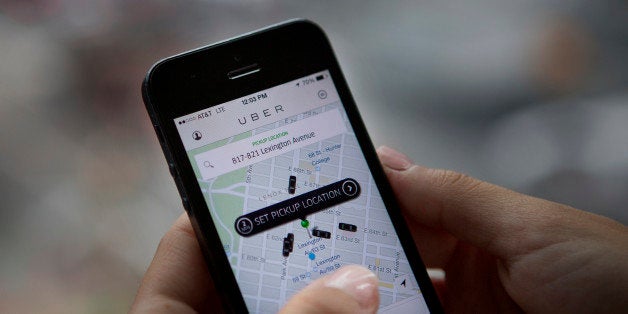 It was a nightmare ride through Los Angeles in an Uber car recently, but the question is whether it was the passenger or driver who'd like to forget the trip.
A woman said her Uber driver took her 20 miles out of the way to a deserted lot and kept her locked in the car for two hours, according to Gawker. When she complained, she initially received only a partial refund for her troubles. The ride-sharing company calls her claims "inaccurate," alleging she was intoxicated and a nuisance for the driver who'd picked her up.
The woman, whose name wasn't used out of alleged safety concerns, said the driver ignored her directions and questions and locked her door when she tried to get out.
"Only when she caused a commotion and screamed did he finally return her home," Gawker writes. "What should have been a quick ride took over two hours."
Her complaints the next day to Uber got her a partial refund for the driver's "inefficient route," though she later got a full refund.
But an Uber spokesperson said the woman's claims clash with those made by the driver, according to a statement sent to The Huffington Post.
"Early reports on this ride are inaccurate," Eva Behrend said. "Based on the information we have at this time, this driver called 911 to ask for assistance with an intoxicated rider who requested an extended trip. However, we have refunded the rider's trip and reached out to the rider for additional information."
Uber said it offered to discuss the issue further with the woman, but she hasn't gotten back to them. Gawker reports the woman has been in touch with the LAPD and a lawyer.
Uber has endured a spate of bad press, most recently receiving a "F" grade from the Better Business Bureau, a consumer advocacy group.
In July, a tech startup CEO claimed he was a passenger in an Uber car when the driver went on a high-speed chase to avoid a taxi inspector in D.C.
For its part, Uber says it is committed to rider safety.
"All Uber ridesharing and livery partners must go through a rigorous background check that leads the industry," the company's website says. "The three-step screening we've developed across the United States, which includes county, federal and multi-state checks, has set a new standard. These checks go back 7 years, the maximum allowable by the Fair Credit Reporting Act."
The company says the standards for its drivers, who are independent contractors and not technically employees of Uber, are often more rigorous than those for regular taxi drivers.
"Our process includes prospective and regular checks of drivers' motor vehicle records to ensure ongoing safe driving," the company says. "Unlike the taxi industry, our background checking process and standards are consistent across the United States and often more rigorous than what is required to become a taxi driver."
Like Us On Facebook |

Follow Us On Twitter |

Contact The Author
Support HuffPost
The Stakes Have Never Been Higher
Related
Popular in the Community