SAN FRANCISCO ― Drivers for ride-hailing companies Uber and Lyft went on strike in cities across the country Wednesday, demanding higher pay and better working conditions.
In LA, driver group Rideshare Drivers United is calling for drivers to turn off apps for 24 hours, from midnight Tuesday to midnight Wednesday, as well as attend a noon rally Wednesday at Los Angeles International Airport. In New York, drivers turned apps off from 7 to 9 a.m. Wednesday and then some 300 drivers rallied outside Uber and Lyft's offices in the city around midday, per organizers with the Independent Drivers Guild.

In San Francisco, dozens of drivers and supporters blocked the street in front of Uber's headquarters downtown, with people carrying signs reading "Uber: Pay drivers a living wage" and "FAREness for drivers." As cars drove by, many honked in support ― including some with Uber and Lyft stickers in their windows.

"After I did my taxes, I was operating below minimum wage," said 35-year-old Mostafa Maklad, who is an organizer with Gig Workers Rising and has been driving for Uber and Lyft for the past four years. Maklad studies at City College of San Francisco during the day and drives at night, pulling 40- to 50-hour weeks.

"They don't offer us benefits or health care or insurance ― and they don't even pay us enough to afford paying that for ourselves," he added.
Maklad struggles to afford housing in San Francisco and currently lives with six other people in a two-bedroom apartment.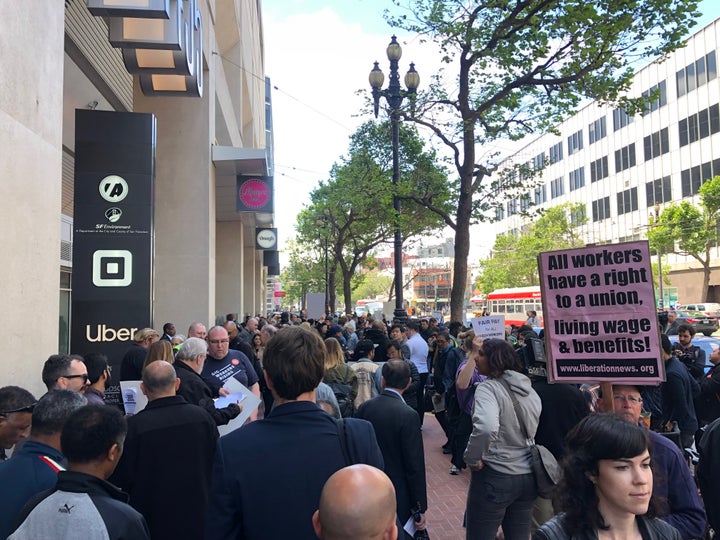 LA's Rideshare Drivers United, which has about 3,000 members, is demanding that Uber and Lyft guarantee drivers a $28 hourly minimum rate before expenses, or about $17 after expenses. The group led a daylong strike in March after Uber cut drivers' pay in the LA area by about 25% in March ― reducing its per-mile rate from 80 cents to 60 cents per mile.
"We provide an essential service, but Uber and Lyft investors are the only ones reaping the benefits," Karim Bayumi, a driver who is part of the organizing team in LA, said in a news release before Wednesday's strike. The 40-year-old father of two told HuffPost last month that he is a full-time rideshare driver working six days a week from about 8 p.m. to 5 a.m.
"Our picket and rally will show that rideshare drivers will not be invisible ― we demand justice," he added.
Wednesday's strike took place just a day before Uber's initial public offering, set for Thursday, when the company's expected to issue stock worth up to $91 billion. Lyft went public in March, valued at more than $24 billion.
"We provide an essential service, but Uber and Lyft investors are the only ones reaping the benefits."
Uber did not immediately respond to HuffPost's request for comment. When asked about the impending strike, a Lyft spokesperson said its drivers earn more than $20 per hour and that over three-quarters of its drivers work part time, less than 10 hours a week.
"This strike is to send a message that the folks at corporate at Uber and Lyft who are getting massively rich off of the exploitation of drivers is not going unnoticed," Carter told HuffPost.
Because ride-hailing company drivers are classified as independent contractors instead of employees, it's harder for them to unionize, and they aren't ensured the same benefits as full-time workers for a company, such as a minimum wage or health insurance.
"I believe what Uber and Lyft drivers are doing is a valuable service ― we bring people home safely after a long night out, we take people to work," Bayumi told HuffPost last month. "We're trying to make a living ... we shouldn't have to be struggling, scraping pennies off the floor."
This article has been updated with reporting from the San Francisco protest.
Popular in the Community