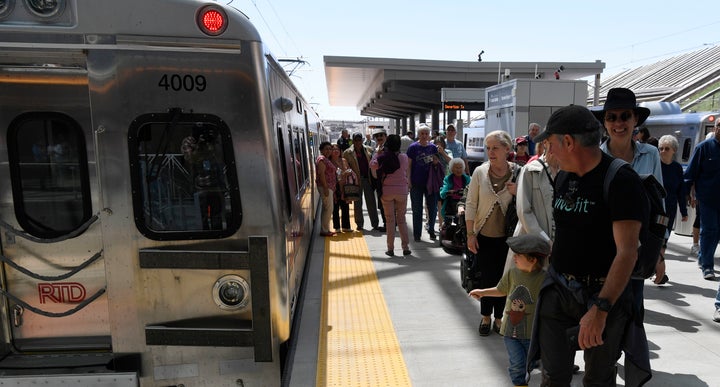 It's easy to think of ride-hailing services like Uber and Lyft as being in competition with public transportation. But they could actually end up causing more people to use it.
That's according to an analyst report published Tuesday by Morgan Stanley that plots out how public transit might transform in the coming decades as autonomous cars become a reality.
In the best-case scenario, policymakers would incorporate self-driving car technology into their plans, rather than competing with it for market share. If that happens, the study authors predict that ride-hailing services could decrease the cost of public transit while increasing the number of people who use it.
"A future dominated by shared, driverless cars linked via ride-hailing apps may sound like a world without traditional forms of mass transit," the authors write.
"But we don't believe it will be."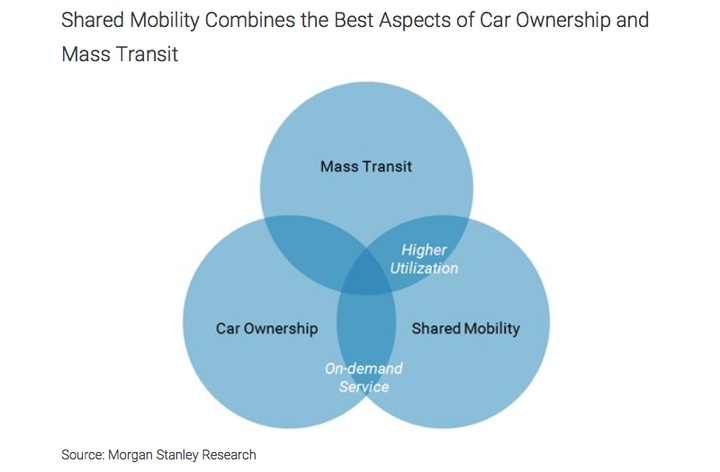 The report lays out three main arguments for why on-demand ride-hailing will complement -- rather than compete with -- existing forms of public transit:
1. Increased access to and from rail stations
Many people don't use public transit because there aren't any stations within walking distance of where they live, or where they need to go. On-demand driverless cars can solve this so-called "first-mile/last-mile" problem, the report argues, by offering a cheap, convenient way to get to and from stations.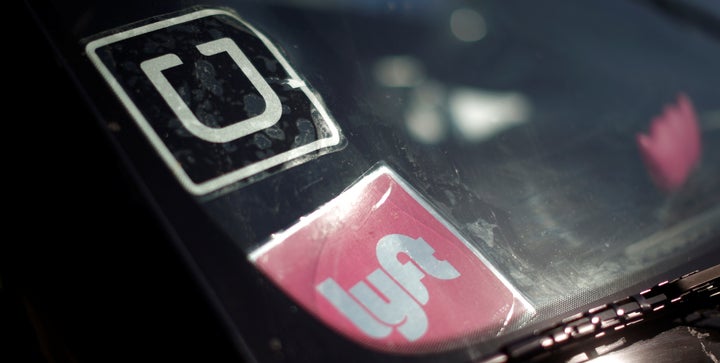 2. More riders per station means fewer stations overall -- and that's a good thing.
By increasing the number of people served by each station (as demonstrated in the point above), public planners would be able to decrease the number of stations per line, the report argues. This would hopefully have two effects. First, trips made via public transit would be faster, as trains would need to make fewer stops. Second, as the time to make each trip decreases, the trains themselves would run more frequently, making the entire system much more efficient and usable.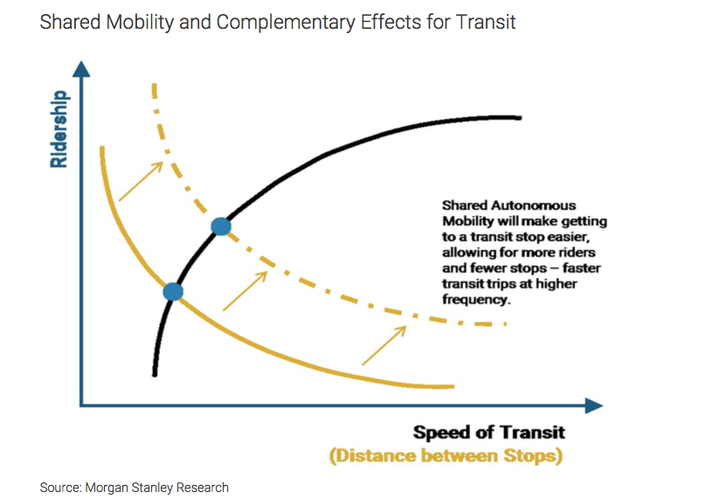 3. Ride-hailing competes with car ownership, which helps public transit.
Some people simply use ride-hailing in place of mass transit -- for example, grabbing a Lyft instead of taking the train. But the Morgan Stanley report cites research from the University of California, Berkeley, saying that many of those trips -- taken when public transit is prohibitively inconvenient -- would have otherwise been made in privately owned cars. And if a significant number of car owners turn to ride-hailing full-time (which might or might not happen), people will be more inclined to take public transit, the Morgan Stanley report predicts. "It has the potential to dissuade users from relying on single-occupancy car trips," the authors write, "which in turn is consistent with greater reliance on transit."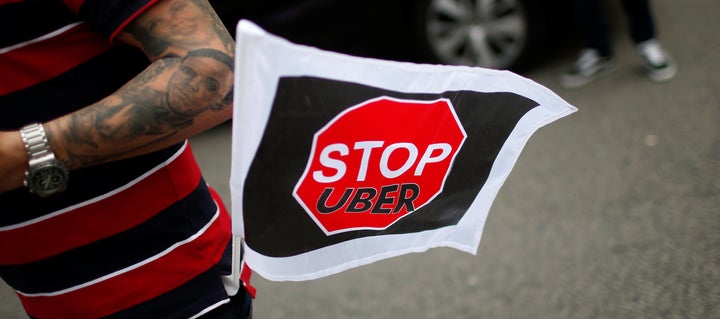 Morgan Stanley analysts cautioned that all of the above predictions are far from certain, as public planners and policymakers could take "meaningful detours" in their various approaches to ride-hailing services. Perhaps most significantly, policymakers could decide to view such services as a public detriment, rather than as an opportunity for collaboration.
"The transition to fully autonomous vehicles will likely be gradual," the report notes. "Yet this may not diminish the cumulative impact over time. For workers displaced by shared mobility and autonomous technology, there are no easy solutions."
"This is particularly the case for drivers that bought into a regulated monopoly -- such as that for taxicab medallions -- with the expectation that the government would continue to enforce that monopoly," the report continues. "Potential policy responses include helping displaced workers through job retraining and placement and leveraging community colleges to play an even more instrumental role in providing vocational training for displaced workers."
Ultimately, however, driverless cars, coupled with public transit, could be the key to achieving the holy grail of transit.
"Shared mobility -- driven by autonomous technology -- may do what no transit planner has succeeded in doing," the report argues. "It may finally persuade a greater percentage of Americans to stop driving their own cars to work every day."
Note: The Huffington Post's Editor-in-Chief Arianna Huffington is a member of Uber's board of directors, and has recused herself from any involvement in the site's coverage of the company.
Related
Before You Go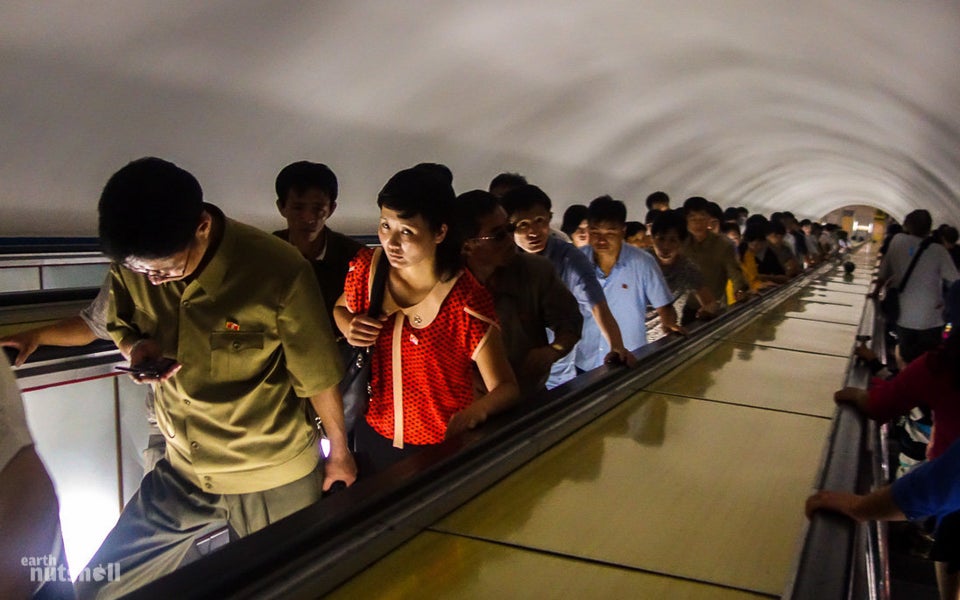 North Korea's Metro System
Popular in the Community