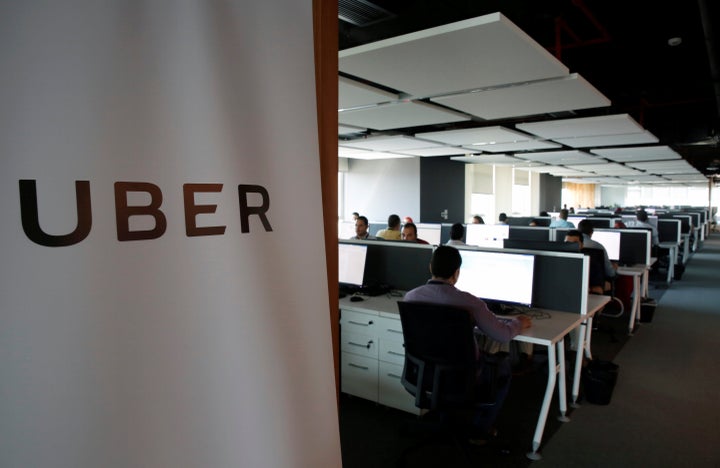 Uber announced on Monday morning that the tech company will pledge $5 million in an effort to prevent sexual assault and domestic violence.
According to a press release sent to HuffPost, Uber is giving $5 million over the next five years to fund programs inside and outside of the tech company. The funding will go towards prevention initiative programs, educational resources about sexual and domestic violence to drivers and riders, and implementing employee education and training.
Uber hopes to pair its knowledge of technology and transportation with partner organizations that specialize in preventing sexual and domestic violence.
"Sexual assault and domestic violence are issues that affect millions of people around the world. As members of the communities we serve, we want to work with others to be part of the solution," vice president of Uber U.S. and Canada Operations Rachel Holt said. "We're not only committing major funding for awareness and prevention programs through leading community partners, we are driving meaningful change in this area from the highest levels of our organization on down."
A bulk of the funding will go to Uber partners that work in anti-sexual and anti-domestic violence fields in order to create awareness and prevention programs. Uber's partners include Raliance, the National Network to End Domestic Violence, NO MORE, Women of Color Network, Inc., Casa de Esperanza, the National Coalition of Anti-Violence Programs and A CALL TO MEN.
CEO of Women of Color Network, Inc. Tonya Lovelace said that her organization is excited to be a part of the partnership.
"This is an amazing opportunity for WOCN, Inc. and other national culturally specific organizations to support Uber in their quest to directly reach those who are historically marginalized based on race, ethnicity, gender identity, sexual orientation, faith, immigration status and other identities, and who experience sexual assault, domestic violence and other forms of intersecting violence at greater proportions than mainstream communities, but are least likely to feel the impact of funding," Lovelace said in a press release. "We look forward to being a catalyst in this effort."
Outside of the preventative initiatives, Uber is using the pledge to focus on the culture of sexual harassment at the company. In June, more than 20 Uber employees were fired due to allegations of sexual harassment. Uber Founder Travis Kalanick resigned a few days later.
Uber has already implemented multiple internal changes in hopes of improving their culture. The company created an executive leadership training program which teaches leadership teams how to handle issues of sexual harassment and assault in the workplace. Uber is also in the process of creating a global listening tour to discuss issues like sexual and domestic violence.
"From having honest conversations with experts who are on the front lines tirelessly raising awareness of sexual assault and domestic violence everyday, to asking ourselves some important questions. How we can best use our resources?" Tracey Breeden, Uber's Global Safety Communications Lead, wrote in a blog on Uber's Newsroom page. "As a result of this ongoing collaboration we have begun to make important changes internally and will commit to use Uber's scope and visibility to help drive awareness, education and prevention of sexual assault and domestic violence to millions globally."
Head here to read more about Uber's pledge.
Related