Pay no attention to the man behind the curtain, Uber riders.
The great and powerful Oz -- the one who controls how much your ride home costs -- has spoken: "No more surge pricing! 'Upfront fares' for all!"
On Thursday, the ride-hailing service quietly scrapped the much-reviled "surge multiplier." The figure determines how much a ride will cost, fluctuates based on the supply of drivers versus the demand from riders and has been responsible for some wildly expensive trips.
But that doesn't mean it's going away, exactly. Riders just won't see it anymore.
In its place, Uber has implemented what it's calling "upfront fares," which is exactly what it sounds like. Instead of seeing the somewhat cryptic lightning bolt icon along with a multiplier of, say, "1.7x," riders will enter their destination's address ahead of time and see the actual fare they'll pay for the ride.
"These are not the surge multipliers you are looking for."
"When fares go up due to increased demand, instead of surge lightning bolts and pop-up screens, riders are given the actual fare before they request their ride," Uber product managers Arundhati Singh and Dennis Zhao explained in a blog announcing the changes.
"Upfront fares are calculated using the expected time and distance of the trip and local traffic, as well as how many riders and nearby drivers are using Uber at that moment," they continued.
Just because Uber has covered over surge pricing with a new veneer doesn't mean the practice of what they call "dynamic pricing" is going anywhere soon.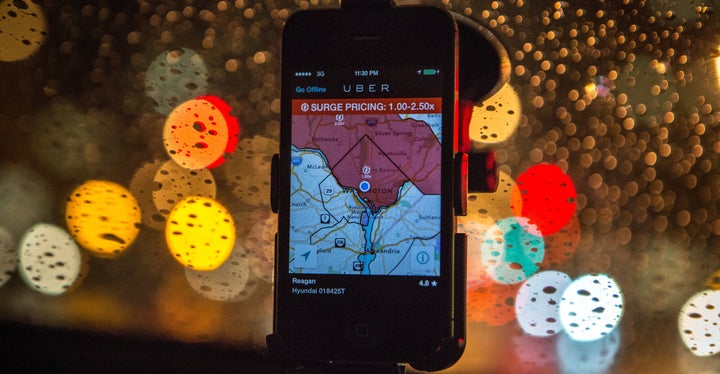 "We have no plans to end dynamic pricing," the company said in a statement. "While we understand that no-one likes to pay more for the same trip, it's the only way to ensure that passengers can always get a ride when they need one." 
Note: The Huffington Post's Editor-in-Chief Arianna Huffington is a member of Uber's board of directors, and has recused herself from any involvement in the site's coverage of the company.
REAL LIFE. REAL NEWS. REAL VOICES.
Help us tell more of the stories that matter from voices that too often remain unheard.
BEFORE YOU GO
PHOTO GALLERY
6 Facts About Uber