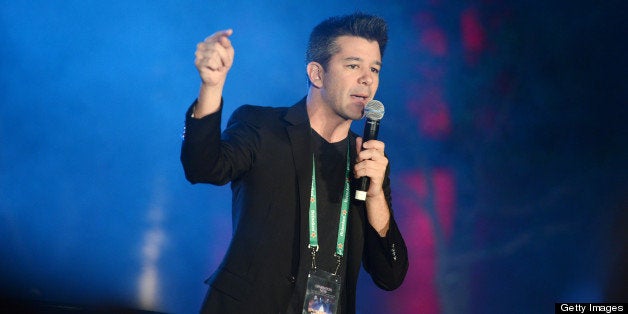 In December, the D.C. Council passed a legal framework that officially made Uber, the on-demand taxi service, legal in the District.
And ever since, you've been using UberTaxi to hail cabs in the District without a hitch.
You thought you'd never have to worry about Uber cutting its service in D.C. ever again.
In the newest chapter in the D.C. Taxicab Commission-Uber saga, Uber CEO Travis Kalanick is threatening to cut its UberTaxi service in D.C. by June 1, when the next set of D.C. taxi regulations kick in, according to a May 17 blog post on Uber's website.
Kalanick explains that the most recent set of regulations will, "block DC residents from making digital payments for DC taxis using services like Uber," because the regulations mandate that payments via credit card readers, devices that will soon be mandatory in all District cabs, be processed through an approved in-car metering system. Payments for Uber go through a third-party and are processed through a smartphone app, not in the car.
According to the Mayor's office and DCTC Chairman Ron Linton, Kalanick's complaints have no basis as the organization has already been working toward solutions.

According to emails obtained by DCist, the DCTC Chairman Ron Linton is planning on adding language to the credit card regulations tomorrow that would "grandfather in" digital dispatch services such as Uber from entering into contracts with the payment service providers approved to install the new "smart meters" that taxis will feature as the regulations come into effect. The only requirement that would be applied to Uber and its competitors would be that the companies store their ride data.
In a statement to the Washington Post, Linton says that there is "nothing in the proposed Modern Taximeter System regulations that would require Uber or any other digital reservation system to shut down."
Other on-demand taxi services like myTaxi and Hailo haven't raised a stink over the proposed regulations.
But that hasn't stopped Kalanick from calling upon his ever-vigilant and loyal customers to contact Mayor Gray about the issues he believes Uber will face when the regulations come into effect.
A petition in support of Uber on Change.org that asks "Mayor Gray to keep UberTAXI on the road" has over 10,000 signatures, and is two-thirds of the way to its 15,000 signature goal.
As Uber hasn't backed down from its threat to cancel service, D.C. councilmembers have taken notice. According to the Washington Post, Councilmember David Grosso (I-At large) says that he has a draft of legislation that answers Uber's concerns, but said the he is "not going to put anything in till we work through this." Fellow Councilmember Mary Cheh (D-Ward 3) said she hopes the council won't need to take action.
But the councilmember who has served as Uber's biggest supporter and who sponsored the legislation that made Uber legal, added that Kalanick should not have again gone public with his complaints. "I do wish they would at least give me a chance to sort this out," Cheh told the Washington Post.
REAL LIFE. REAL NEWS. REAL VOICES.
Help us tell more of the stories that matter from voices that too often remain unheard.
BEFORE YOU GO
PHOTO GALLERY
New D.C. Taxi Design