Uber announced it will be temporarily offering cheaper fares for its low-end UberX service in New York City, making it cheaper to use the popular car-hailing app than a traditional yellow cab, the company claimed in a blog post on Monday.
The move discounts prices by 20 percent, and follows similar price cuts in a slew of other cities including San Francisco, Chicago, and Atlanta.
Uber, which recently raised $1.2 billion in new funding, stressed the new pricing would only be available for a limited time. But "the more you ride," the company claimed in a blog post, "the more likely we can keep them this low!"
This clear bid to lure customers from traditional cabs -- and its app competitors -- came with an infographic. Uber offered a glimpse of how the reduced prices shake out when compared to both regular UberX pricing and that of New York's yellow taxis: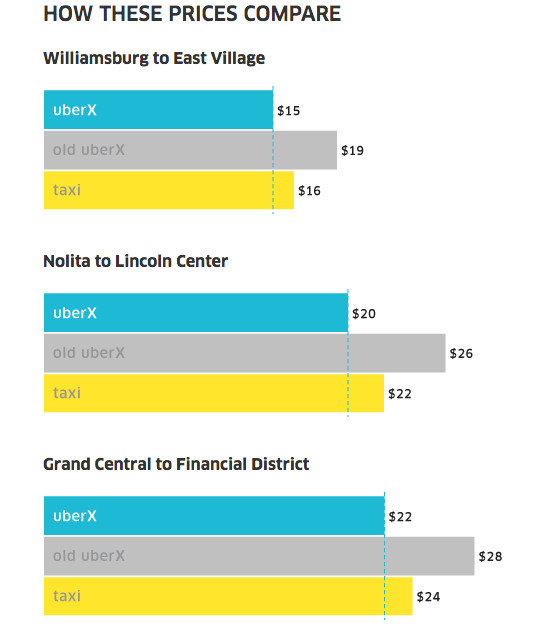 Uber insists lower fares should be beneficial to drivers, with more customers boosting "earning potential and creating better economics." But some drivers have long voiced skepticism about the Uber model, claiming they have been misled by earlier promises of better pay.
"Right now it's very hard to make money working at Uber," a San Francisco resident who quit his job to drive for Uber said at a protest in May.
Executives at Lyft, an Uber competitor, said they were wary of the new discounts, specifically pointing to Uber's controversial policy of jacking up fares during hours of peak demand.
"Uber prices will still be higher," Lyft CEO John Zimmer told TechCrunch. "What does a price decrease mean when there is 8-10x surge pricing? It's classic bait and switch and consumers see through that."
Related
Popular in the Community