Uber announced last week that it added a new option to its app, letting people order rides from wheelchair-accessible vans in Washington, D.C.
The car-hailing service will not buy the wheelchair-friendly vehicles. Rather, it will tap into an existing pool of taxi drivers who rent and operate specialized vans in the nation's capital, according to WAMU, a local public radio station which has closely covered the company's record on accessibility. At least one of these vehicles is already available to use via the Uber app.
"While there is more that needs to be done to expand transportation options for riders in DC requiring wheelchair accessible vehicles, we—along with advocates for people with disabilities—believe our wheelchair accessible vehicles option is a step in the right direction," wrote Anne Hussey, a marketing manager for Uber D.C., in a blog post published Dec. 11.
To call a wheelchair-accessible taxi through Uber, just open the app, choose the UberTaxi option, and then enter the promo code "dcwheelchair." After the app registers the code, it will show a wheelchair option and the location of available vehicles nearby.
When I tested this new option on Monday in D.C., I found one van, seven minutes away from my location in Georgetown.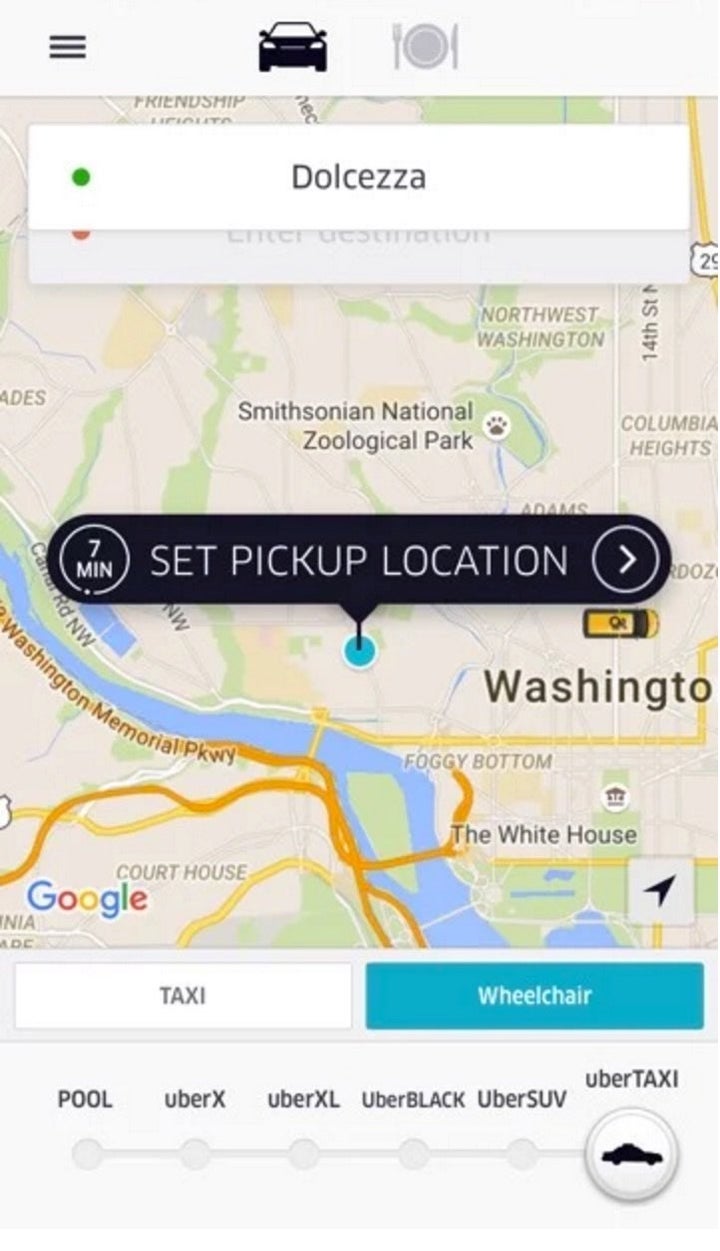 Here's a photo Uber posted on its blog showing Neal using the new option: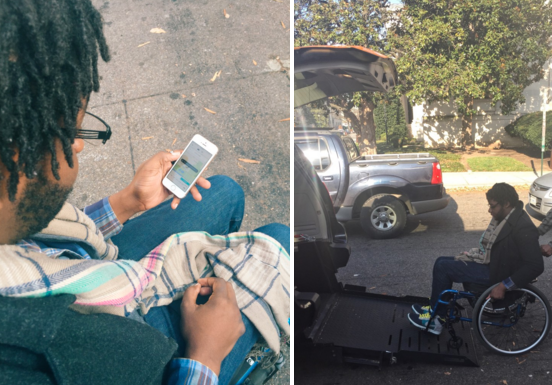 Accessibility advocates hailed the news as an improvement.
"Access to Uber's service for the District's residents and visitors with disabilities is long overdue," Carol Tyson, the director of disability policy at the United Spinal Association, told The Huffington Post. "Transportation is a civil right and people with disabilities should not be an afterthought."
It's not clear, however, whether the total number of wheelchair-accessible taxis on D.C. streets will increase as a result of Uber's new initiative.
Tyson called on Uber and its competitors to work toward increasing the total number of wheelchair-accessible vehicles in D.C. and other cities, particularly at peak commuting hours.
"We know that demand for accessible taxi service in the District far exceeds supply," she argued. Speaking about Transport D.C. -- the city's program for alternative, accessible for-hire transport to residents with disabilities -- Tyson said that funding was "falling short of demand" and that each month "the number of Transport D.C. rides has increased."
The D.C. Taxi Cab Commission told HuffPost that there are currently 153 wheelchair-accessible taxis servicing D.C. Back in November, when there were only 141, WAMU reported that approximately one-quarter of these cabs weren't being used.
Presumably, that's because of the higher cost of rental for drivers over traditional sedans. The D.C. Taxicab Commission told The Huffington Post that it has awarded 90 grants to offset the costs of rentals in 2015, along with free sensitivity and operation training.
Uber did not immediately respond when HuffPost asked for the total number of wheelchair-accessible vehicles people could find via the Uber app in D.C. and other U.S. cities.
Popular in the Community