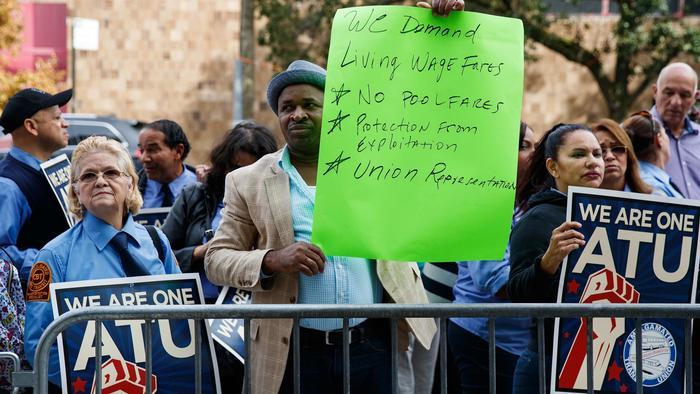 With all the scandals Uber has been engrossed in, you may have missed a small, but extremely important, piece of news that represents a huge win for the company and a huge loss for their workforce. This week, U.S. District Judge Robert Lasnik issued a temporary restraining order on a 2015 Seattle law that would give drivers for rideshare companies like Uber the right to join a union. This ruling should alarm progressives and everyone who believes in a fair and just society.
Recently, we also got a glimpse of what Uber thinks about its workers and why this ruling could be so devastating to the men and women who drive for the company. A few weeks ago, Uber CEO Travis Kalanick was caught on camera arguing with a driver named Fawzi Kamel. Kamel's main complaint to his boss: Uber is making it tougher and tougher for drivers to make ends meet.
No empathy or concern
The video shows that Kalanick has no empathy or concern for the struggling men and women who helped him build a $69 billion company. When Kamel mentioned that he's nearly $100,000 in debt because of Uber, Kalanick berated him saying, "You know what, some people don't like to take responsibility for their own shit. They blame everything in their life on somebody else."
It's important to understand exactly how Uber and other rideshare companies are exploiting their workforces. Their high-priced lawyers have expertly taken advantage of loopholes in labor law to classify drivers like Kamel as "independent contractors" rather than the employees they actually are. Kalanick would argue that this is because Uber is a "technology company," not a transportation provider.
The truth
The truth is that Uber controls every aspect of the work lives of the people who drive for it. Uber can unilaterally lower their rate of pay, "switch drivers off" without due process, and oversaturate the market by adding more drivers at any given time. Drivers lack health and unemployment insurance, overtime pay, retirement benefits, workers' compensation and the right to unionize.
Goldman Sachs and Wall Street even loaned $1 billion to Uber, so they could provide predatory subprime auto loans to drivers to build out its car fleet infrastructure. Uber strongly encourages drivers to buy new, attractive cars, and aggressively markets loans for those cars to drivers ― many of whom earn too little to maintain a good credit history.
Drivers who can't keep up with payments quickly find themselves underwater when Uber lowers their rate of pay and floods the market with more drivers. The company doesn't care about the effect this has on its current drivers because having more cars on the street is good for Uber's bottom line.
In some places, drivers are pushing back. In New York City, over 16,000 drivers for Uber, Lyft and other rideshare companies have signed union cards to join North America's oldest and largest transit union ― the Amalgamated Transit Union ― as members of ATU Local 1181.
Drivers only want what we all want
These drivers only want what we all want for ourselves and our families ― fair wages, safe working conditions, health insurance, and retirement security. Cab drivers in New York and other major cities have had these benefits for generations, but the entry of Uber into the marketplace has put these good, middle-class jobs at risk.
Courts and state labor commissions in New York and California have begun to rule in favor of drivers, designating some individual workers as "employees" and requiring Uber to provide them with basic benefits like health insurance, workers' compensation, holiday pay, etc.
Seattle law Judge Lasnik placed a temporary restraining order on a law that prevents these companies from exploiting their workers as "individual contractors," rather than employees who have the right to form a union.
A troubling warning
Lasnik's ruling sends a troubling warning to us all as a society. How will we grapple with the massive challenges that face workers as their livelihoods continue to be disrupted by the "Gig Economy?" Is it fair to allow a company that employs hundreds of thousands to pretend their workers are not really employees?
It's time for federal, state and local municipalities, and the courts to step in and clearly define what it means to be a real employee, strengthen regulations that protect workers, and allow these workers to vote and join a union if they so choose.
When speaking to Uber's female employees regarding the issue of sexual harassment, Kalanick said he "wants to root out the injustice." We think it is an injustice when a company valued at $69 billion fails to pay a stable living wage or provide basic employee benefits. Uber has become the 21st century Walmart – a company that earns billions of dollars and refuses to provide basic benefits to its workforce, making taxpayers pick up the tab.
Uber and other rideshare companies need to start respecting their drivers and appreciate the fact that they are building multi-billion dollar companies on the backs of hardworking Americans and Canadians.
Support HuffPost
The Stakes Have Never Been Higher
Popular in the Community