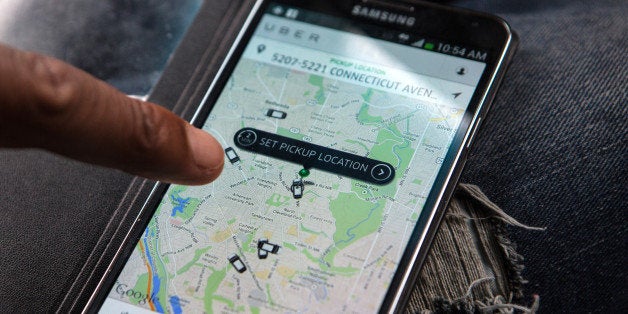 An UberX driver in New York City can make a staggering three times as much as a regular taxi driver, the company claims.
Uber now says the median income of New York City UberX drivers is nearly $91,000 a year. In San Francisco, that number is over $74,000.
Meanwhile, the median income of a typical cabbie in the United States is around $30,000 a year.
The company did not release salary information for all cities in which Uber operates, but said high salaries are luring thousands of drivers to sign up to work with the taxi-hailing app. According to a statement released Tuesday, the company creates 20,000 jobs every month.
"New people are flocking to Uber in part due to the money that they can make and due to the flexibility you have, basically being able to decide when you want and where you want to work," Rachel Holt, Uber's regional general manager for the East, told The Washington Post.
An ECOnorthwest study, commissioned by Uber, found that Uber now has a $2.8 billion annual impact on the United States economy.
The Uber app connects drivers with people looking for a ride, with Uber taking a 20 percent cut of the fare. For drivers, that's still a cheaper option than having to pay the city for an expensive taxi medallion. Medallions in New York, which operate as a taxi driver permit, can now cost around $1 million.
Uber drivers also have less downtime. The app enables them to go from fare to fare, which means more profit. Traditional cab drivers often have to scour the streets for a fare, or depend on dispatchers.
UberX is the cheapest option offered by the taxi-hailing app. Its drivers use their own cars, as opposed to yellow or green cabs, or black towncars.
Although all UberX drivers have to go through extensive local, state, and federal background checks before they're allowed to start picking up fares, a report last month found that some of the background checks were faulty. The report found that the company had approved applications from people with criminal backgrounds, including arrests for assault and driving under the influence.
Popular in the Community